It usually takes a bit of time for state of the art technology to migrate from desktop to Small Form Factor levels, but that was not the case with the Socket AM2 platform. As soon as it was released SFF Socket AM2 PC's were ready to go. There are almost as many different Socket AM2 SFF PC's available now, as there are desktop motherboards!
There are a few brands that instantly come to mind when thinking of SFF PC's; Shuttle and AOpen usually lead the way in terms of ease of use and attractive styling. Biostar tries to incorporate both a unique appearance and a simple black aluminum chassis into its iDEQ Mini PC System line. Even with Biostar's position as a value-oriented manufacturer, it has done a pretty decent job here.
In this review PCSTATS will be testing out the new Biostar iDEQ 250N Mini PC barebones system. The iDEQ 250N is a socket AM2 AMD Athlon64 platform which is based on nVIDIA's extremely popular GeForce 6100 and nForce 410 series chipsets. It will accommodate up to 4GB of DDR2-533/667/800 memory, and like all small form factor PCs its expansion capabilities are limited to two devices. In this case, Biostar certainly picked the best of the bunch. It's iDEQ 250N can support one PCI Express x16 videocard and one 32-bit PCI card.
The Geforce 6100 chipset gives away one other hidden talent to this small form factor barebones system... onboard Geforce 6-series graphics come standard. On the list of critical features, the usual suspects are all checked off; 5.1 channel audio, a 10/100 network card, USB2.0, and 3Gb/s Serial ATA drive support (with RAID). Firewire is not among the list, unfortunately. The Biostar iDEQ 250N is squeezed into a small black aluminum box no larger than a toaster, with an ultra compact 220W power supply and space for two 3.5" HDDs, a 3.5" FDD and a 5.25" ODD. The Biostar iDEQ 250N small form factor barebones PC retails for about $280 CDN ($250 USD, £132GBP) through most major online retail outlets like Newegg.com, Tigerdirect.ca and NCIX.com.

Biostar iDEQ 250N Mini PC System



Includes:

Installation Guide, User's Manual, Driver CD, Power Cord, Serial ATA Cable, Screws Thermal Grease
Considering the flexibility of the system, it's pretty reasonably priced for mainstream applications or any user on a tight PC-buying-budget. As with all barebones PCs, you will need to pop in your own CPU, memory and hard drive / DVD drive. A fast processor like the socket AM2 Athlon64 X2 5000+ and a moderately high end videocard such as the MSI NX7800GTX-VT2D256E really bring out the better side of the nVidia Geforce 6100 chipset, illustrating why this core logic is so darn popular.


The Rear I/O is full of useful connectors. Starting from the right we have the Line in, Headphone and Microphone jacks, the PS2 ports, a serial port, a 15 pin analog video port, two USB 2.0 ports and a network jack.
That combination of gear could also make the Biostar iDEQ 250N into a compact little small gaming machine. If budgets are tight, there's no reason why a socket AM2 Sempron 3600+ wouldn't turn this barebones into a handy little office or workstation PC for checking email, working on a report, or even kicking back to watch a movie on the PC.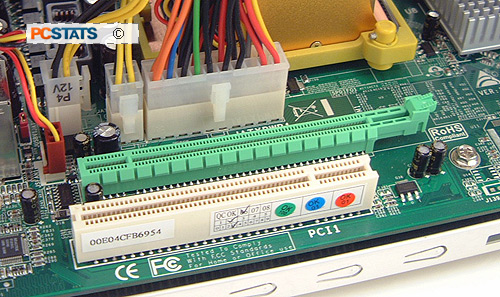 The power supply connector is slightly different from that of a regular motherboard. There's a 20 pin main ATX connector and two ATX12V style connectors. If you want to expand on what Biostar includes, there is a PCI Express x16 slot for videocards and a 32 bit PCI slot for legacy devices. In case you need it, Biostar even places the MAC address of the onboard network card on the PCI slot.
As we'll show you in a moment once we get the side panels off the iDEQ 250N, there is quite a bit of room and the layout of components is very accessible. Traditionally, only Shuttle systems have been really well thought out. Biostar equips the system with an Enhance 220W power supply, which sounds puny, but is enough for what this system can pack in to it. The Biostar iDEQ 250N SFF PC comes with its own custom heatsink, as standard Socket AM2 heatsinks are not compatible with the proprietory mounting system the vendor has opted for (it's more like a modified socket 478 bracket).
At first glance the Biostar iDEQ 250N Mini PC System doesn't look like a computer because Biostar does a good job at hiding the connectors and drive bays. The large power button in the middle of the machine makes the system look more like a CD holder, rather than something you'd find on a PC.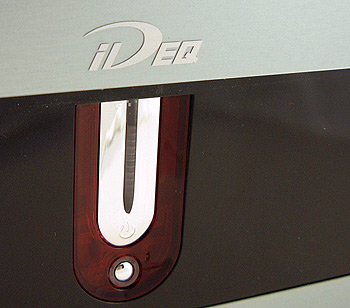 A quick rundown of the iDEQ system
The Biostar iDEQ 250N Mini PC System is 325 x 210 x 180mm in size and weighs in at 3 kg empty. The chassis skeleton and panels are all made of aluminum and look to be Lian Li. You definitely notice the difference as the case is easier to get into and put back together. It's also nice that the case is modular so you don't have to take the entire cover off to access certain parts inside. What I mean by that is that each of the three panels is removable, rather than one large "U" shaped piece of sheet metal.
The Biostar iDEQ 250N Mini PC System is powered by a small Enhance 220W power supply. We were a bit surprised by its relatively small size too... but it had no problems keeping an Athlon64 X2 5000+ processor, GeForce 7800GTX videocard and a serial ATA 74GB WD Raptor fully powered!
The one downside is that this Enhance power supply is not Active PFC. Make sure the voltage is set properly before you power up the computer - the unit PCSTATS tested had its voltage set to 230V and we use 115V here in North America.
Biostar places hard rubber feet on the bottom of the iDEQ 250N to keep vibrations down to a minimum. It doesn't work quite as well as the nice soft rubber on the Aopen XCube, but the harder compound kind of prevents the computer from "sticking" to surfaces. During testing there was little vibration or noise from the system, even with a DVD running at full speed inside the optical drive.