The nVidia GeForce 6100 series chipset brings integrated video to the AMD Athlon64 in a low cost, fully integrated solution had been lacking for this platform. The GeForce 6100 'C51' GPU has been embraced by cost-concious users and system integrators ever since. It shares 128MB of memory with the system. The Geforce 6100 chipset is technically a GPU, and that GPU is built by TSMC on the 90 nanometer manufacturing process. All current socket 939 and socket AM2 AMD Athlon64/X2/FX and Sempron processors are supported.
The GeForce 6100 chipset utilizes a 1 GHz 16-bit wide upstream and downstream Hypertransport connection between itself and the Athlon64 processor. The GeForce 6100 is a little less feature packed than the Geforce 6150 model, and thus does not support a TV encoder, TMDS/DVI, 1080p/1080i HD playback, high quality 5x4 video scaling or nVidia ActiveArmor firewall. Instead, video scaling is pegged at basic quality (2x2), and MPEG-2/WMV9 playback at standard definition (4:3) video playback.
The Geforce 6100 graphics core operates at a slightly lower speed than its brethren too, 425 MHz as opposed to 475 MHz. All Geforce 61XX-class chipsets support a total of 18 PCI Express lanes, 16 for the videocard and two for miscellaneous devices. In addition to the PCI Express x16 graphics slot, motherboards with a Geforce 6100 chipset are only allocated a single PCI Express x1 slot, instead of two as with the Geforce 6150.
Here is a chart detailing the different combination of features pertaining to the Geforce 61XX-series chipsets available on the market. The Biostar iDEQ 250N Mini PC System falls under the third column(6100/410), and most basic set of features.
NVIDIA GeForce 6150 and NVIDIA nForce 430
NVIDIA GeForce 6100 and NVIDIA nForce 430
NVIDIA GeForce 6100 and NVIDIA nForce 410
CPU
Socket 939/AM2 Athlon 64/X2/FX / Sempron
PureVideo
Yes
DirectX 9.0c Shader Model 3.0 Support
Yes
TV Encoder
Yes
No
TMDS/DVI
Yes
No
Graphics Clock
475 MHz
425 MHz
PCI-Express
(1) x16 (2) x1
(1) x16 and (1) x1
MPEG-2/WMV9 Playback
high-definition (1080p/1080i)
standard definition
Audio
HDA (Azalia)/AC97
Video Scaling
high-quality (5x4)
basic (2x2)
SATA/PATA drives
4/4
2/4
SATA speed
3Gb/s
RAID
0, 1, 0+1, 5
0, 1
NVIDIA MediaShield
Yes
NVIDIA ActiveArmor Firewall
Yes
No
Ethernet
10/100/1000
10/100
USB ports
8
NVIDIA nTune Utility
Yes
The nVidia GeForce 6100 is dual chipset solution, and so it is combined with the nforce 410 Southbridge. The nForce 410 is Serial ATA II compatible (two ports), and can be configured for RAID modes 0, 1, JBOD. The Southbridge also works with Intel's new Azalia 7.1 channel High Definition Audio codec.
Connecting the two motherboard chipsets is second HyperTransport link; this however only runs at 800 MHz with an 8-bit wide upstream/downstream data bus.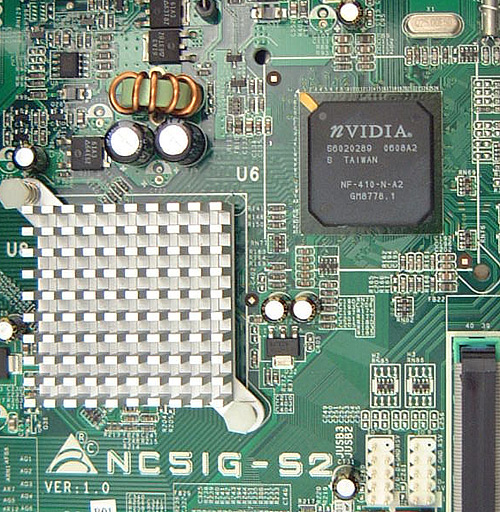 The GeForce 6100 Northbridge and nForce 410 Southbridge are in close proximity. Only the Northbirdge requires cooling although if you feel the Southbridge is too hot, you can add a heatsink there too.
The GeForce 6100 series graphics cards has two pixel rendering pipelines, so that right away should tell users the onboard graphics card is best only for casual gaming. It does however support the DirectX 9.0C standard as well as support for Shader Model 3.0, so the onboard videocard will work just fine with Microsoft's Vista operating system 'Aeroglass' desktop.
Another nice feature is that the onboard graphics card is not automatically disabled when using a PCI Express x16 graphics card. Users who need a lot of desktop screen real estate will certainly appreciate the ability to take advantage of that extra analog monitor jack.
Perhaps the most important feature of both the Geforce 6150 and 6100 chipsets is PureVideo, and that's what we'll be looking at next.