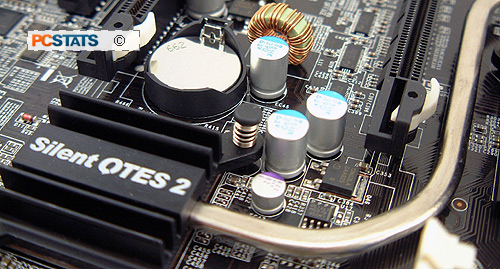 From the Silent OTES 2 cooling to the onboard audio, rounded cables and extra fans, the AW9D-MAX motherboard certainly includes a lot of accessories.
The ABIT AW9D-MAX has a cooling system called Silent OTES 2. This is a collection of heatpipes and passive heatsinks which connect up the Intel ICH7R Southbridge, Northbridge and the processor power supply MOSFETS. The Intel 975X Express Northbridge is cooled with a medium sized aluminum heatsink , but much of the heat from both chipsets is conducted right over to the MOSFET heatsink where a fan can be mounted.
There's space for two 40mm fans at the rear I/O actually, but none were included with the AW9D-MAX motherboard.
The MOSFET heatsink will work well enough with the exhaust airflow from the CPU heatsink, provided it flows in that general direction. Two additional VRMs are capped with passive aluminum heatsinks just above the CPU socket. These are also cooled primarily by exhaust airflow from the CPU heatsink, or by the draw of warm air into the power supply. If your PC uses water or phase change cooling, it is advisable to point a fan in the general direction of these passive heatsinks so the components don't overheat.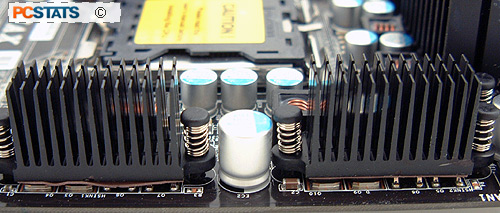 The ABIT AW9D-MAX's voltage regular modules get cooled by two small aluminum heatsinks. It's designed to be cooled with the CPU fan so if you use a passive or watercooling system for the processor, you'll have to point a fan in this direction.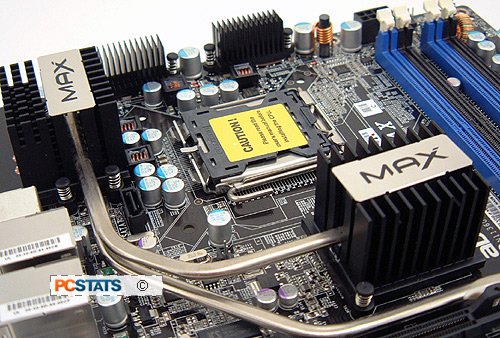 Here's another shot at the Silent OTES 2 cooling system on the ABIT AW9D-MAX motherboard. If your home is dusty, you're well served to clean out the heatsinks adjacent to the CPU socket. A clean paint brush does the job well.
Stand Alone 8-Channel HDA Sound Card
The ABIT AW9D-MAX may be a big board, but there's little free space on the PCB. Instead of trying to fit the Intel Azalia High Definition audio controller circuitry onto the motherboard, along with all the audio jacks, ABIT utilizes a separate card which is Dolby Master Studio certified.
The ABIT AudioMax HD 7.1 channel soundcard connects through a proprietary slot which looks like a reverse PCI Express x1 slot. It installation is a breeze, and the benefit of this arrangement is that you don't need to install it if you already have a good hardware soundcard with your PC.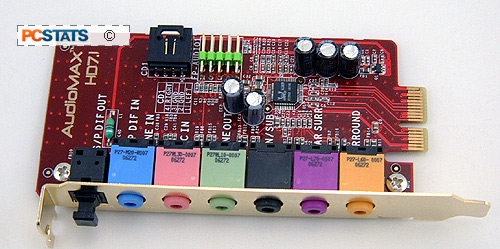 The sound card slot is nicely out of the way of major components too. An optical cable for connecting the sound card to your stereo or audio equipment is thoughtfully provided.