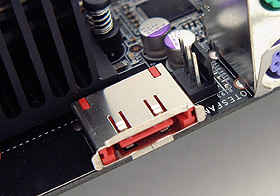 eSATAII (aka external Serial ATA) is one of the most exciting features to pop on motherboards recently. When it comes to external mass storage, bandwidth has always been an issue, and Serial ATA makes even IEEE 1394b's 800Mbps bandwidth look paltry by comparison. The ABIT AW9D-MAX motherboard has one external SATA (eSATA).
This connection uses a slightly modified SATA cable (not included), which is better suited to external connections. Standard internal Serial ATA cables are sufficient for internal connections, but SATA-IO governing body decided a while back that the external version should be a somewhat different format, thus creating the eSATA standard.
eSATA enclosures for SATA hard drives are widely available, and the great thing is that hard drives connected over this standard are just as fast as internal devices. The connectors are hot swappable, so it makes adding and removing an massive external hard drive about as complex as plugging in a USB memory key. For anyone who as ever had to move Gig's of data over a USB cable, eSATA is simply awesome.
The Port 80 Diagnostics card
The two digit Port 80 display is located right on the PCB, in the lower right hand corner of the ABIT AW9D-MAX motherboard next to the front panel I/O header. It's the perfect tool for the tweaker in times of hardware trouble, the little Port 80 device makes life a lot easier.
The standard that dictates what codes are displayed on the Port 80 card have been around for years, and the values are the same no matter what brand or model of motherboard you use (if it has the card anyhow). Even if your motherboard doesn't have one, it's possible to get a Port 80 diagnostics PCI card to install into the system if you do a lot of troubleshooting.
Here's a quick rundown on the most common Port 80 errors you may encounter when overclocking on the ABIT AW9D-MAX motherboard. 'C1' usually indicates a system memory problem, usually that the memory has been overclocked too high for the computer to POST. 'C0' tells us that the L2 cache on the processor is running too fast, a '26' error is a bit more vague but usually indicates to enthusiasts that the system has overclocked too high and cannot POST. 'FF' means hardware wise everything was able to pass the POST tests although it's still possible for you to have other hardware stability issues.
If you do run into problem with the ABIT AW9D-MAX motherboard, the Port 80 should be the first thing you check. It's possible that it may display an odd two digit value, so keep the user's manual handy because ABIT has a reference at the back of its user's manual of all the codes and what they mean.