Abstract: ABIT, which is now officially known as Universal ABIT, is recapturing is former glory. The ABIT AW9D-MAX motherboard is based on Intel's top of the line 975X Express and ICH7R chipsets, packs in quite a lot to get excited about.


80% Rating:

Home > Reviews > Motherboards > ABIT AW9D-MAX
ABIT AW9D-MAX motherboard highlights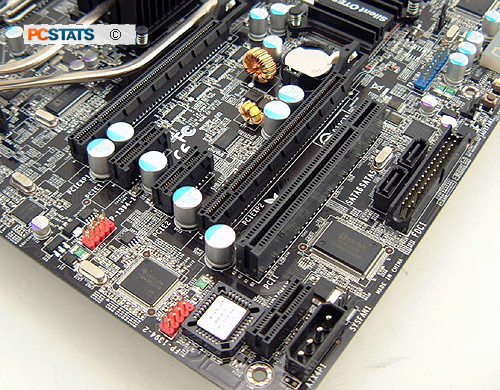 There's plenty of space between the two Physical PCI Express x16 slots so if you're using videocards that take up more than two slots you're ok. When used with ATI Crossfire, each videocard received 8 PCI Express lanes each. With just one videocard installed, it gets the full 16 lanes of PCIe. There are two PCI Express x1 slots for high bandwidth peripherals and a 32 bit PCI slot. At the bottom left hand corner of the ABIT AW9D-Max motherboard is the auxiliary power connector. It is a very poor location for a power connector.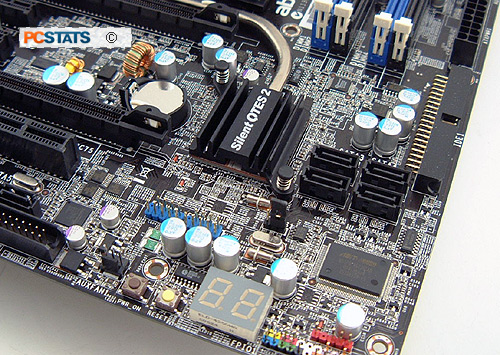 The bottom right hand corner of the ABIT AW9D-Max motherboard has the front panel I/O header, Port 80 diagnostics card, and actual Power/Reset switches. Most of the Serial ATAII headers are located here, along with the IDE port.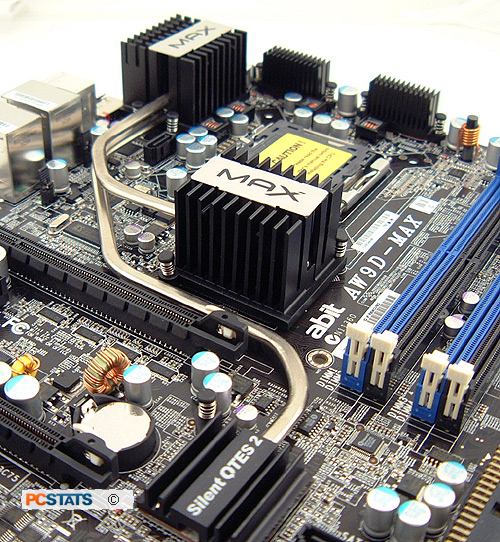 ABIT's Silent OTES 2 uses copper heatpipes to conduct the heat from both the Intel 975X Express Northbridge and ICH7R Southbridge chipsets to the larger MOSFET heatsink in the far corner. The system is totally silent.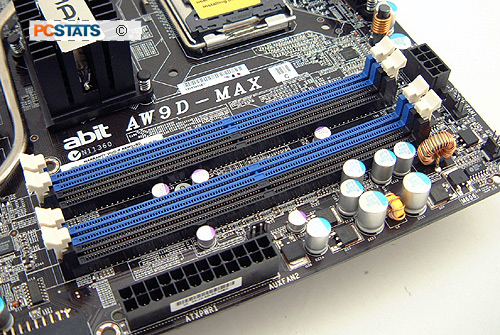 It's recommended that you use an ATX 2.0 spec power supply (24 pin) with the ABIT AW9D-Max motherboard. Note the ESP12V connector at the top of the motherboard, the AW9D-MAX is compatible with ATX12V connectors too. The four DDR2 memory slots can be installed with up to 8GB of memory. Install the memory in the same colour slot to enable dual channel mode.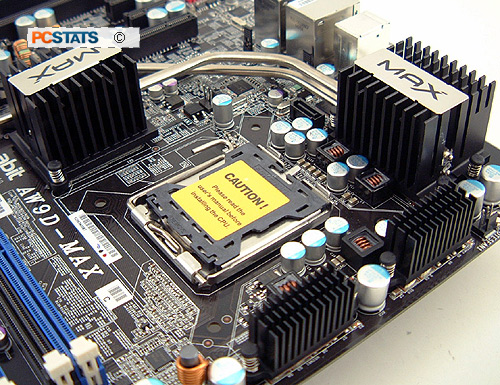 Space around the CPU socket is a bit tight, though not out of Intel specs. If you opt for a passive watercooling system, you'll want to blow air in the direction of the CPU socket to cool the MOSFET heatsinks and Northbridge heatsink.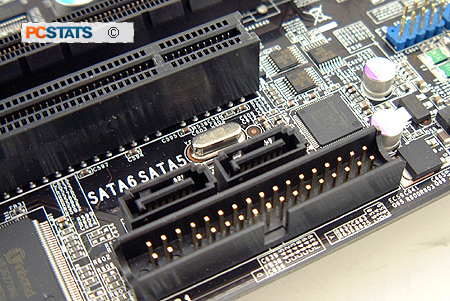 ABIT places the second Silicon Image SiI3132 Serial ATA II controller and floppy drive connector at the very bottom of the motherboard. A bad location as the cables will have to wrap around the other system devices.