Overclocking Results:
ABIT is well known for its overclocking abilities, so we had some pretty high expectations for the AW9D-MAX motherboard. After setting the Corsair Twin2X2048-6400C4 memory to run at DDR2-533 MHz mode and using an Intel Core 2 Duo E6600 processor, we began to raise the motherboard's FSB.
Starting at 200 MHz the FSB was increased in 5 MHz increments. The 300 MHz barrier came and went by easily, at 320 MHz the processor voltage needed a slight tweak to 1.4V to keep things stable. The motherboard experienced another issue at 350 MHz, and here the MCH voltage had to be increased to 1.7V.
Unfortunately the ABIT AW9D-MAX motherboard seemed to hit an imaginary wall at 385 MHz. Nothing we did would allow the motherboard to go any further than this. A speed of 385 MHz isn't too bad, but we were expecting a bit more from ABIT. Get it... A BIT... ;-)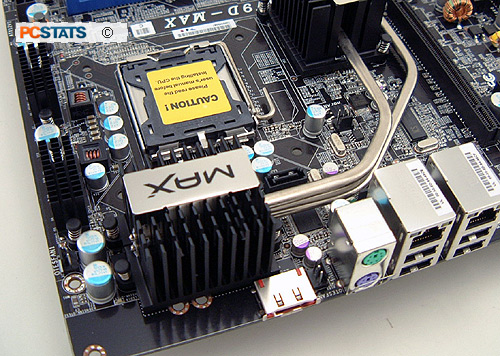 The ABIT BIOS: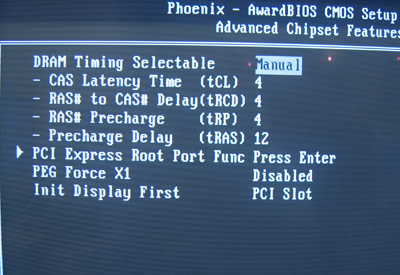 ABIT only allows for basic memory timing adjustments with the AW9D-MAX motherboard. A bit disappointing, usually ABIT allows for more tweaks than this.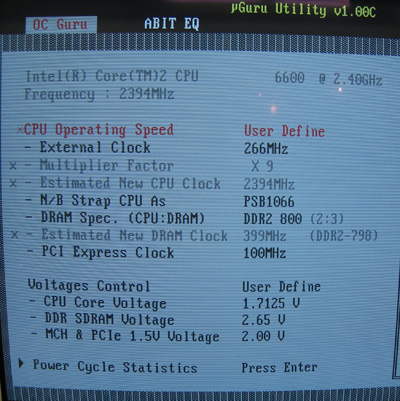 You can adjust the FSB from 133-600 MHz in 1 MHz steps. The maximum CPU voltage is 1.7125V, DDR2 voltage 2.65V and Northbridge/PCI-E voltage 2.0V. Those are some pretty steep voltage options. Make sure you have adequate cooling if you plan on using the higher options.
Prelude to the benchmarks
The details of how the ABIT AW9D-MAX motherboard test system was configured for benchmarking, including the specific hardware, software drivers, operating system and benchmark versions are indicated below. In the second column are the general specs for the reference platforms this Intel 975X Express based system is to be compared against. Please take a moment to look over PCSTATS test system configurations before moving on to the individual benchmark results.

PCSTATS Test System Configurations