Video games are big business, and most PC gamers just happen to be hardware enthusiasts too. After all, who's more likely to upgrade to bleeding edge technology than a gamer in search of sugar sweet eye candy? In a effort to stimulate a stalled motherboard market, it's not surprising that we have been seeing a lot of gamer oriented hardware hitting the streets. A motherboard is a motherboard, but tack on a few gamer friendly extras and suddenly it's the basis for one's own personal PS3/360/wii system.
Okay so gaming oriented gear is in the spotlight, but you've still got to do your homework and be careful to ignore all the marketing hype. Building a "kick ass" PC isn't too hard, so long as you're selective in what you pick up and aren't afraid of a little free tweaking to get it running smooth. Right now, any gamer worth his or her blaster cannon is looking at the Intel Core 2 Duo processor, so the next question is what motherboard to team it up with?
When selecting a motherboard, the chipset is the most important factor. For maximum performance there are just two choices, Intel or nVIDIA. The latter has made huge inroads recently, but if you're stubborn and feel that "Intel processors go best with Intel chipsets," that's okay too. The Intel P965 Express chipset is a great value, but the way that chipset does CrossFire is far from desirable. Rather, if you're a gamer and are looking for absolute gaming performance the Intel 975X Express method of splitting the PCI Express x16 bus is a lot more attractive and should provide better results. The nVidia nForce 680i SLI is an even better option, but that as they say is another review.
After a few years of hardships, ABIT, which is now officially known as Universal ABIT, is recapturing is former glory. The ABIT AW9D-MAX motherboard is based on Intel's top of the line 975X Express and ICH7R chipsets, packs in quite a lot to get excited about. This high end desktop chipset enables the AW9D-MAX to accommodate 533/800/1066MHz FSB Intel socket 775 processors. The four memory slots can be filled with up to 8GB of unbuffered ECC/non-ECC DDR2-800 RAM. Standard equipment on the motherboard includes dual PCI Express based GigABIT network cards, ABIT's AudioMAX High Definition 7.1 channel audio controller, eight 3GB/s SATAII channels, Firewire IEEE 1394a and two additional two port Silicon Image SiI3132 Serial ATA II/RAID controllers. ABIT specific hardware includes microGuru, a port 80 diagnostic card and the SilentOTES thermal system (the collection of passive chipset heatsinks and heat pipes).

ABIT AW9D-MAX Motherboard



Includes:
User's Manual, Quick Install Guide, Rounded Ultra/133 IDE Cable, Rounded Floppy Cable, 7x Serial ATA Cables, Optical Cable, USB/IEEE1394a Bracket, Driver CD, I/O Shield


In terms of expansion, the ABIT AW9D-MAX motherboard has two PCI Express x16 slots for graphics cards, two PCI Express x1 slots for high bandwidth devices and a 32 bit PCI slot for legacy hardware. The ABIT AW9D-MAX retails for $244 CDN ($210 US, £107 GBP), and comes with a couple pairs of rounded cables, an optical audio cable, and the usual assortment of data cables, instruction manuals, floppy disks laden with RAID drivers and the like.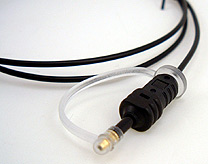 Around back the rear IO panel is largely empty, there is just a pair of PS/2 ports, and two network/2-port USB blocks along with a lone eSATA jack. The rest of the space is just empty (intended for a small fan to exhaust hot air out), which is a real waste. The layout of the AW9D-MAX motherboard is okay for the most part, although the location of a few things really made us scratch our heads.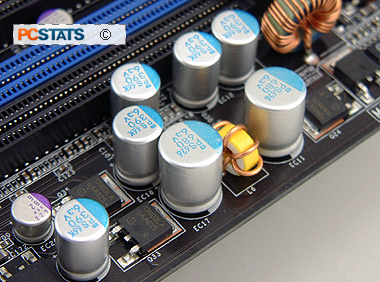 ABIT equips the AW9D-MAX motherboard with solid state capacitors throughout, instead of the electrolytic capacitors used with most other motherboards. Solid state capacitors are more reliable, and will not burst, pop, or leak electrolyte years down the road. They are also a bit higher quality than the electrolytic variety, which should improve stability extend the motherboard lifespan. There are no less than eight fan headers on this board.
The Intel ICH7R Southbridge is a bit "dated" in terms of features, so we're thankful that ABIT addresses this by integrating more features into the motherboard. For instance, modern Southbridge chipsets usually come with six Serial ATA II channels, the ICH7R only has four. A pair of two port Silicon Image SiI3132 PCI Express Serial ATA II/RAID controllers add extra SATA capacity which is certainly needed.
Because of ABIT's elaborate Silent OTES 2 cooling system, there is not a lot space on the rear I/O. Most integrated components are accessible via headers, which is not the best way to go in our opinion.
Having features like IEEE 1394a and lots of USB ports is nice, but if they are only via headers, it almost defeats the purpose. Some of the port placements are a little odd too. For some reason the AW9D-MAX motherboard has its auxiliary power connector at the lower left hand corner of the PCB. Considering the power supply is usually above the CPU socket, that means users may have to dedicate one line just to reach that spot.
The user's manual that comes with the ABIT AW9D-MAX is well written and will be able to guide new and experienced users through installation. If you have a question about pin layouts or Port 80 error codes, just refer to the User's Manual and it will guide the way. The BIOS is particularly well covered, and step-by-step advice for configuring RAID is also dealt with in depth.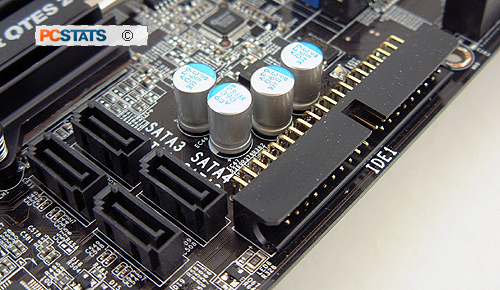 Most hardware enthusiasts go over board on their computer, whether it's necessary or not. All the cool kids are running with RAID 0 (even though this is bad for data reliability ) and the ABIT AW9D-MAX motherboard has you covered there. Whether Serial ATA hard drives are hooked up to the four ports on the ICH7R Southbridge (supporting RAID 0, 1, 0+1 and 5), or one of the two Silicon Image SiI3132 Serial ATA II controllers (RAID 0,1), you're set. Serial ATA optical drives are around the corner, but if you still have IDE devices the Intel ICH7R Southbridge supports a single IDE channel. One IDE channel handles two IDE devices.