With Intel's socket 775 processor formfactor, Intel has accomplished a couple of noteworthy things. The first was to substantially reduce the complexity and cost of manufacturing its processors; removing the vulnerable and delicate interface pins from the bottom of CPUs meant that manufacturing losses and customer returns both dropped significantly for Intel. The second accomplishment was, unfortunately, to increase the complexity and risk involved in installing one of the new 775 processors into a motherboard.
By removing the pins from each CPU, Intel off loaded the responsibility of adding interface pins to motherboard manufacturers (who also now have to deal with returned merchandise and angry customers with bent socket pins). This is a bad thing for Intel users in general, as now the motherboard is the most likely component to be damaged during an installation gone bad, and compared to Intel many motherboard manufacturers are notoriously unreliable in providing replacement parts.
Here at PCSTATS, we had our share of troubles and frustration with the new installation method before we got completely used to it, so we thought we'd run off a quick guide illustrating the procedure for the benefit of our readers. If you are planning on building a Intel based computer anytime soon, bookmark this PCSTATS Beginners Guide.
The LGA 775 processor chip and socket
As you probably know by now, Intel processors have no pins at all. Instead they merely have the electrical contacts where the pins (which are now built into the socket on the motherboard) will touch. While the lack of pins makes these chips much less fragile, the bottom of the processor should not be touched, as the contacts can be damaged.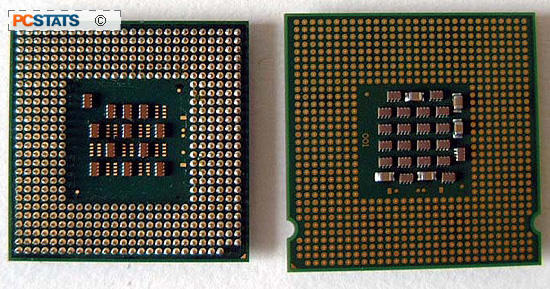 On the left above is the previous socket 478 style Intel processor, at right the current socket 775 style pinless processor. In all other physical respects the new chips are unremarkable, so let's move on to the socket.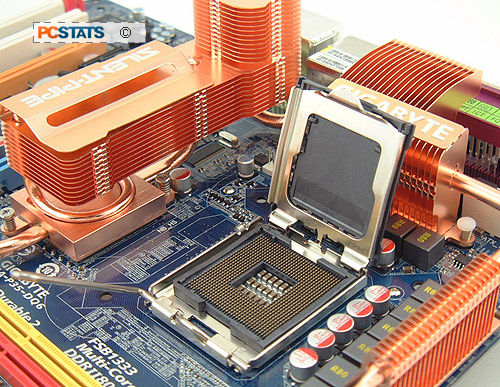 As you can see, the array of pins which connect the processor to the motherboard are now attached to the socket and they are very fragile and easily bent. All socket 775 motherboards feature the metal shim (load plate) pictured above, which serves the dual purpose of locking down the processor once it is installed and protecting the pins from harm when it is not. Most boards also implement a protective plastic cover which fits over the load plate when no processor is present, hiding the pins completely. The lever secures the shim in place, holding the processor when it is installed.
It is extremely important that the processor be installed slowly, carefully and vertically into the socket, and removed the same way. Any careless handling will damage the pins, and may leave you with a useless motherboard.
Now its time to describe exactly how to install one of these chips correctly. It's not the hardest thing in the world, but it pays to be careful and follow a predetermined set of steps.