Abstract: The Asus Maximus Extreme motherboard PCSTATS is testing today is based around Intel's X38 Express and ICH9R chipsets. It comes absolutely loaded with features, almost too much in fact.


90% Rating:

Home > Reviews > Motherboards > ASUS Maximus Extreme
PCSTATS Maximum Motherboard Overclocking Chart & Conclusions
Overclocking is alive and well! PCSTATS has all the details you need to see at a glance to know which board is best. The chart we've compiled below lists the highest overclocked Front Side Bus speeds we were able to achieve while maintaining 100% stability.
Maximum Intel Motherboard Overclocking Results
Motherboards
Max FSB
(MHz)
Ranking
Asus Maximus Extreme (Intel X38 Express/DDR3)*
545
Foxconn MARS (Intel P35 Express)
535
Gigabyte GA-X38-DQ6 (Intel X38 Express)
525
Gigabyte GA-P35-DS4 (Intel P35 Express)
515
Biostar TP35D3-A7 Deluxe (Intel P35 Express/DDR3)*

512

MSI P35 Platinum (Intel P35 Express)
504
Biostar TP35D2-A7 (Intel P35 Express)
483
Gigabyte GA-P35-DQ6 (Intel P35 Express)
482
MSI P6N Diamond (nVIDIA nForce 680i SLI)
478
Asus P5N32-E SLI Plus (nVIDIA nForce 650i SLI)
472
ECS PN2 SLI2+ (nVIDIA nForce 680i SLI)
450
MSI P6N SLI Platinum (nVIDIA nForce 650i SLI)
435
Abit AB9 Pro (Intel P965 Express)
420
Asus P5B Deluxe/WiFi-AP (Intel P965 Express)
420
ECS NF650iSLIT-A (nVIDIA nForce 650i SLI)
412
Asus P5N32-SLI Premium (nVIDIA nForce 590i SLI)
410
Gigabyte GA-965P-DQ6 (Intel P965 Express)
406
Asus P5B-E (Intel P965 Express)
406
Asus P5W64 WS Professional (Intel 975X Express)
400
Abit AW9D-MAX (Intel 975X Express)
385
MSI P965 Platinum (Intel P965 Express)
375
Foxconn 975X7AB-8EKRS2H (Intel 975X Express)
368
MSI 975X Platinum (Intel 975X Express)
360
Foxconn P9657AA-8KS2H (Intel P965 Express)
352
Gigabyte GA-965P-DS3 (Intel P965 Express)
352
ECS PN1 SLI2 (nVIDIA nForce 590i SLI)
350
Epox EP-5P945 Pro (Intel 945 Express)
350
Biostar Tforce P965 Deluxe (Intel P965 Express)
341
Biostar P4M890-M7 (VIA P4M890)
336
Foxconn G9657MA-8KS2H (Intel G965 Express)
333
Gigabyte GA-945PL-S3 (Intel 945PL Express)
255
Typical Test System Specifications: Intel Core 2 Duo E6600 (2.4 GHz) or E6750 (2.67 GHz), 2GB Corsair Twin2X2048-8888C4DF DDR2 Memory, MSI NX7800GTX-T2D256E. Please see individual reviews for more specific test details. * - Tested with Intel Core 2 Duo E6750 (2.67 GHz) and 2GB Corsair Twin3X2048-1800C7D DDR3 memory.
If you're new to Overclocking and not sure what to do, check out these two excellent Guides for some pointers:Overclocking the CPU and Memory, Overclocking the Videocard
The Asus Maximus Extreme motherboard is the fastest motherboard PCSTATS has tested to date. It achieved an overclock of 545 MHz FSB with some pretty heavy voltage going to the Intel X38 chipset.. That's mighty fast, man just imagine the possibilities with a motherboard like this!
There's a new king! It's name is Asus Maximus.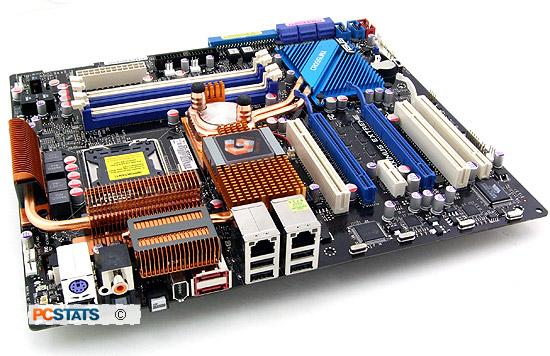 The X38 Express chipset represents Intel's best desktop motherboard chipset right now. While overall performance might be on the same level as the mainstream P35 Express, the X38 Express has a few trump cards, the support for the PCI Express 2.0 standard and official support for the upcoming 1600 MHz FSB standard.
Asus has taken high end motherboards repeatedly to the extreme and has set a new high standard with its Maximus Extreme Intel X38 Express motherboard. This thing is built like a tank and comes with absolutely everything you'd need. A quick glance at its features spec reveals that the motherboard has dual Gigabit network cards, IEEE 1394a, standalone audio and two eSATA ports just to mention a few. As a high end motherboard Asus also give us hard Power/Reset/Clear CMOS buttons, a PORT 80 LCD display which is easy to access outside the case, and the ability to monitor the temperatures of 3 devices with thermistors.
The Asus Maximus Extreme is rather pricey at $354 CDN ($354 USD, £171 GBP), but then again when you consider high end Intel P35 Express motherboards routinely go for $300, the Maximus Extreme isn't too bad. It's one of the few motherboards that supports watercooling by default, and it's obviously for enthusiasts given all the extra accessories that are included.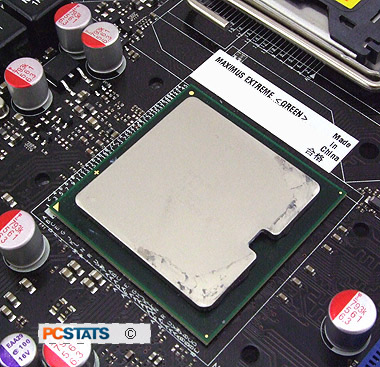 The motherboard itself is rather easy to work with, so even novice users will not have much difficulty setting up a system with the Asus Maximus Extreme. Note the large size of the motherboard though, you'll definitely want to use a larger case with this thing. If you decide to equip the processor with a passive style heatsink (like if you're using a waterblock), Asus includes a fan which installs onto the MOSFET heatsink to keep things cool.
All things considered the Asus Maximus Extreme is very fast. The benchmarks continually show that this board is near the top of its class. Things would have been even better for the motherboard and its DDR3 memory if we were testing with a new 45nm Intel Core 2 Quad 9xxx based processor. ;-) After all this platform is really designed for Intel's 45nm processors, not 65nm.
The Asus Maximus Extreme was most impressive in the overclocking tests and PCSTATS got the motherboard to hit a very sweet 545 MHz FSB! That's definitely high enough to push your processor and memory to its limits! Man I haven't been into hard core overclocking for quite some time, but playing with the latest Intel P35 Express and X38 Express motherboards certainly makes me want to get back into it!
The Asus Maximus Extreme is for the computer enthusiast who has deep pockets. This is a very fast motherboard but to get the most out of it, you'll need to equip it with high end components.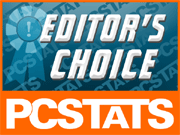 Find out about this and many other reviews by joining the Weekly PCstats.com Newsletter today! Catch all of PCSTATS latest reviews right here.
Related Articles
Here are a few other articles that you might enjoy as well...
- Asus BLITZ Extreme Intel P35 Express DDR3 Motherboard Review
- Asus BLITZ Formula Intel P35 Express DDR2 Motherboard Review
- Gigabyte GA-X38-DQ6 Intel X38 Express Motherboard Review
- Foxconn DigitaLife X38A Intel X38 Express Motherboard Review
- Biostar TF7150U-M7 GeForce 7150 Motherboard Review
- Foxconn Mars Intel P35 Express Motherboard Review
- Gigabyte GA-P35-DS3R Intel P35 Express Motherboard Review
- Gigabyte GA-P35-DS4 Intel P35 Express Motherboard Review
- Gigabyte GA-P31-DS3L Intel P31 Express Motherboard Review
- MSI P6N Diamond nForce 680i Motherboard Review