Overclocking Results:
Intel has provided a monster overclocking platform this last year, and its P35 Express and X38 Express platforms are looking like some of the best ever released. Asus and overclocking go together like cookies and milk so we definitely had some high hopes with the Maximus Extreme motherboard. The board will be equipped with an Intel Core 2 Duo E65750 processor and a 2GB kit of Corsair's DOMINATOR Twin2X2048-1800C7D memory. If it isn't Corsair, you ain't getting far. Before PCSTATS overclocking tests began the DDR3-1800 memory was configured to run in DDR3-1333 MHz mode and the Core 2 Duo's clock multiplier set to 6x.
Starting at 333 MHz FSB, the motherboard clock speed was increased in 5 MHz increments. Without much difficulty the Asus Maximus Extreme passed the 400 MHz mark, that is not hard with modern motherboards. Continuing to push the motherboard on, at 430 MHz FSB things started to be flaky so the Northbridge voltage was increased to 1.45V.
At 475 MHz FSB the motherboard required yet another Northbridge voltage bump, this time to 1.55V. The Asus Maximus Extreme was able to crack 500 MHz FSB which is pretty darn sweet, let's see how much higher it can go.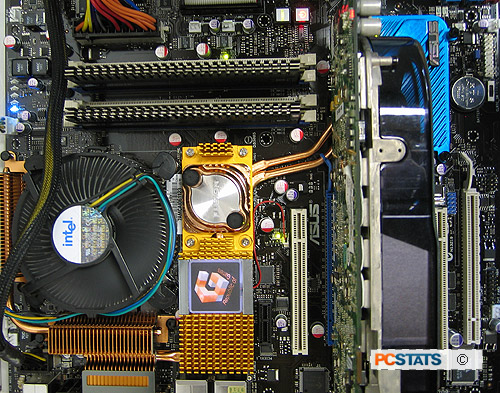 With a Northbridge voltage of 1.75V the Asus Maximus Extreme reached a top speed of 545 MHz FSB. Normally I wouldn't want to run that much voltage through the Northbridge.... but I know the Asus motherboard can handle it. An overclocked speed of 545 MHz FSB is darn sweet, and fast enough to push the rest of your computer hardware to its limits. It's a good thing Asus ship the Maximus Extreme with pre-installed water blocks, at that voltage you're going to need them.
Specialized Overclocking Features
A lot of enthusiast grade motherboards have oveclocking features; big chipset cooling solutions, a powerfully tuned BIOS, or even just a little specialized board-level engineering. Along with the custom cooling PCSTATS has already mentioned, the Asus Maximus Extreme has a couple extra nods any overclocker can appreciate.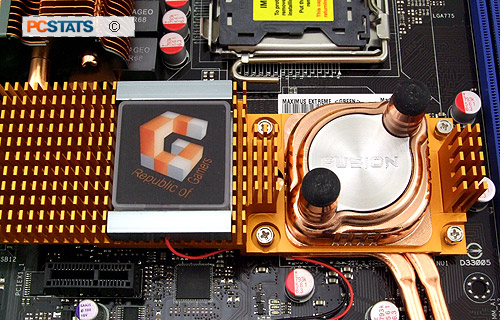 The "G" lights up to let others know you are part of the Republic of Gamers.
If you are a little too risky with the overclocking, there is board level display called the "component overheat protector" or COP Ex that can lights to warn you. For example, if too much voltage is being applied, or if one of the components it is linked to is about to blast into flames because it is too hot, the LED can let you know.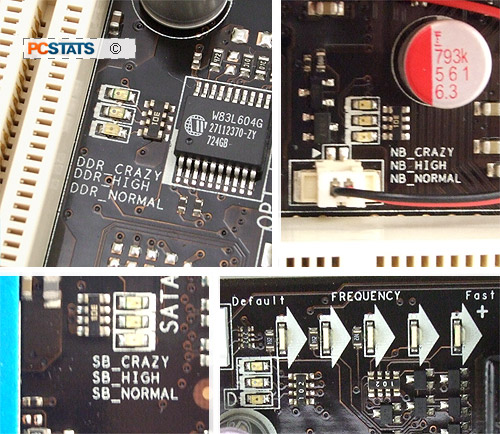 Different degrees of overclocking and voltage settings will turn on the LEDs here to warn you if you've gone one degree too far.
Elsewhere in three separate locations are little arrays of LEDs. These serve as visual indicators of how overclocked certain system components are. Several go further, and if the colour changes to red you know you're pushing the system too far. "Voltiminder LED" monitors the voltage status for CPU, northbridge, southbridge and memory.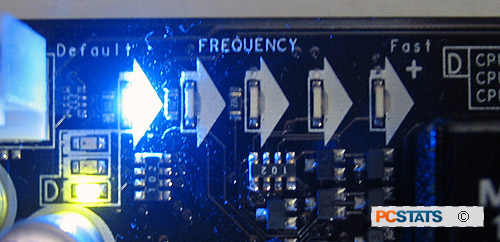 Forget the flashy case, high benchmark results and liquid cooled CPU. Asus have five LEDs to indicate just how fast the system FSB is.