Abstract: The Asus Maximus Extreme motherboard PCSTATS is testing today is based around Intel's X38 Express and ICH9R chipsets. It comes absolutely loaded with features, almost too much in fact.


90% Rating:

Home > Reviews > Motherboards > ASUS Maximus Extreme
Maximus Extreme Highlights Gallery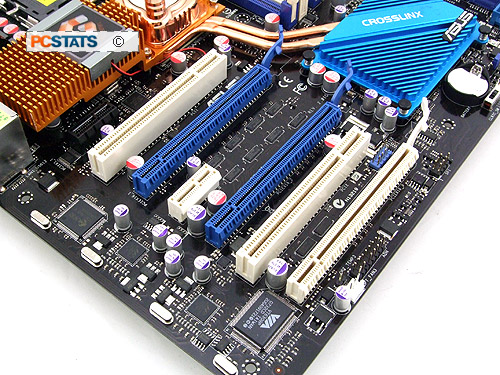 At the lower left hand corner of the motherboard we find in full view the expansion slots that are available. There are two PCI Express x1 slots available (one black is just under the Northbridge heatsink and easy to miss), three PCI Express x16 slots and two 32 bit PCI slots for legacy devices. There's a fan header and the front panel audio header at the very bottom of the motherboard.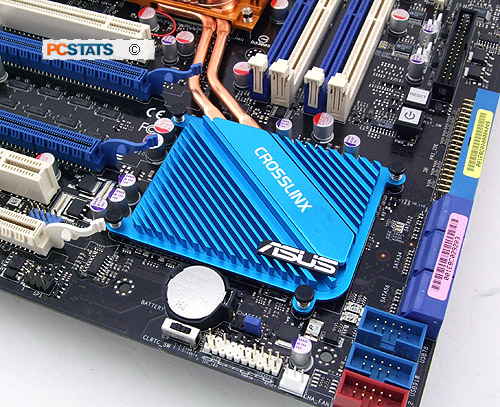 The bottom right hand corner of the Asus Maximus Extreme motherboard is very busy indeed. The large blue heatsink covers the ICH9R Southbridge and CrossLink chipset. Below that is the CMOS battery, Clear CMOS switch, front panel I/O header and a fan header. To the right are two USB 2.0 and an IEEE 1394a headers, and the six Serial ATA II ports tied to the ICH9R Southbridge. The CLRTC-switch enables or disables the CMOS switch on the back of the board as well.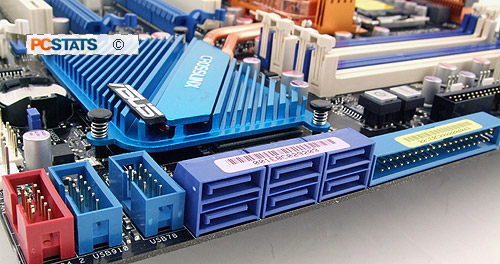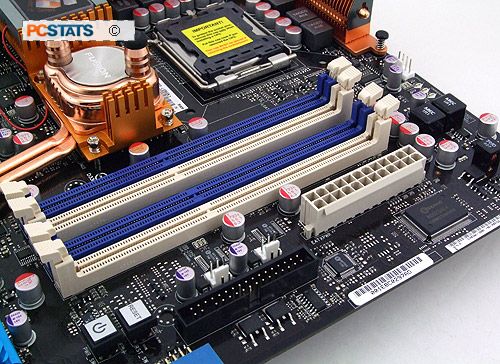 There are four DDR3 memory slots on the Asus Maximus Extreme motherboard which can accommodate up to 8GB of DDR3-1600 memory. To the right of that you'll find two fan headers, just behind those are two connectors for the thermistors that come with the motherboard. There's the floppy and main ATX power connectors in plain view.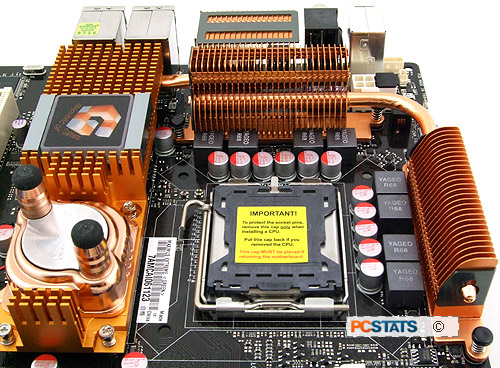 There is plenty of space around the Intel LGA775 CPU socket so if you want to install a waterblock or phase change cooler you have the space. Asus plugs the 3/8" waterblock barbs with rubber stoppers, good so that dirt and debris can't get inside.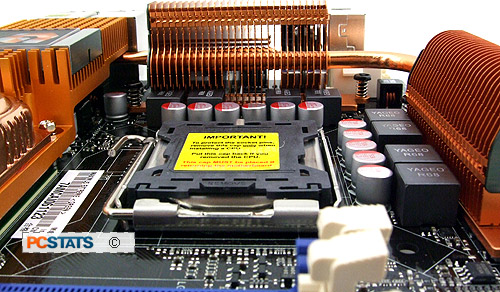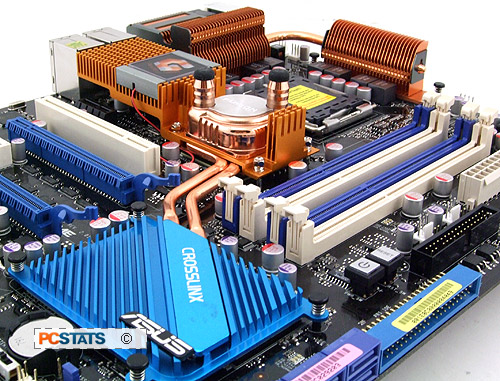 As you can see here Asus uses heatpipes to move heat away from the hot chipsets like the Southbridge and CrossLink to the larger MOSFET coolers.