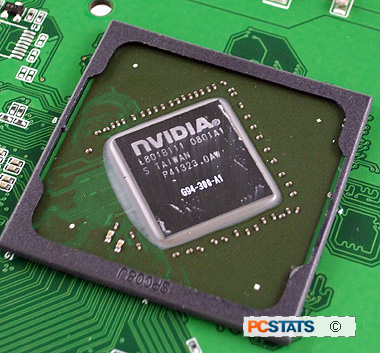 At the heart of Palit's 9600GT Sonic videocard is the nVIDIA's GeForce 9600GT graphics processor. Code named 'G94', this mainstream graphics chip is manufactured by TSMC on the 65nm process and contains an unknown number of transistors.
The G94 chip has a small die area of 240mm2, which you can see pictured at right. Our test card was marked "G94-300-A1,", and in this instance Palit have added a little plastic shim that fits around the edge of the GPU package to prevent the silicon from being easily chipped.
Since the nVidia G94 core is based on familiar technologies, we'll just mention that it's DirectX10 and Shader Model 4.0 compliant. The videocard consumes a reported 95W and has a 6-pin auxiliary power connector, a sight we're not accustomed to in mainstream-class videocards.
The bus interface is PCI Express 2.0, the slot PCI Express x16. Nvidia SLI is supported by a single card edge connector. The Geforce 9600GT supports Purevideo HD 2/VP2 to accelerate High Definition content and reduce CPU load, and is HDCP compliant. Additionally, the core accomodates OpenGL 2.1, 128-bit HDR, nVidia Quantum Effects physics processing, and Microsoft Windows Vista. Most of this you probably already know, no doubt.
Nvidia have given the G94 core 64 unified shaders, whereas the Geforce 8800GTX has 128, the 8800GTS 640/320MB 96. Clock for clock this means the G94 is close to but not as fast as the GeForce 8800GTS. More stream processors allow the videocard to do more work per clock cycle, so clock for clock the 8800GTX only needs to run at half the speed of the G94 to do the same amount of work.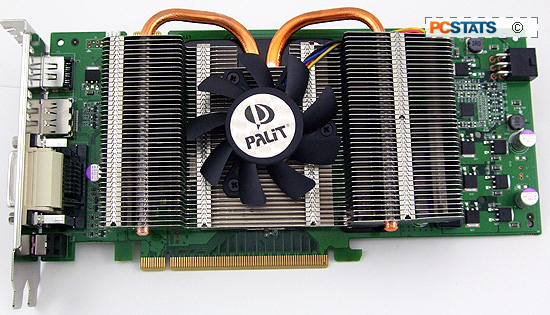 The reference nVidia Geforce 9600GT videocards are set to run at 650 MHz core, 1800MHz (900MHz x2) memory. Shader clock speed is 1625 MHz. Palit has chosen to pre-overclock its 9600GT Sonic 512 graphics card to 700MHz / 2000MHz (1000MHz x2) / 1700MHz for core/memory/shaders respectively.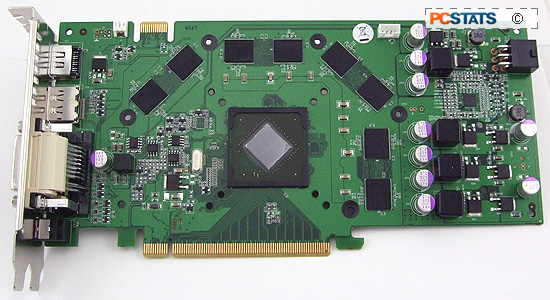 The reference GeForce 9600GT's 512MB of GDDR3 memory is clocked at 1800 MHz (2000 MHz with this Palit videocard). To ensure that the G94 stays in its place, the card is equipped with a small 256-bit data bus. The GeForce 8800GTX uses a 384 bit bus and the 8800GTS 320/640MB a 320 bit data bus. That should keep the GeForce 9600GT performance in check.
Now, let's find out if the Palit Geforce 9600GT will overclock beyond its pre-overclocked factory state! But before we get into that, there are a couple High Definition friendly features that no other card has....