I could tell you that Intel and AMD have moved aggressively towards reducing the amount of power processors consume, and that nVIDIA and AMD have largely neglected this issue if videocard auxiliary power connectors are any indication. I could tell you that high end videocards often draw more power than a CPU... but you already know this.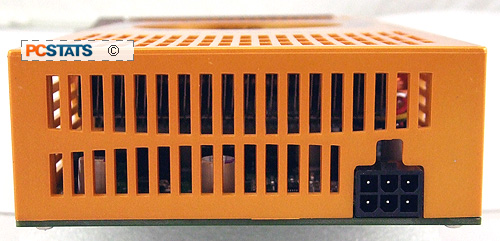 To determine roughly how much power the Palit 9600GT Sonic consumes, consider this. The PCI Express x16 slot provides up to 75W power, and each additional six pin VGA power connector a further 75W.
The new eight pin PCI Express power connector can deliver up to 225W of power. The Palit 9600GT Sonic has one 6-pin connector, so that's a potential 150W. In reality we know the Geforce 9600GT is built on 55nm process and the card consumes about 95W.
Here's how the Palit 9600GT Sonic videocard stacks up in real life against a couple different videocards. We have no way of directly measuring videocard power draw, so PCSTATS will measure total system power draw and compare that in 3D loaded (max value recorded in 3DMark06) and idle states (at Windows desktop). The power supply used in each test is an A-PFC compliant Seasonic S12-600W model.
Videocard Power Consumption - Total System Power Draw
Idle at Desktop:
Watts*
Ranking
Diamond Viper Radeon HD 2900XT CrossFire
195
Asus EAX1900XTX 2DHTV/512M/A
160
Asus EAX1950PRO/HTDP/256M/A
150
MSI NX8800GTX-T2D768E
196
MSI NX7950GX2-T2D1GE
183
MSI NX7900GTX-T2D512E
165
Gigabyte GV-NX76T256D-RH
140
Palit 9600GT Sonic 512
151
3D Loaded:
Watts*
Ranking
Diamond Viper Radeon HD 2900XT CrossFire
549
Asus EAX1900XTX 2DHTV/512M/A
333
Asus EAX1950PRO/HTDP/256M/A
252
MSI NX8800GTX-T2D768E
345
MSI NX7950GX2-T2D1GE
315
MSI NX7900GTX-T2D512E
277
Gigabyte GV-NX76T256D-RH
213
Palit 9600GT Sonic 512
221
At idle, the Palit 9600GT Sonic test system draws approximately 151W. Energy consumption jumps a lot when the videocards are stressed under a 3D gaming load in 3DMark06. In this case, the total system power draw for the Palit 9600GT Sonic test platform rises to a peak of about 221W. That's a change of about 70W when this Geforce 9600GT is stressed.
Now depending on the power supply and your system configuration, the power draw could be very different so consider this chart as a general guideline of what to expect.
Overclocking is next.