Whether you like it or not, gamers have to upgrade to Windows Vista sooner or later to enjoy DirectX 10 titles like BioShock or Cyrsis. For this, you need a DirectX10 compliant videocard, and it doesn't hurt if it's HDCP compliant and natively supports HDMI output, Shader Model 4.0, and all manner of High Definition content.
Enter a new GPU contender from Palit Microsystems - the 9600GT Sonic 512 videocard. This nVIDIA 'G94' GeForce 9600GT-class videocard comes conveniently pre-overclocked from the factory floor with 512MB of GDDR3 memory. The Palit 9600GT Sonic videocard is tweaked to run with 700 MHz core, 2000 MHz memory and 1750MHz shader clock. This is up from the nVidia default settings of 625 MHz core / 1800 MHz memory / 1600MHz shader for the new Geforce 9600GT GPU. The new nVidia 'G94' GeForce 9600GT GPU is a mainstream videocard to officially replace the Geforce 8600GT, but in this instance offers significantly more in the way of value.
Palit's tweaking makes the 9600GT Sonic roughly at par with nVidia's Geforce 8800GTS (650 MHz core / 970 MHz mem). The Geforce 9600GT features 64 stream processors, supports SLI and is PCI Express 2.0 and HDCP compliant.
Supports Palit have built a non-reference videocard here, and while the supplied thermal solution is good the entire heatsink is encased in a not very impressing big orange boxy plastic cage. The videocard requires one 6-pin 12V auxiliary power connector, a big step up for a mainstream videocard part such as this. The Palit 9600GT Sonic features two dual link DVI ports which support 2560x1600 resolution, an HDMI jack and optical SP/DIF audio input, and something called a VESA DisplayPort. PCSTATS will get into the DisplayPort in a moment, but we should mention it to supports a resolution of 2560x1600 pixels.

Palit 9600GT Sonic 512 Videocard




Includes:

User's Manual, Driver CD, DVI to analog converter, SLI 6-pin power cable, optical SP/DIF cable, 2-pin audio jumper cable.
The Palit 9600GT Sonic videocard comes with 512MB of onboard GDDR3 memory and is priced in the region of $219 CDN ($219 USD, £114 GBP) - a little higher than the typical reference design based Geforce 9600GT videocard. The Palit 9600GT Sonic ships with a basic collection of accessories and a full DirectX 10 copy of the video game Tomb Raider: Anniversary.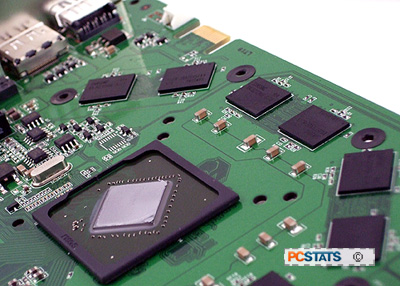 The card is a PCI Express x16 dual slot affair, 22.8cm long and requires one 6-pin auxiliary power connector. At the top left hand corner of the videocard you'll see the SLI bridge connector; the card can be run with one other GeForce 9600GT videocard in SLI mode for extra 3D goodness.
Not a Reference Geforce 9600GT
With the 9600GT Sonic, Palit are emphasizing a few aspects you're not likely to notice; a 3-phase power supply, a little black plastic shim around the edge of the nVidia 'G94' Geforce 9600GT GPU, and DisplayPort (okay, this one is just ahead of the curve). The first two don't really get the blood boiling, and DisplayPort is still very new and unknown. The Palit 9600GT Sonic videocard stands out because it has an HDMI (and DisplayPort) jack right on the card, and because it is nicely pre-overclocked.
The three phase power supply is supposed to allow the card to run cooler, with a more stable power distribution system. That should translate into more stable overclocking. Since the videocard is pre-overclocked at the factory already, it will be interesting to see how much extra headroom Palit leave for consumers.
VDOTool provides
Overclocking tools are the software accessory shipped with virtually every videocard that no one uses. nVidia nTune does the exact same thing with more finesse. That doesn't stop Palit from bundling a little software tool called 'VDOTool' which gives you basic clockspeed control to the nVidia G94 core, shader, and memory speeds. The soft'ware has some temperature and fan speed controls, but no voltage-oriented overclocking options unfortunately.

PCSTATS tests all graphics cards in a motherboard sitting on top of a desk, not in a case. Noisy videocards are like water torture, so we can definitely say the Palit 9600GT Sonic gets up there when running the 3D benchmarks. It's not super loud, but the whooshing sound is quite audible. I doubt you'll notice when you're knee deep in the digital mud of a good DX10 game fighting off the enemy and reaching for a fresh mag... if you're like me, you're too engrossed by what's in front of your character.

Okay, a look at the NVidia G94 core is next, and then we'll dive into overclocking and benchmarks!