There are quite a few Geforce 9600GT videocards being released to satisfy consumer demand, but standing out from the crowd isn't always easy with a mainstream videocard. Palit have taken a unique approach with the 9600GT Sonic by including a physical HDMI jack that supports an audio stream right at the back of the videocard. No dongle required. Next to the HDMI jack is something new, a video out connector called the DisplayPort.
What is a DisplayPort and where does it come from?
DisplayPort is the baby of VESA, the display standards association. VESA has the rather mundane task of making sure monitors and displays all work regardless of who makes them, what screen technology is used or how they are connected to a computer. In the basic sense, VESA set the standards that make interoperability work.
VESA's latest baby is the DisplayPort - a flexible open standard which seeks to address the requirements of all external and embedded display applications. Put another way, with DisplayPort VESA want to make the 15-pin Analog VGA and Digital DVI monitor cable standards, S-Video and Component formats obsolete. It proposes to replace those five different video standards with one cable, the DP cable.

The DisplayPort looks like an HDMI connector, but the two are different. It's digital, so VESA envision DP-to-HDMI and DP-to-DVI adaptor cables. It's unlikely consumers will willingly toss out old monitors just for a new display connection standard to hook up everything after all, so expect adaptors in the future if DP really takes hold.
Since the DisplayPort is a digital signal based video transmission standard (with room for a few extras), it's HDCP 1.3 and DPCP 1.0 compliant. A few other features make DisplayPort an interesting future proof technology that's likely to be broadly adopted; direct drive LCD support, higher bandwidth than a DVI cable, better HDMI/DVI support via adaptors, ability to transfer audio, content protection, reduced complexity and space savings at the back of the computer.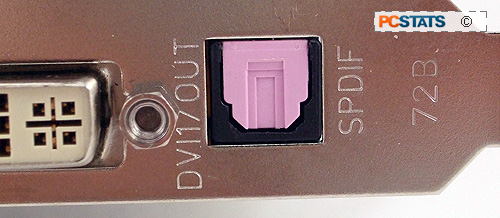 DisplayPort enables a system (not unlike the PCI Express format) which can scale with bandwidth demands. DisplayPort has four lanes with a bandwidth of 1.6Gbit/s or 2.7Gbit/s per lane for a maximum bandwidth of 10.8GBit/s. This could support a WQXGA-10bit monitor at a resolution of 2560x1600 with ease.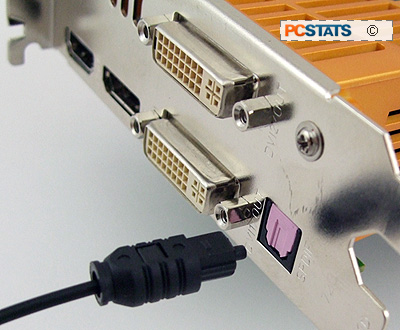 Audio Inputs: Digital 2-pin and Optical SP/DIF
The Palit 9600GT Sonic stands out for one other reason - an optical SP/DIF jack at the rear. There is a digital 2-pin audio header at the top of the 9600GT, right next to the nVidia SLI connector too. Either of these audio inputs is used to bring an audio signal into the Palit 9600GT so it can output audio over the HDMI or DP cable. Virtually every motherboard has an audio header, so this is the most convenient route to take, for the motherboard to deliver audio to the Geforce 9600GT.
The optical audio input port provides some added flexibility, in that the Palit 9600GT Sonic could be rapidly connected to a stand alone audio card. A short optical SP/DIF cable is included with the videocard, as is the two-pin internal audio jumper. The reason for all of this is nVidia's graphics cards do not incorporate an audio codec, the audio signal needs to be connected to the videocard. The HDMI cable can then carry both video and audio to awaiting HDTVs.