Abstract: Palit's tweaking makes the 9600GT Sonic roughly at par with nVidia's Geforce 8800GTS (650 MHz core / 970 MHz mem). The Geforce 9600GT features 64 stream processors, supports SLI and is PCI Express 2.0 and HDCP compliant.


84% Rating:

Home > Reviews > Video Cards > Palit 9600GT Sonic
Overclocking the quick Asus Videocard

Overclocking Results:
Palit's 9600GT Sonic videocard is pre-overclocked for fun and faster FPS'ing. The Geforce 'G94' 9600GT core is clocked at 700 MHz and its 512MB of GDDR3 memory at 2000 MHz. That's up from the stock configuration for a Geforce 9600GT graphics card of 650 MHz and 1800 MHz (core and memory respectively), but that doesn't mean the Palit 9600GT Sonic is going to be spared from further overclocking tests though...
Starting with the GeForce 9600GT GPU first, PCSTATS increased the clock speed in 25 MHz increments. The Palit 9600GT easily overclocked with nVidia's nTune software, and in a matter of minutes the GPU was humming at 775MHz. There were some artifacts at that speed, so the core clock was dropped down a notch to 765MHz. This got rid of the artifacts. Anything higher and nTune would complain that the videocard failed its internal test.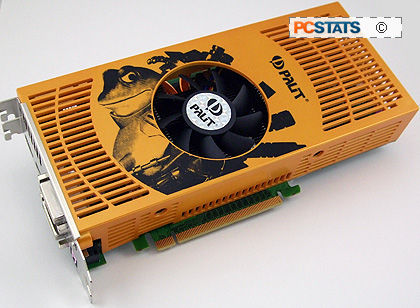 Next we set about overclocking the 512MB of GDDR3 memory. Beginning at 2000 MHz the memory was increased in 40 MHz increments.
The memory cooperated well, so we overclocked in leaps and bounds to a reliably stable speed of 2240 MHz. Anything higher caused the benchmarks to crash back to desktop, flames to shoot out the back of the card and the sky to fall.
For mainstream GPU like nVidia's Geforce 9600GT, the Palit 9600GT Sonic videocard overclocks well - especially if we consider the reference speeds for a Geforce 9600GT.
While the 9600GT Sonic is already overclocked high enough from default speeds that you get a nice boost, you can set about on your own overclocking trials and squeeze a little more performance out of it.
Prelude to Benchmarks:
The details of how the Palit 9600GT Sonic test system was configured for benchmarking; the specific hardware, software drivers, operating system and benchmark versions are indicated below. All benchmarks for the Palit 9600GT Sonic were run in Windows Vista Ultimate, the reference videocards were tested in both WindowsXP and Vista for the DX10 benchmarks. PCSTATS is in the process of making the transition to a Windows Vista only test platform, so keep this in mind as you scan the benchmark results. In the second column are the general specs for the reference platforms this nVIDIA GeForce 9600GT 512MB based videocard is to be compared against. Please take a moment to look over PCSTATS test system configurations before moving on to the individual benchmark results on the next page.

PCSTATS Test System Configurations