ATI 'Hybrid Graphics' is a system which enables a stand alone Radeon PCI Express videocard to share the 3D processing load with the AMD 780G integrated graphics chipset in a specialized 'Hybrid CrossFireX' mode. It allows casual gamers a cheap way to get a little more gaming performance from what is otherwise a mainstream PC platform like the ECS A780GM-A. The system only works with Radeon HD 2400/3400 series videocards and the AMD 780G, if the PC is running Windows Vista. WindowsXP doesn't support Hybrid Graphics GPU-teaming, instead the videocard and IGP would operate independently.

The system is intended to improve mainstream gaming performance, but clearly two entry level GPUs do not equal flagship 3D graphics performance. In essence, Hybrid Graphics translates into a moderate improvement over the typically lackluster 3D framerates an integrated graphics chipset is capable of. If the Intel G35 Express is the equivalent of a horse and cart, the AMD 780G with Hybrid Graphics enabled is more like a buggy. An improvement yes, but not a substitution for a powerful graphics card by any stretch of the marketing departments imagination.
In a gesture towards power efficiency, Hybrid Graphics will thoughtfully minimize the power state of a standalone videocard while you're working on the Vista desktop to save power (what we call the 2D world). This occurs automatically, provided the monitor is connected to the motherboard's video port. Whereas if you load up a 3D game, the videocard will return to a higher state of utilization and power draw.
The system has one other advantage, if you're running Windows Vista it's possible to set up a multi-display system and span your Windows Vista desktop across four monitors. Whether this is a serious requirement of the sub-$500 computer segment is anyones' guess.
Unified High Definition Decoding: UVD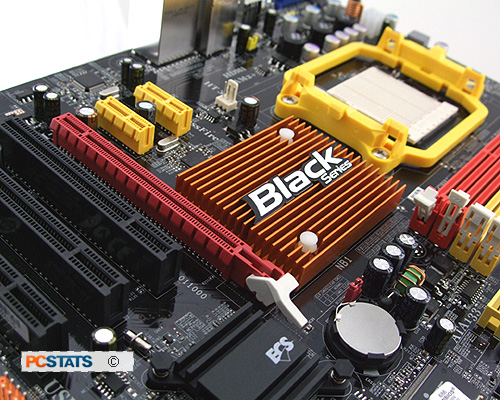 No one can deny that high definition content has been warmly embraced, but what with the success of Blue Ray, today's mainstream media center PCs need HD decoding acceleration like never before. AMD hope to address HD decoding in the 780G chipset with its 'Unified Video Decoder'. UVD directs HD playback decoding to the integrated Radeon HD 3200 GPU, rather than to the AMD processor, allowing the system to playback VC-1, MPEG-2 and H.264 content up to 1080p resolution with less CPU usage.
Most recent integrated graphics chipsets from AMD, nVidia and Intel have had the capability of connecting via analog or DVI monitor cable. If the board supported DVI, that meant it was capable of HDMI should the manufacturer choose to implement it.
The AMD 780G follows a similar path with dual display controllers supporting analog VGA and DVI/display port/HDMI outputs. Although it would be nice to use a DVI monitor and output HDMI to an adjacent big screen, with one digital display controller it's an either or situation; either DVI or Display Port or HDMI (at least all are HDCP compliant). And don't think you can use that DVI-to-Analog converter, you can't. The analog on the ECS A780GM-A motherboard is firmly analog, and the DVI is firmly digital.
Heat and Energy Efficiency
AMD talks a lot about the 780G's 55nm process making it more energy efficient, but in real world applications this likely has no bearing unless you've snapped up an energy efficient socket AM2+ Phenom and are rolling out several hundred identical computer systems. The average consumer is going to be more interested in the passive cooling the AMD 780G and SB700 chipsets require. Passive heatsinks like those used on the ECS A780GM-A motherboard mean this platform is good for silent PC use, so long as you select an appropriately quiet CPU heatsink and videocard.
AMD 780G / SB700 Chipsets

The AMD 780G (previously known as 'RS780') is designed with Microsoft Windows Vista in mind. It's the second integrated video chipset from AMD to feature DirectX 10 capability, and serves as the replacement for AMDs popular 690G chipset.
AMD's 780G chipset supports all AMD 32-bit / 64-bit Socket AM2 CPUs, and the new Socket AM2+ Phenom processor family. With a socket AM2+ chip installed, the CPU communicates with the AMD 780G chipset over a HyperTransport 3 (HT3) connection. For legacy socket AM2 processors, a HyperTransport 2 (HT2) connection is used.
The AMD 780G core logic is built on TSMC's 55nm manufacturing process, draws 0.95W power, and contains 205 million transistors. By comparison, the AMD 690G contained 72 million transistors, drew 1.4W power, and was fabricated on the 80nm process.
The Radeon HD 3200 possess a Radeon HD 3200 DirectX 10, SM4.0 compatible graphics core which ideally suited to work in tandem with Windows Vista. The integrated graphics are based on the Radeon HD 3000 series architecture.
The integrated videocard supports HDCP natively through DVI and HDMI
Within the AMD 780G are two independent display controllers, one digital (DVI/DP/HDMI) and one analog for displays. Depending on the manufacturers board-level implementation, the 780G will easily support dual monitors (one analog and one digital). The ECS A780GM-A motherboard is only equipped with an analog VGA port, and as no HDMI-to-DVI adaptor is provided, dreams of dual monitors end there.
Should you want to use a stand alone videocard the AMD 780G supports a PCI Express 2.0 x16 slot, and one extra PCI Express x4 slot on the ECS A780GM-A board so it is also Crossfire compatible. Certain Radeon videocards can be configured to run in Hybrid Graphics mode with the integrated videocard of the 780G chipset.
The integrated Radeon HD 3200 videocard on the AMD 780G chipset contains 40 stream processors and shares up to 512MB of installed system memory. The AMD 780G supports up to six PCI Express 2.0 x1 slots along with six PCI bus mastering slots, although it's up to the motherboard manufacturer to implement things. There are generally six Serial ATA II ports and a single Ultra/133 IDE controller, coming from the AMD SB700 Southbridge.
Also integrated is are twelve USB 2.0 ports, two USB 1.0 ports, a Gigabit network MAC and a 7.1 channel High Definition audio controller.
The AMD's 780G chipset is a real challenger to nVIDIA's GeForce 7050-series and Geforce 9300 chipsets, but whether it truly is faster and a good alternative is something we'll find out in just a moment.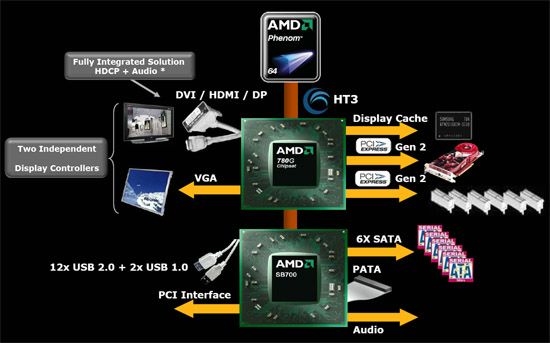 The block chart for the AMD 780G and SB700 chipsets is above. First let's look at a closer look at the ECS A780GM-A motherboard and then take a look at the benchmarks to see how it stacks up against other IGP platforms.