The ECS A780GM-A motherboard is an affordable media center platform based on the mainstream AMD 780G chipset. This spunky little integrated graphics chipset is ideal for home theatre PC/media applications, or budget-friendly workstation PC's because of its built in Radeon HD 3200-class videocard. The AMD 780G brings several new technologies to the table when paired with AMD's Phenom AM2+ processors, without abandoning support for socket AM2 Athlon64/X2/FX CPUs.
The ECS A780GM-A motherboard PCSTATS is reviewing for today is built with AMD's 780G ('RS780') Northbridge and SB700 Southbridge chipsets. The ECS A780GM-A offers a lot of great options for under $85USD, if you can believe it! The ATX sized motherboard supports all Socket AM2+ AMD Phenom and socket AM2 Athlon64 X2/FX/Sempron processors, though certain technologies are only available to AM2+ CPUs. As is typical, four DDR2 memory slots accommodate up to 8GB of dual channel DDR2-1066/800/667/533 system memory. PCSTATS recommends using at least 2GBs of RAM to run Microsoft Windows Vista.
First and foremost on the list of features for the ECS A780GM-A motherboard is HDMI ( High Definition Multimedia Interface ), adjacent to a lone analog video connector (DVI is absent). The charm of the AMD 780G chipset is its AMD Radeon HD 3200 graphics, which we'll discuss in greater detail momentarily.
Along with the Radeon HD 3200 integrated graphics, the ECS A780GM-A motherboard offers users a comprehensive list of features; Gigabit networking, twelve USB2.0 jacks (six at the rear, six off headers), five Serial ATA II ports, one external Serial ATA jack, High Definition Azalia 7.1 channel audio, one IDE connector, and six peripheral expansion slots (2nd generation PCI Express x16, two PCI Express x1, three PCI). The box bundle is exceptionally thin; just one IDE cable, two SATA cables, an IO shield, drivers and terse manual. One consolation is the new appearance of ECS' 'Black Series' motherboards. The board looks a lot better than the old purple monsters we're accustomed to.

ECS A780GM-A Motherboard



Includes:
User's manual, driver CD, 2x Serial ATA cables, Ultra/133 IDE Cable, I/O Shield.
The integrated AMD Radeon HD 3200 videocard is entirely sufficient for running desktop 2D applications within Windows Vista, and is itself DirectX 10 / Shader Model 4.0 compliant. If gaming is your thing, you can take advantage of technology called 'ATI Hybrid Graphics' by installing a mid-level videocard like the Radeon HD 3450 into the PCI Express x16 slot. The system must be running Vista for Hybrid Graphics to be enabled, and it operates in manner similar to Crossfire. PCSTATS will give Hybrid Graphics a shot with Diamond's Radeon HD 3650 videocard, you can gauge the impact yourself.
Realistically, the ECS A780GM-A motherboard is better suited to HTPC video playback than as a killer gaming rig. Underscoring this point, the Radeon HD 3200 is HDCP compliant and supports VC-1, MPEG-2 and H.264 encoding. The platform technically allows you to output HD video at up to 1080p resolutions over HDMI, but we'll be interested to see how much CPU load is taken on.
In the home theatre PC environment, noise is an unwelcome distraction. The AMD 780G and SB700 operate more energy efficiently than their predecessors, so the chipsets are passively cooled with simple aluminum heatsinks. The power consumption for the 780G, for example, is pegged at just 0.95W.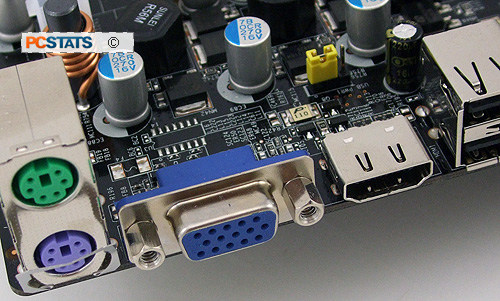 The board doesn't have a single chipset cooling fan, so if you build carefully you can create a computer which is nearly silent. This is why the AMD 780G continues to be the darling of the Home Theatre PC world.
Home Theatre Outputs
The back of a ECS A780GM-A motherboard where are the cables connect to is called the "rear I/O", and here we find the all important HDMI jack. This port makes it possible to connect the ECS A780GM-A directly to a high definition television. HDMI replaces the component output and RCA composite video jack with just one simple compact digital cable that provides better video and audio quality.
The high definition multimedia interface is an all digital audio/video interface capable of transmitting uncompressed streams. It supports all TV formats, including standard, enhanced, and high definition video, plus multi-channel digital audio over a single cable.
The board also has a standard 15 pin analog monitor output for computer displays (LCD or CRT). The HDMI jack outputs video at up to 1920x1080p so long as the monitor is HDCP compliant. The ECS A780GM-A motherboard is HDCP ready. HDCP is a form of Digital Rights Management for high definition digital video and audio content. To learn more about HDCP, read this PCSTATS article.
So to recap, the AMD 780G and its integrated AMD Radeon HD 3200 graphics card support DirectX 10, SM4.0, HDCP and are Windows Vista compatible. The chipset architecture supports two onboard video outputs, analog and native digital. Since the DVI shares the controller as the HDMI port, and both cannot be used at the same time, most manufacturers choose to drop one altogether.
Next up, PCSTATS covers the feature set of the AMD 780G chipset, the ECS A780GM-A motherboard highlights and then overclocking!