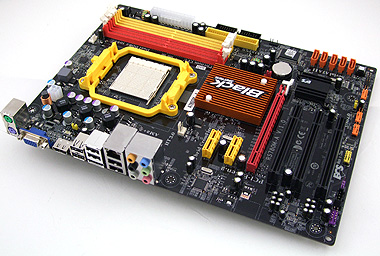 The AMD 780G chipset has been a great companion for home theatre aficionados who want a richer feature set than what can be found on Intel's integrated graphics chipsets. For under a hundred dollars, you're getting a board that will let you do 1080p output over HDMI with seven-channel audio, is still small enough to fit into most home theatre PC cases, is compatible with the lowest-wattage processors on the market, and can be run completely silently provided you have the right CPU cooler.
This makes the ECS A780GM-A motherboard a very competitive option when the time comes to build a high-definition media setup. Standalone Blu-ray players still average around $280 CDN, largely because of the expensive computer-like processing required to decode high-bandwidth media. PC-based Blu-ray drives, however, can do their computer-like processing using an actual computer, which means their prices can drop as low as $140 CDN. The lower price will cover the cost of the motherboard and even some of the cost of a processor. In the end you'll have a Blu-ray player that can run HD content, let you surf the web on a big screen, and even play some classic arcade games via programs like MAME.

The versatility of an AMD 780G-based home theatre PC could even save you money in the long run, since it could potentially replace an AV receiver and multi-disc CD player once your audio CD collection is ripped to a hard drive.
Even for users who will be connecting the ECS A780GM-A motherboard to their monitors for everyday use instead of a HDTV for movies, the 780G chipset delivers. It's Radeon 3200 Graphics have enough integrated power to run Vista's Aero interface and even let you do some light 3D gaming, and you can always beef up the graphics performance by plugging a card into the x16 PCI Express slot and enabling Hybrid Crossfire. This solution isn't quite as nice as having two x16 PCI Express slots for Crossfire X, but 3D gaming was never really the purpose of this board.
ECS has really embraced the philosophy of the AMD 780G chipset with the A780GM-A motherboard. Despite the low price, it's got nearly everything needed to turn it into a gaming system, home theatre PC or desktop workstation. It's three PCI expansion slots and two PCI Express x1 slots mean it can still provide a home for your old 802.11g networking card and analog capture card, while the PCI Express slot lets you use newer X-fi cards and Firewire 800 cards. Four ram slots make for easy upgrades with inexpensive DDR2 memory, and ECS has even manage to pack in eSATA into the A780GM-A.
ECS' A780GM-A is aimed at the budget-conscious buyer, so it's not really surprising that it's not going to come with a lot of goodies included in the box - that being said, it's a little disconcerting to find only a manual, quickstart guide, driver CD and three hard drive cables provided. As it is if you want to use the ECS A780GM-A with a DVI monitor, you'll have to run out and buy a DVI to HDMI cable.
Having a standard-sized ATX motherboard with an integrated chipset used to be something of a paradox for system builders, since integrated graphics chipsets usually lagged behind their enthusiast counterparts in terms of feature sets. This is no longer the case with the ECS A780GM-A motherboard. For a mere $80 CDN ($70 USD, $35 GBP) you get integrated graphics that are more powerful than any of Intel's IGP boards, and a feature set that's comparable to what you'd find in Intel boards that are nearly double the price. The passive cooling for the integrated graphics and chipset, as well as the HDMI output and gigabit lan also let this board double as a media streaming home theatre box. It's got enough expansion capability to make it a good choice for a user who wants a low-price board but still wants to do some serious upgrades in the future. It's all of these features that make the ECS A780GM-A a great value for its price range.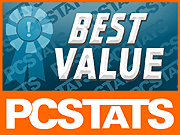 Find out about this and many other reviews by joining the Weekly PCstats.com Newsletter today! Catch all of PCSTATS latest reviews right here.
Related Articles
Here are a few other articles that you might enjoy as well...
- ASRock ALIVENF7G-HDREADY/M/ASR Geforce 7050 Motherboard Review
- ECS G33T-M2 Intel G33 Express Motherboard Review
- MSI P35 Platinum Intel P35 Express Motherboard Review
- ECS NF650iSLIT-A nVIDIA nForce 650i Motherboard Review
- Gigabyte GA-P35-DQ6 Intel P35 Motherboard Review
- ECS AMD690GM-M2 AMD 690G Motherboard Review
- TechBrief: Gigabyte Adopts Solid Polymer Capacitors For Motherboards
- MSI K9AGM2-FIH AMD 690G Motherboard Review