A Look at the BIOS: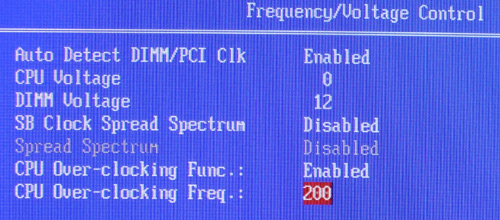 The ECS A780GM-A motherboard allows basic overclocking options for CPU frequency control, in 1 MHz increments.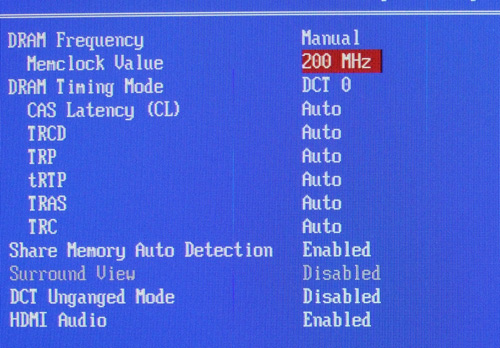 You can adjust memory timings as well, but the BIOS warns you to leave most timings at the ECS A780GM-A motherboard's default settings, which may be below your rated memory timings.

Here in the All Voltage Control section are the memory options for the ECS A780GM-A. You can increase the CPU voltage 0.3875V above stock, memory 1.491V, NB voltage 0.380V, SB 0.424V and FSB 0.560V above stock. That's a lot of voltage (especially the CPU and memory) so use caution when increasing the values. The last thing you want is to fry your shiny new CPU or memory!
The DIMM voltage control is a little strange - it allows for incredibly small increases in voltages, as low as 0.01V at a time. It does not, however, tell you what the default voltages are! Assuming a standard 1.8V, an additional 630mV will bring voltages to a dangerous 2.4V, enough to fry a memory module.

The CPU voltages are adjusted in the same fashion, with up to .25V available. This is not an overclocking board, so it's recommended that voltage controls be left alone.
Prelude to Benchmarks
The details of how the ECS A780GM-A motherboard test system was configured for benchmarking, including the specific hardware, software drivers, operating system and benchmark versions are indicated below. In the second column are the general specs for the reference platforms this AMD 780G based system is to be compared against. Please take a moment to look over PCSTATS test system configurations before moving on to the individual benchmark results.