At the very highest end of the retail motherboard market, you'll find the ASUS P5E3 Premium/Wifi.N perched with a select few professional motherboards that offer features and performance that simply don't show up on lower-priced, more common motherboards.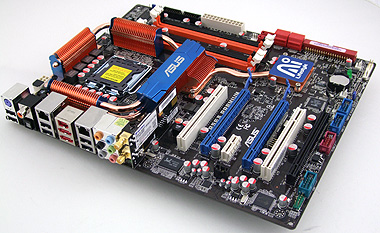 ASUS went all-out with the P5E3 Premium/Wifi-AP.N, starting off with Intel's X48 Express chipset paired with DDR3 memory. This combination is one of the most expensive options for Socket 775 motherboards, but one that allows for the fastest possible components to be used to their utmost potential.
The Intel X48 chipset has a lot of bandwidth, with dual x16 PCI Express 2.0 lanes available for bandwidth hungry videocards, like the AMD Radeon HD 4870 X2. Memory speeds can be run at 800/1066/1333/1600MHz and even speeds of 1800MHz and 2000MHz through the X48 Express chipset's use of Extreme Memory Profiles.
The ASUS P5E3 Premium motherboard has on-board 802.11n WiFi and the ASUS Wifi access point utility further leverages the capabilities of the P5E3 Premium motherboard through customized software. ASUS' EPU technology automatically throttles CPU power draw by dynamically altering power phases. ASUS' Express Gate, a system-on-a-chip that can be accessed at boot-up. Overclocking results were equally solid, with PCSTATS reaching a very respectable 555MHz on the Core 2 Duo E8400 CPU.
However, with any motherboard that gets this complex there's always a few design flaws that will be introduced. Most troublesome is the 3D performance for this motherboard - the ASUS P5E3 Premium just isn't keeping up with other Intel X48 Express motherboards like the Gigabyte GA-X48-DS5 or the MSI X48 Platinum. PCSTATS' 3Dmark06 and FEAR benchmarks had the P5E3 Premium a few percentage points behind the competition.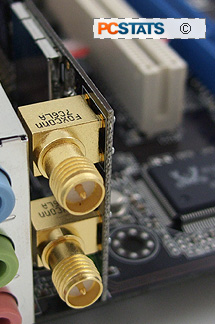 ASUS also needs to really take a look at the software controls for its ASUS EPU software. It really can't compare with Gigabyte's competing DES software. Similarly, the ASUS Wifi AP software is more difficult to control than it should be, and it would nice to have these features more directly integrated into Windows own networking utilities.
Finally we come to ASUS Express Gate..... It is a very neat concept, but let us down by its very limited software functionality to things like basic web surfing. It could have been an incredibly useful way of troubleshooting and repairing the computer system without the need to access a hard drive or OS!
Considering that ASUS is asking $390 CDN ($320 USD, £220 GBP) for the P5E3 Premium Wifi-AP.N, it would be nice if these flaws didn't exist, but as it stands they're relatively minor. The P5E3 Premium/Wifi-AP.N motherboard's built-in Wifi, extensive external storage options and expansion capabilites make it unique in terms of feature set. Where deep-pocketed enthusiasts are concerned, the combination of Intel's fastest chipset, the ability to use the fastest socket 775 processors, and support for the fastest DDR3 memory will make the P5E3 Premium/Wifi-AP.N a must-have motherboard!
Find out about this and many other reviews by joining the Weekly PCstats.com Newsletter today! Catch all of PCSTATS latest reviews right here.
Related Articles
Here are a few other articles that you might enjoy as well...
- Gigabyte GA-X48-DS5 Intel X48 Express Motherboard Review
- Asus P5Q-EM Intel G45 Express Motherboard Review
- Biostar TPower N750 nForce 750a Motherboard Review
- Gigabyte GA-EP45-DQ6 Intel P45 Express Motherboard Review
- ECS A780GM-A AMD 780G Motherboard Review
- Biostar TF8200 A2+ GeForce 8200 Motherboard Review
- Foxconn A7DA-S AMD 790GX Motherboard Review
- MSI X48 Platinum Intel X48 Express Motherboard Review
- MSI P35 Platinum Combo Intel P35 Express Motherboard Review