When a new Intel chipset launches the initial motherboards are often mainstream offerings. It's then only a matter of time till a board that really stands out from the crowd is released. Who can forget the ASUS' 945/espresso maker? Or ECS's legendary PF88 combo board that ran both Intel socket 775 and AMD K8 CPUs!?
Such is the case with Intel's X48 Express based ASUS P5E3 Premium/Wifi-AP.N motherboard. The name doesn't exactly roll off the tongue, but this board has many features that certainly aren't found on typical Intel X48 platforms. For starters, the ASUS P5E3 Premium has a class-N wireless network card integrated into the motherboard's design that pulls double duty as a Wireless access point, in addition to a pair of wired gigabit LAN ports.
The 'Premium' part of the P5E3 Premium/Wifi-AP.N actually refers to a bunch of different features that make up ASUS AI Lifestyle brand. This means ASUS' Express Gate, the system-on-a-chip that lets you boot up in 5 seconds and surf the web, check your email and watch Youtube clips without having to boot into Windows, let alone access a hard drive, is there. It certainly sounds neat, and PCSTATS will delve into its functionality later on in this review. The P5E3 Premium naturally features the ASUS Energy Processing Unit (EPU), which can shift between a four-phase and eight-phase power design in order to save energy during light processor load. Gigabyte's DES power saving tool is better than ASUS' EPU, but let's not get distracted by token 'greening.'
While the special features set the ASUS P5E3 Premium motherboard apart from the competition, it's still based on Intel's top socket 775 core logic. The P5E3 Premium uses DDR3 exclusively and has support for Intel's Extreme Memory Profiles, so DDR-3 RAM at speeds of 800/1066/1333/1600/1800 and 2000MHz are supported. Up to a maximum of 8GB (4 slots x 2GB DIMMs) can be installed. The P5E3 Premium accomodates socket 775 Intel processors with a 800/1066/1333/1600 FSB and has some interesting BIOS options that could very well translate into additional overclocking headroom.

ASUS P5E3 Premium/Wifi-AP.N



Includes:
User's Manual, Wifi Manual, (2) Wifi Antennas, (6) SATA cables, I/O shield, IDE cable, floppy cable, USB/Firewire bracket, (2) Auxiliary fans, molex to SATA power adapter, Q-connectors, Driver CD.
The Intel ICH9R southbridge returns as the storage controller for the P5E3 Premium, and dished out the usual six SATA II connectors with RAID 0/1/5 and 10 support. These are supplemented by a JMicron controller that powers a pair of eSATA ports on the motherboard's I/O panel, as well as an IDE connector for legacy optical drives and hard drives.
Expansion slots come in the form of three physical PCI express x16 slots. Two of these are designed for multiple videocards, and can maintain x16/x16 lanes of PCI express 2.0 bandwidth while in Crossfire mode. The third physical x16 slot only provides x4 lanes of PCI express 1.0 bandwidth, meaning it may bottleneck faster videocards. Rounding out the expansion bays is a single PCI express x1 slot and a pair of PCI slots for older peripherals. Firewire, 7.1 channel audio and a COM port header come standard.
ASUS' P5E3 Premium/Wifi-AP.N motherboard retails for $390 CDN ($320 USD, £220 GBP) , which puts it into the higher echelon of retails boards. Will the P5E3's unique integrated wifi, bandwidth-rich Intel X48 chipset and speedy DDR3 memory support make it worth the big bucks ASUS is asking?
Premium Features Define this Board
ASUS has given us everything enthusiasts ask for in a motherboard and then multiplied that by pixie dust and a kitchen sink factor with the P5E3 Premium. Sure, other motherboards have dual gigabit lan ports, but how many have dual eSATA? Or dual firewire? In addition to a dual antenna wireless-N integrated network adapter?
The expansion slots are well spaced so dual-slot Radeon videocards in Crossfire won't be cramped. The PCI slot is off to the left of the PCI Express x16 videocard slot so there will always be room for a separate PCI sound card. The third (black) PCI express x16 slot only runs with four lanes of standard PCI express bandwidth, while the matched blue PCI express slots get sixteen lanes of PCI express bandwidth each.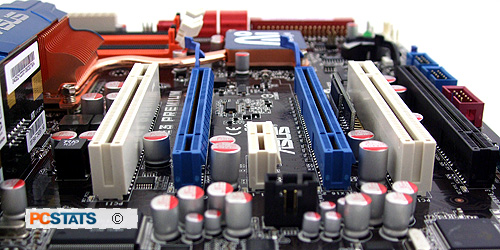 The rest of ASUS' P5E3 Premium motherboard gets the deluxe treatment too. The mid-board USB and Firewire connections are handled via ASUS' Q-connectors.
Q-connectors are plastic blocks that act as a bridge between the front panel cables from the computer case to the motherboard headers on the PCB. ASUS has also thrown in half a dozen SATA cables as well to take advantage of the Intel ICH9R southbridge controller and ASUS' supplementary Jmicron connector. Cabling is kept nice and clean with a mixture of right-angle and straight SATA cables included. The rest of the cables are kept on the edge of the PCB, and are perpendicular to the expansion slots.
An extensive heat-pipe system is used to cool the chipsets and MOSFETs. While these passive heat-pipes are designed to leave clearance for any socket 775 cooler, the P5E3's four-sided cooling design may pose a problem for owners of DDR3 memory which use mounted fans, or DIMMS of memory with particularly large heatsinks. There's simply not a lot of clearance between the RAM and the side of the heatpipe grills.
Like all passive heatpipes, this system is only effective when used in conjunction with an active fan for cooling, which in most cases will be a standard CPU heatsink-fan combo that pushes air over the heatpipes and grills, circulating cold air and allowing the heat to dissipate. This means that owners of water-cooled systems will need additional cooling for their chipset, and not surprisingly ASUS has accommodated them.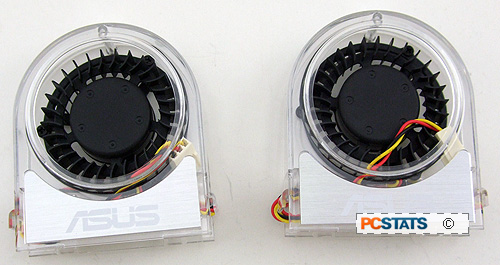 These miniature fans can be attached to one of the P5E3 Premium's five plugs for three-pin fans. In addition, each fan can be manually adjusted in the BIOS for speed and noise tweaking. Note that these fans shouldn't be used in a case that's already ventilated by a regular air cooler.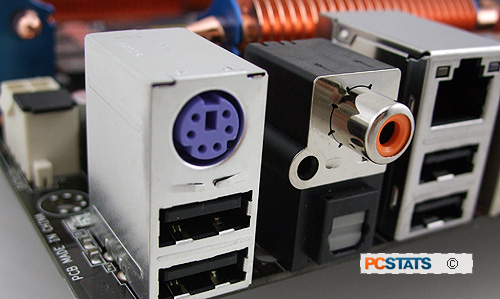 S/PDIF coaxial and optical ports mounted on the I/O shield are an easy way to output from the ASUS P5E3 Premium to a receiver or HDTV.
The I/O shield (which has a padded EMI gasket to prevent sliced fingers) houses the S/PDIF connectors, six USB ports (two more on an included bracket) and 8.1CH stereo and PS/2 keyboard output. Curiously, the board only has a PS/2 jack for the keyboard, where the mouse would be are two USB2.0 jacks.