Overclocking Results:
The ASUS P5E3 motherboard has been preceded by other Intel X48 Express motherboards like Gigabyte's GA-X48-DS5 and MSI's X48 Platinum, so PCSTATS was anxious to get it on our benchmarking test bed and see how well it overclocked. Bet's anyone?
As usual, PCSTATS dropped in a 45nm 1333MHz FSB Intel Core 2 Duo E8400 processor and a 2GB set of Corsair's DOMINATOR Twin2X2048-8888C4DF memory, then powered the board up. The Core 2 Duo E8400 CPU replaces the Intel Core 2 Duo E6750 for our overclocking tests because the E6750 won't go past 475MHz any longer. Why do we use Corsair memory and not OCZ or GeIL? Well, over the years PCSTATS has just had better luck overclocking with sticks of Corsair locked and loaded.
To begin the E8400's CPU clock multiplier was changed from 9x to 6x, and the memory set to run at the lowest possible divider (DDR3-800). Starting at 333 MHz FSB the speed was increased in 15 MHz jumps.
The ASUS P5E3 Premium/Wifi-AP.N motherboard was overclocked from 333MHz, 350MHz and then 400MHz as an initial overclocking boost. At 415MHz the RAM timings were relaxed to 8-8-8 15, and the system was overclocked further to 450MHz, then 500MHz without problems. We finally decided to push it to the limit, and pumped up the FSB to 550MHz, then 565MHz which POSTed but failed to boot into Windows Vista. The FSB was scaled back to 555MHz, which booted into Windows and benchmarked stably.
Not a bad overclocking result at all! With some more fine tweaking and further voltage fiddling, the ASUS P5E3 Premium motherboard could likely reach a 600MHz FSB.
BIOS Tweaking Tools:
The BIOS controls how the motherboard communicates with all the peripherals connected to it, and is a crucial component for any good well rounded motherboard. PCSTATS is only going to highlight the tweaking features so you'll know what to expect.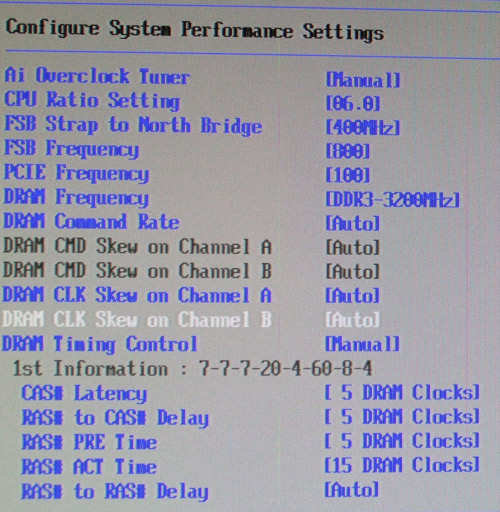 Here's the BIOS AI Tweaker overclocking page, with some of the values set manually to their maximums.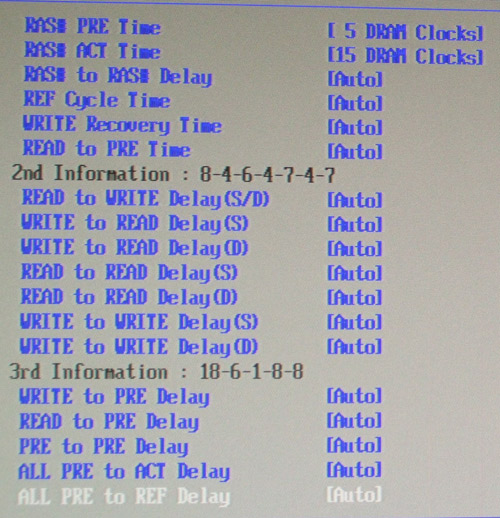 Like most ASUS motherboards, the P5E3 Premium opens up pretty much every RAM value open for tweaking.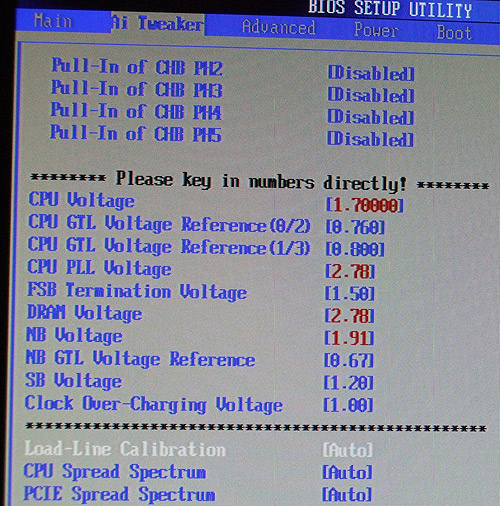 Voltages can be adjusted in increments as fine as 0.0625V if needed, and clocked as high as the values seen here. Remember that these values are maximums (for information ONLY) and if you set things this high you will damage your PC system!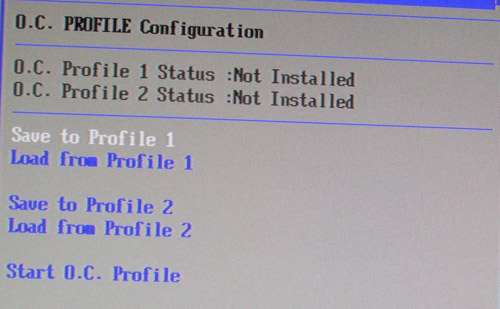 It's also possible to save multiple overclocking profiles, a useful feature given just how many adjustable options the ASUS AI Tweaker BIOS has. These BIOS options can also be exported to USB drives for redistribution over the internet.
With overclocking taken care of, it's time to benchmark the P5E3 Premium!
Prelude to Benchmarks
The details of how the ASUS P5E3 Premium/Wifi.N motherboard test system was configured for benchmarking, including the specific hardware, software drivers, operating system and benchmark versions are indicated below. In the second column are the general specs for the reference platforms this Intel X48 Express based system is to be compared against. Please take a moment to look over PCSTATS test system configurations before moving on to the individual benchmark results.

PCSTATS Test System Configurations