The ASUS P5E3 Premium/Wifi-AP.N functions as an access point when wired Gigabit local area networking ports and wireless antennas are used in conjunction with a wired router. Access points allow other local Wifi devices to connect to a wired network, meaning that in conjunction with Windows' software internet connection sharing, the P5E3 Premium can essentially provide all the functionality of a wireless router - as long as you leave the computer on all the time.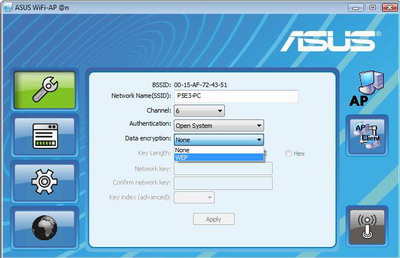 While the ASUS Wifi AP software isn't quite as versatile or informative as the web clients found on dedicated access points, it does get the job done. It would have been nice to see more integration with Windows built-in networking utilities. As it is, most options have to be set through ASUS' separate application window.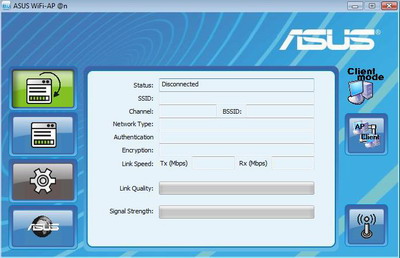 Temporal Key Integrity Protocol (TKIP), Advanced Encryption Standard (AES) and the now-deprecated Wired Equivalent Protocol (WEP) are all supported as options to protect your wireless transmission from snoopers.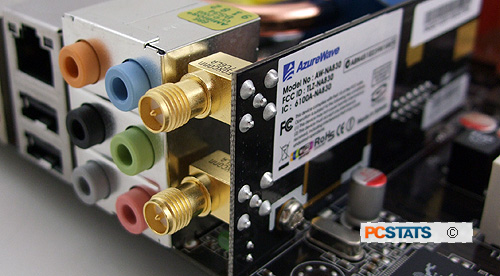 The Azureware AW-NA830 WiFi adapter supports 802.11 B/G/N standards, and functions as a wireless access point.
All of this wireless functionality is powered by an AzureWave AW-NA830 Wifi card that's integrated onto the P5E3 Premium's PCB. Aside from its native support of the 802.11-N wireless standard at up to 150Mbps transfer speeds, it's backwards compatible with 802.11g at 54Mbps, and 802.11b at 11Mbps.
Like ASUS' previous Wifi offerings, the P5E3 Premium uses an omni directional dipole antenna, but keeping with the 802.11-N Wifi standard, there are now a pair of them to allow Multiple Input Multiple Output (MIMO) wireless transmission.
The plastic antennas are attached to the motherboard by wires that can be extended about 40cm away from the motherboard. Each has a magnet so you can 'stick' it to the sides of a steel case.