The ASUS Striker II NSE motherboard has the potential to be everything an enthusiast dreams about for the foundation of their next gaming PC.
The board supports highly overclockable Intel Socket 775 processors at 800/1066/1333/1600MHz FSB, it's natively configured to use fastest DDR3 memory, and it uses the nForce 790i SLI chipset. The nForce 790i SLI chipset has enough PCI Express bandwidth to run three Geforce videocards in SLI mode. Finally, it's also got the Republic of Gamers branding, which means it's loaded up with extras and highly configured.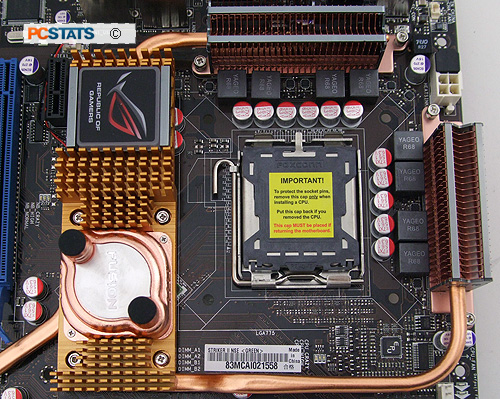 It's a bit of a let-down, then, to discover that the ASUS Striker II NSE does have a fly in its ointment: it just didn't perform all that well in our benchmarks.
Most of PCSTATS benchmarks has the Striker II NSE coming in either the middle of the pack or lower amongst the other Intel Socket 775 motherboards we've tested.
The difference become even more pronounced when compared to other motherboards in the same price range, like the Gigabyte GA-X48-DS5, which is based on Intel's X48 Express chipset.
The Striker II NSE was slower across the board, and while the differences are limited to only a few percentage points, it does mean that this isn't the fastest possible motherboard for Intel processors.
Performance issues aside, there's still a lot to love about the Striker II NSE motherboard. It's got lots of room for expansion, with a pair of PCI Express 2.0 x16 slots available as well as another PCI Express 1.0 x16 slot, and even that slower slot is fast enough to handle any videocard on the market right now. There are also another pair of PCI Express x1 slots, and a pair of legacy PCI slots. Really, there's enough here to handle every internal card and peripheral you could think of, or to grab three compatible Geforce videocards and go crazy with SLI.
Memory is also a strong point for the ASUS Striker II NSE motherboard. It's got four slots available for DDR3 memory, supporting a broad range of 800/1066/1333MHz memory, with overclocking options for DDR3 1600MHz memory to boot. This motherboard's overclocking features aren't limited to just the memory, however. They extend to pretty much every facet of the Striker II NSE.
Take the cooling options, for example. ASUS has included the Fusionblock, a hybrid watercooling/copper heatpipe solution that makes it easy to cool the nForce 790i SLI SPP with either liquid cooling or by heat dissipation. StackCool multi-layering system on the back of the motherboard further helps to dissipate excess heat on the Striker II NSE. Eight fan headers and an auxiliary fan are included for additional airflow, and there are even thermal sensors to make it easier to monitor the temperatures of individual components. All of these little features really come together when overclocking ASUS' Striker II NSE.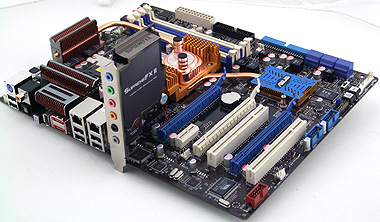 The overclocking experience for the ASUS Striker II NSE lives up to the hype.
The nForce 790i SLI chipset proved to be a very good overclocker, climbing from 333MHz to a respectable 525MHz in PCSTATS tests, but the real star of the show was how easy it was to make the Striker II NSE motherboard raise its operating frequencies.
ASUS made sure this motherboard gave a lot of feedback, with on-board LEDs that gauge both overall FSB speeds and individual voltage ranges for motherboard components. The PORT 80 display is handy for diagnostic information, the hard power, reset and clear-BIOS buttons that make it easy to test out different chipset configurations and tweak performance options for benchmarking.
The ASUS Striker II NSE motherboard is priced at around $320 CDN ($274 USD, £198 GBP), and it does a very good job of justifying its premium pricing.
The nForce 790i SLI chipset is the fastest way to run multiple Geforce cards for Socket 775 processors in either two or three-way configurations, and on its own could make this motherboard a must-buy for NVIDIA enthusiasts. Couple that with the many possibilities for expansion, the ease of overclocking and cooling options along with the wealth of information and feedback that the ASUS Striker II NSE motherboard provides, and you get a motherboard that's an easy recommendation. Gamers with serious hardware and a thrist for overclocking will find a solid foundation in the ASUS Striker II NSE motherboard. However, if you want a killer gaming PC and don't plan on overclocking it like crazy with top notch hardware, set your sights a little lower and save a $100.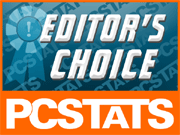 Find out about this and many other reviews by joining the Weekly PCstats.com Newsletter today! Catch all of PCSTATS latest reviews right here.
Related Articles
Here are a few other articles that you might enjoy as well...
- ASUS M3A78-T AMD 790GX Socket AM2+ Motherboard Review
- ASUS P5E3 Premium/Wifi-AP.N Motherboard Review
- Gigabyte GA-X48-DS5 Intel X48 Express Motherboard Review
- Asus P5Q-EM Intel G45 Express Motherboard Review
- Biostar TPower N750 nForce 750a Motherboard Review
- Gigabyte GA-EP45-DQ6 Intel P45 Express Motherboard Review
- ECS A780GM-A AMD 780G Motherboard Review
- Biostar TF8200 A2+ GeForce 8200 Motherboard Review