For enthusiasts seeking the highest performance, most fully featured motherboards that any Taiwanese motherboard manufacturer is able to produce, one need look no further than ASUS' Republic of Gamers brand. It also tends the most expensive motherboard series on the retail market, typically reserved for hardcore enthusiasts who won't settle for anything less than building the fastest possible system that money can buy... along with the best memory, videocards, memory and processors to get the most out of their investment.
The ASUS Striker II NSE motherboard continues in this tradition, with a heavy dose of the fastest NVIDIA-based platform for Intel socket 775 processors out there, some serious kick ass, and a healthy pinch of Take-that! To make this all possible ASUS has selected NVIDIA's DDR3-exclusive nForce 90i SLI chipset and taken advantage of its three-way SLI capabilities, so that a trio of NVIDIA graphics cards can be used together during gaming.
The nVidia nForce 790i SLI chipset is ideal for Intel's QX9770 processor, thanks to its 1600MHz Front Side Bus support. Additionally, not-quite-as-extreme 800/1066/1333MHz FSB socket 775 processors are supported. The ASUS Striker II NSE motherboard can be installed with up to 8GB of DDR3 memory, at speeds of 800/1066/1333/1600MHz (when overclocked, and taking advantage of EPP 2.0 profiles).
Storage capabilities are controlled by the NVIDIA 790i MCP, with support for a legacy IDE controller as well as six SATA II hard drives in RAID 0, 1, 5, 10 and JBOD. A JMicron chip adds two 3GB/s eSATA ports.

ASUS Striker II NSE Motherboard




Includes:
User's Manual, IDE Cables, Floppy Cable, (6) SATA cables, (2) SATA power cables, thermal sensor cables, Fusion Block & watercooling accessories, EL I/O Shield, 3-way SLI bridge, 2-way SLI bridge, optional fan, LCD poster, USB and Firewire bracket, DIY Pedestal, Cable ties, Supreme Audio FX card, Q-connectors, ROG support CD, Company of Heroes CD
Of course, ASUS do a little more than just put slap together core logic with a processor socket for the Republic of Gamers line. The ASUS Striker II NSE motherboard justifies its prestigious branding born of the blood of a million virtual zombies with the kinds of options and extras that overclockers, enthusiasts and gamers dream about.
Overclocking options abound, starting with a BIOS that allows for quick and automated performance boosts via the CPU Level Up tool, but also gives a comprehensive suite of tweaking options for the advanced overclocker. To ensure that your high quality system components don't get fried from being pushed too hard, ASUS has an extensive system of LEDs that display information about the Striker II NSE's voltage conditions for the CPU, memory, northbridge and southbridge, as well as a bank of LEDs that display the current FSB range.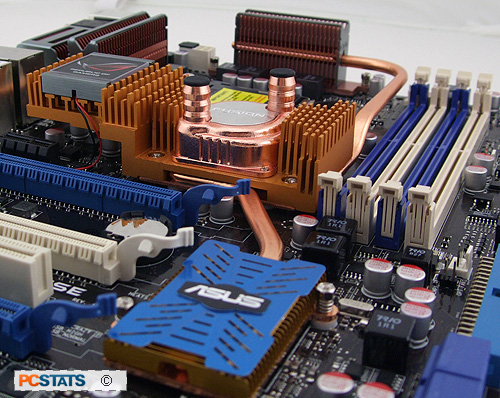 Should the worst happen and a component goes bad, a small LCD display wired directly into the motherboard displays PORT 80 information to help you figure out exactly what part of your system might have gotten cooked. I'd bet $10 you burn the RAM before anything else.
Enthusiasts and cooling go together like keyboards and mice, so you can bet the ASUS Striker II NSE motherboard has that funky watercooled chipset heatsink system pre-plumbed.
It's called the 'Fusionblock' and if you're so inclined it can be hooked up to an existing watercooling system so the northbridge is water cooled too. If not, heatpipes ensure both chipsets and the MOSFETS are suitably cooled by an active air CPU cooler.
Need more airflow? There are eight fan headers available, seven of which can be adjusted through ASUS' Q-fan utility. ASUS also includes its own auxiliary fan that mounts on the MOSFET heatsink. Three kapton thermocouples let you monitor the temperatures you want to monitor. Attache them to your videocard, hard drive or whatever other components you want to monitor.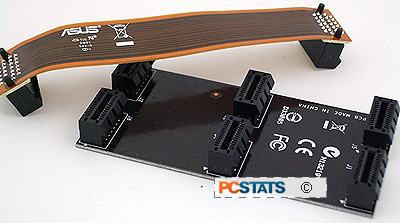 Peripheral options are similarly extensive - in addition to the dual eSATA ports there's one 1394a firewire port, six USB ports available on the I/O panel and another firewire port and two more USB 2.0 headers via bracket.
Dual gigabit network jacks are available, and can be teamed together to prevent packet loss and improve network performance. Instead of the usual stereo output mounted on the rear I/O panel, ASUS have a separate sound card called the SupremeFX II that offers eight-channel surround sound output.
Got a kick ass speaker system? Great, you'll find coaxial and optical S/PDIF outputs mounted directly on the motherboard, in case the ASUS Striker II NSE needs to be hooked up to a home theatre system.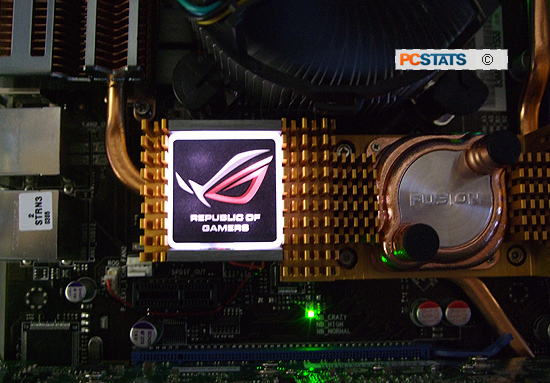 So how much do all of these features add up to? About $320 CDN ($274 USD, £198 GBP) , which is about what you would expect for an enthusiast motherboard that uses the nForce 790i chipset. This is premium hardware folks, and priced in line with the other motherboards from ASUS's Republic of Gamers brand.
Is it worth it? That's what your buddies at PCSTATS are here for, we'll give you the lowdown on the ASUS Striker II NSE motherboard.