Abstract: For enthusiasts seeking the highest performance, most fully featured motherboards that any Taiwanese motherboard manufacturer is able to produce, one need look no further than ASUS' Republic of Gamers brand. The ASUS Striker II NSE motherboard continues in this tradition.


82% Rating:

Home > Reviews > Motherboards > ASUS Striker II NSE
Enthusiast Friendly Accessories
As a Republic of Gamers product, ASUS has of course included a bonanza of extras with the Striker II NSE motherboard. There are so many that it quite frankly borders on the ridiculous, but hey, who can say no to cool gadgets?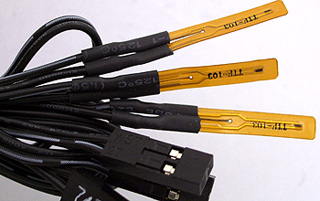 For the hardware enthusiast and heavy overclocker, ASUS bundles three kapton thermistors with the motherboard so you can keep the temperature of various devices in your computer in check.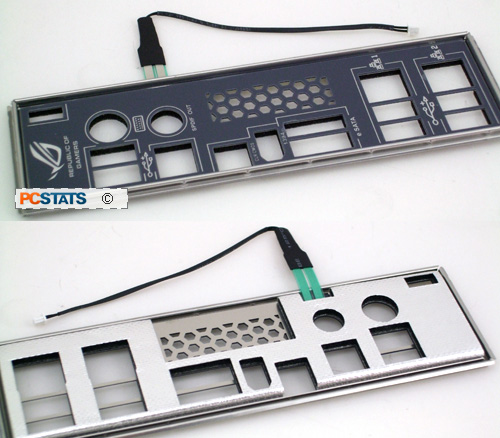 The metal I/O shield that fits into the computer case is special. It has an electro-luminescent back light that illuminates so you can read what you're doing if you have to connect a cable in the dark. ASUS also clearly labels the various ports so you should have no problems plugging in an extra USB device, or network cable in the dark.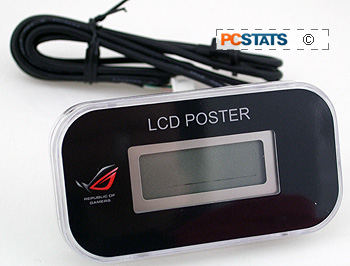 Like last-generation's Blitz Extreme, the Striker II NSE also has a small LCD display that gives PORT 80 information about motherboard status, and can be used to troubleshoot hardware failures that occur as the system boots up. Once the system is fully loaded it can also display the system time, or a nine-letter word of your choice.
ASUS Watercooled Chipset Heatsink
ASUS place a combination copper waterblock/heatpipe heatsink on the 790i SLI System Platform Processor (NVIDIA's equivalent of the Northbridge if you recall). It's not just for looks, with your own watercooling system you can hook up the motherboard using the supplied tubing connectors. For those not willing to brave a watercooling setup, the copper northbridge can still be cooled by air, similar to other heat-pipe motherboards.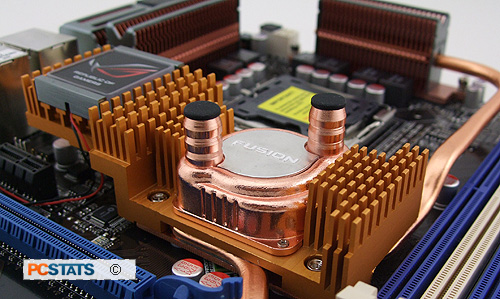 If you are using watercooling though, connect up the Northbridge waterblock. ASUS makes that easy with all the accessories that it includes. If you're going to be heavily overclocking the motherboard watercooling may help you reach those high speeds.
The Northbridge waterblock has 3/8" OD barbs (1/4" ID) but if your watercooling loop is using 1/2" ID equipment never fear because ASUS includes two 3/8" OD to 1/2" OD converters. Also included with the package are four 1/2" OD hose clamps (for the 3/8" OD barbs) and two 5/8" OD hose clamps (for the 1/2" OD barbs) all of which are very easy to use and install.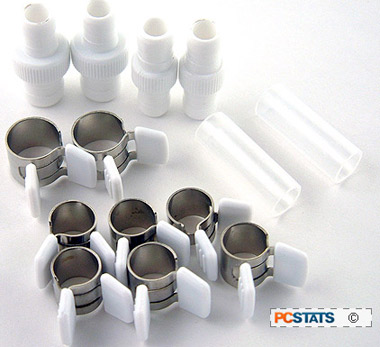 Looking at the watercooling accessories that ASUS includes with the motherboard, it's clear the company knows a thing or two about watercooling. It's nice to see a manufacturer go all the way and provide users with everything they need to get started. If you do go ahead with watercooling your system, ASUS includes an auxiliary fan that can be used to provide extra airflow if the ambient heat levels inside your case get too warm. The heatsinks that surround the CPU socket are designed to be cooled by forced airflow, so it's possible that the board could overheat if you go with a passive cooling system.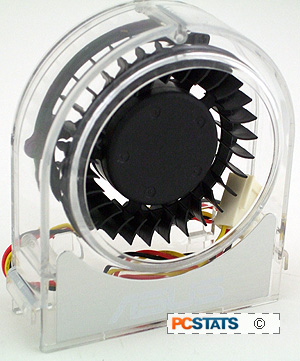 There are very few motherboards outside of the Republic of Gamers line that give these kind of options for cooling systems, and having these kind of options built in to the ASUS Striker II NSE motherboard solidifies this companies claim as an enthusiast's and overclocker's platform.
These extras are fun, but what's lying underneath the skin of the ASUS Striker II NSE?