Introducing the AMD 785G / SB710 Chipsets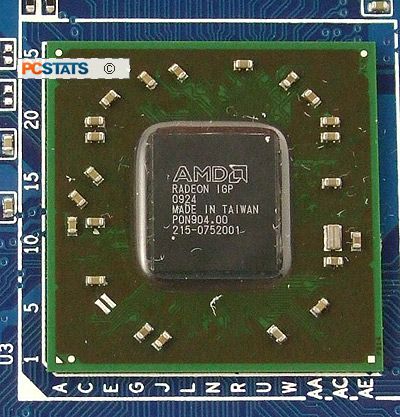 The AMD 785G and SB710 chipsets bring support for DirectX 10.1 and Windows 7 to the AMD processor platform, not to mention a new slightly improved Radeon HD 4200 IGP which is clocked at 500MHz.
The Radeon HD 4200 offers hardware-acceleration for certain kinds of video transcoding, so the AMD 785G can best be seen as an all-around incremental improvement to the AMD 780G which proceeded it.
The AMD 785G chipset also continues AMD's strategy of having cross-compatiblity support for a huge range of processors, and it can work with either DDR2 or DDR3 memory.
The centerpiece of the AMD 785 chipset is the Radeon HD 4200 IGP. This new graphics core is very similar to the Radeon HD 3200 that powered the AMD 780G. Both IGPs are built on a 55nm process, have 40 stream processors, and contain ~205 million transistors. Performance of the 500MHz Radeon HD 4200 IGP should be largely identical to AMD's previous IGPs, with the key changes being support for DirectX 10.1 and Shader Model 4.1.

Should you want to use a stand alone videocard the AMD 785G chipset supports a PCI Express 2.0 x16 slot, and can be used in Hybrid Crossfire mode with selected ATI Radeon graphics cards. In ideal situations, this will double the performance of the Radeon HD 4200 IGP.
Further improvements include new hardware-accelerated transcoding support for selected video applications. ATI Stream lets the Radeon HD 4200 GPU accelerate media encoding. Unified Video Decoding uses the GPU to decode video, reducing load on the CPU as well.
AMD's Radeon HD 4200 supports HDMI, Displayport, DVI and Analog VGA outputs, so again flexibility is key. Digital video signals are HDCP compliant, so it's fully compatible with high-definition content played over Blu-ray discs.
The integrated Radeon HD 4200 videocard contains 40 stream processors and shares up to 512MB of installed system memory, some platforms include dedicated SidePort memory. The AMD 785G supports up to six PCI Express 2.0 x1 slots along with six PCI bus mastering slots, although it's up to the motherboard manufacturer to implement each expansion slot.
The AMD's 785G chipset is a real challenger to Intel's G41/G45 Express chipsets, although only time will tell how it fares to next-generation chipsets like Intel's G55 Express.
ATI Stream Technology
ATI Stream aims to allow the programmable stream processors of Radeon GPUs do the work of a CPU, in a very similar fashion to NVIDIA's CUDA technology. There are certain intensive tasks that are easy to optimize for the massively parallel nature of an IGP like the Radeon HD 4200 that can cause even the fastest CPUs to choke and stall. ATI has been working with developers like Adobe and Microsoft so programs can take advantage of a dedicated GPU in a desktop environment.
The latest version of ATI Stream has added a new video transcoding technology that lets the Radeon IGP to accelerate video encoding. Video encoding remains a very intensive task, and ripping a DVD to play on an iPod can take hours depending on the video quality and length of the movie.
Acceleration support is still quite limited at this point, with only certain codecs (H.264, MPEG2, VC1) and programs (Cyberlink Espresso, ATI Video Converter, Arcosoft Total Media Theatre) supported. Hopefully as this technology evolves it will become more widely supported and turn full hardware acceleration for the desktop into a reality.
Power Savings
Integrated chipsets under Microsoft Windows 7 will now have better support for power saving technology, and the Radeon HD 4200 capitalizes on this with dynamic underclocking that will reduce the speed of the GPU based on how much load is being used.
How does the Gigabyte GA-MA785G-UD3H fare during Blu-ray HD video playback? Let's find out!
AMD 785G HD and Blu-Ray playback tests
With HD video decoding becoming increasingly common and Blu-Ray becoming a standard technology in computer systems, it's important for graphics chipsets to not only support high-definition output formats, but also have hardware support for intensive CPU-decoding as well.
AMD's 785G chipset makes use of 'Unified Video Decoder', which directs HD playback decoding to the integrated Radeon HD 4200 GPU, rather than to the AMD processor, allowing the system to playback VC-1, MPEG-2 and H.264 content up to 1080p resolution with less CPU usage.
The rear I/O of the Gigabyte GA-MA785-UD3H has DVI (maximum resolution of 2560 x 1600), HDMI (1920 x 1080), and VGA (2048 x 1536). The DVI output can be used in conjunction with either the HDMI or VGA output for multiple monitor output.
Blu-Ray High Definition content demands a lot of PC processing resources during playback, if CPU load becomes too high that can lead to jittery video quality or other artifacts. Many integrated graphics processors now feature Blu-Ray and High Definition H.264, VC1 and M-PEG2 content acceleration decoders to offload this processing from the CPU, freeing up system resources for other tasks.
The PCSTATS Blu-Ray HD content playback test scenario monitors average CPU utilization. It's simple and to the point. The motherboard's integrated graphics processor is taxed in the same way it would be in your home theatre environment, and average percent CPU utilization monitored with Windows task manager. Lower CPU utilization values are best, provided video playback remains smooth and stutter free.
Under testing the Blu-Ray playback wasn't a huge tax on the AMD 785G chipset. While Intel's G45 chipset paired with a Core 2 Duo E6750 stayed at around 30 to 40% CPU load, the AMD 785G chipset stayed consistently under 30% load while playing back high-def content.
Playing high definition content on current generation PCs can bog down even the fastest processors because there is more data to handle. To test the integrated graphics processor's capabilities at HD content accelerating capabilities, we played the High Definition video clip, "The Discoverers" at 720P and 1080i from the hard drive while monitoring the percentage of CPU utilization through Task Manager. Lower results are better.
The AMD 785G chipset does an excellent job of taking the brunt of HD decoding away from the processor. It should be easy to run background processes and watch HD video at the same time.
To test out the new ATI Stream hardware acceleration, PCSTATS chose Cyberlink's MediaShow Espresso. It's a transcoding program that can take advantage of both CPUs and GPUs in order to convert video files from one format to another. MediaShow Espresso has a very simple interface for adding new files and several transcoding presets. PCSTATS tested MediaShow Espresso with the trailer for Pixar's movie "Up!" The original file format was a 1920x1080 Quicktime.MOV file, encoded in H.264-avc1. The test file was transcoded into a 1080p mpeg-2.
As you can see, both the CPU and GPU work together in these instances to accelerate encoding performance. While the Radeon HD 4200 IGP isn't dramatically decreasing encoding time with this short video, it is shaving off a few seconds off every encode. The faster the processor, the more pronounced the effect of having hardware accelerated decoding becomes.