AMD 785G based motherboards have been flooding the PCSTATS test bench lately, but most of the platforms have been the DDR3 variety. The Gigabyte GA-MA785G-UD3H motherboard mixes things up a little and nicely illustrates the flexibility of AMD's Phenom II and Athlon II processors - DDR3 and DDR2 memory compatibility. Instead of using the socket AM3 / DDR3 mix, the Gigabyte GA-MA785G-UD3H is built with a versatile socket AM2+ CPU and DDR2 memory. You'll recall that AM3 processors like the Phenom II are backwards compatible with AM2+, and AM2 processors like the Athlon 64/Phenom are right at home in it.
In other words, the Gigabyte GA-MA785G-UD3H motherboard is a great upgrade platform for anyone with an existing socket AM2 AMD processor who wants to take advantage of the new HD decoding and on board HDMI options the AMD 785G chipset brings to the table.
Feedback?
What do you think of this review?
Help make PCSTATS better, leave your comments here.
AMD's excellent upgrade paths mean the GA-MA785G-UD3H motherboard will support AMD Sempron, Athlon, Athlon II, Phenom and Phenom II processors; in short socket AM2, AM2+ and AM3 CPUs. The board has four memory slots that accommodate up to 8GB of DDR2 800/1066/1333(OC) MHz memory. However, beyond broad CPU and cheap DDR2 memory compatibility, the real power of the Gigabyte GA-MA785G-UD3H is the AMD 785G chipset and Radeon HD 4200 integrated graphics at its heart.
ATI's Radeon HD 4200 IGP is an evolved form of the Radeon HD 3200 found in the AMD 780G chipset. The main difference is the HD 4200 now supports DirectX 10.1 and Shader Model 4.1. ATI Stream has been brought into the fold so graphics hardware can be harnessed to power certain applications too. The Gigabyte GA-MA785G-UD3H has the three most important video outputs on board: HDMI, DVI and VGA. There's even support for higher-bandwidth HDMI 1.3 thanks to the Radeon HD 4200's new video controller.

Gigabyte GA-MA785G-UD3H Motherboard




INCLUDES:
User's Manual, Driver CD, (2) SATA cables, I/O Shield, IDE cable.

Chipsets: AMD 785G / AMD SB710
CPU Support: AMD socket AM2+
Memory Type: Dual Channel DDR2-800/1066/1333
Videocard Support: (1) PCI Express x16 2.0
Integrated Graphics: Yes (HDMI, Analog, DVI)
Gigabyte's GA-MA785G-UD3H motherboard is built around the AMD 785G and AMD SB710 southbridge, so it includes six 3GB/s SATA ports with RAID 0, 1, 0+1 and JBOD functionality. One IDE and FDD connector support legacy PATA devices. In term of peripheral expansion, the GA-MA785G-UD3H is equipped with one PCI Express 2.0 x16 slot and one PCI Express x4 slot (in pink), three PCI Express x1 slots and a pair of legacy PCI slots.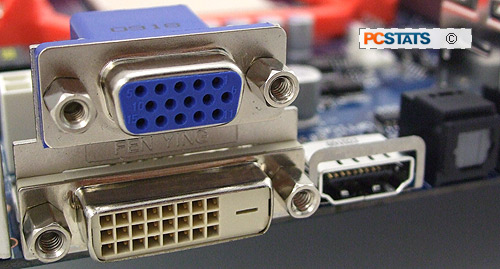 Care of the AMD SB710 the board offers up twelve USB 2.0 ports, six of which are located at mid-board, and another six on the rear I/O panel. Other I/O panel connectors include a IEEE 1394a Firewire port, a gigabit networking port, a PS2 mouse/keyboard port, as well as optical S/PDIF, 8-channel stereo output and of course the HDMI, DVI and VGA video outputs.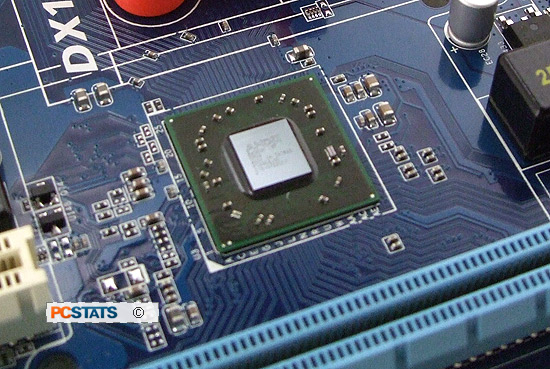 Gigabyte's GA-MA785G-UD3H motherboard retails for about $90 CDN, ($85 USD, 50 GBP), which makes it quite affordable for a motherboard with this many features.
We'll see how it compares to other Socket AM2+ motherboards and some of the competition's AMD 785G chipset motherboards in a moment, first let's get familiar with the Gigabyte GA-MA785G-UD3H's layout...