Overclocking Results:
Unlike most integrated motherboards PCSTATS has reviewed, ATI has enabled IGP overclocking with the AMD 785G chipset. The default clock is 500MHz, so it will be interesting to see what impact a 200-250MHz overclock will have on IGP performance.... anyway's let's begin.
As always, overclocking starts off by dropping the multiplier on the AMD Phenom II x4 955 Black Edition down to 8x, disabling features like Cool'n'quiet and CPU C1E power states. A set of DDR2-1600MHz memory modules from Corsair was locked into the Gigabyte GA-MA785GMT-UD3H and set to run in DDR2-800MHz mode so it wouldn't hold the CPU back - in this first test we're trying to find the highest support bus speed.
The bus speed of the Gigabyte GA-MA785G-UD3H motherboard was then bumped up from 200MHz to 250MHz.... and 275MHz which caused the system to crash while loading Windows Vista. A megahertz too far? After a bit of fiddling, the bus speed was reduced to 265MHz, allowing Vista to boot properly. Not the best overclock PCSTATS has squeezed from an AMD 785G board, but not too shabby.
Integrated Graphics Overclocking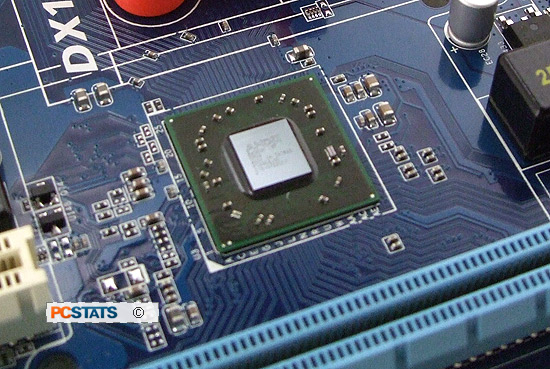 After finishing with the CPU, PCSTATS turned its attention to overclocking the AMD Radeon HD 4200 IGP. The ability to overclock and integrated video chipset is relatively new, and the results can boost performance a little.
The Radeon HD 4200 IGP is clocked at 500MHz by default. Overclocking from 500MHz to 650MHz was easy, and pushing the AMD785G IGP to 725MHz wasn't hard at all. In a matter of minutes the IGP was operating at 775MHz without difficulty.
Once the Radeon HD 4200 IGP was overclocked, it was only natural for PCSTATS to run some quick benchmarks to see what kind of performance gains were actually achieved.
The default 3Dmark 06 benchmark result for this board (IGP @ 500MHz) is 1686 3DMarks. Overclocking the Radeon HD 4200 IGP from 500MHz to 775MHz improved this benchmark score to 2098 3Dmarks.
It's interesting to compare these results against the ASUS M4A785TD-V EVO motherboard, its IGP overclocked to 750MHz, but incorporates 128MB of SidePort memory which the Gigabyte GA-MA785G-UD3H motherboard does not. The overclocked ASUS managed an overclocked score of 2308 3DMarks. The difference is due to the 128MB of DDR3 1333MHz SidePort memory, which increases performance in 3D loaded benchmarks like this.
Inside the BIOS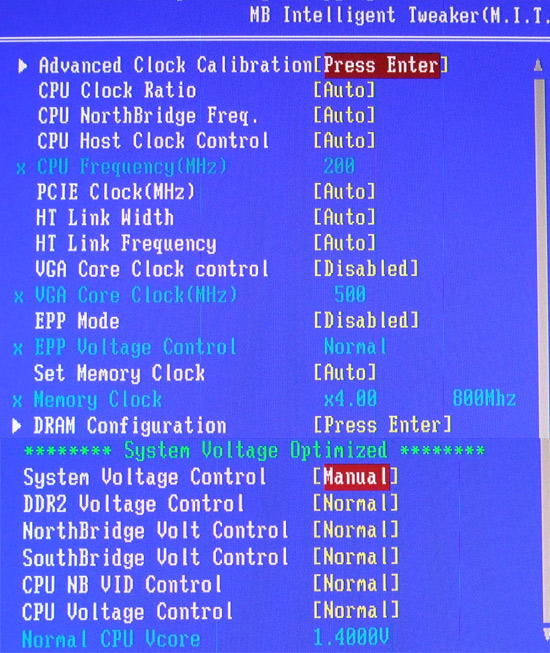 Gigabyte's main system settings BIOS page allows for both manual and automatic overclocking, as well as voltage control over the Gigabyte GA-MA785G-UD3H's CPU, AMD 785G northbridge, and DDR2 memory.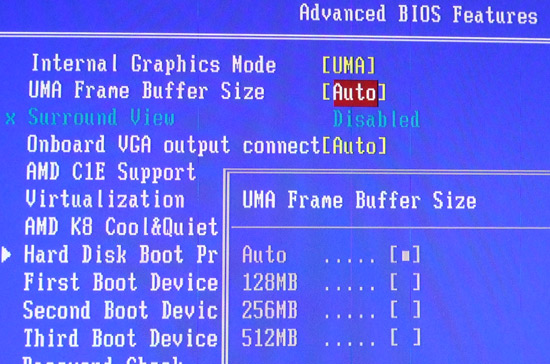 The Radeon HD 4200 IGP's video memory can be expanded through the BIOS as well. Increasing the memory buffer will improve graphics performance, at the expense of having less system memory available.

The core clock of the Radeon HD 4200 IGP can be overclocked easily by keying in the speed here. Radeon 3xxx and 4xxx-series IGPs tends to be very good overclockers, although even when overclocked their 3D performance is limited.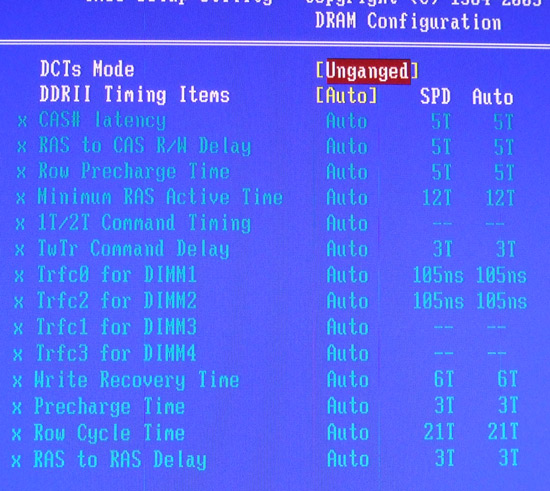 Memory timings can be adjust by clock cycle, which makes it possible to tweak timings to their tightest possible settings. Since this motherboard supports low-latency DDR2, it's especially important to get the most efficient timings possible.
Measuring Energy Efficiency
Energy efficient computers are a good thing, so it helps to know how power efficient, or power hungry different parts of a computer are when stressed with different tasks. Since it is very difficult to isolate a videocard or CPU and measure power draw separately, PCSTATS measures total system power draw with the aid of an Extech 380803 AC Power Analyzer and A-PFC compliant PC Power and Cooling 750W power supply. The meter is placed between the 120V AC outlet and the PC power supply. By stressing the test platform's graphics solution or processor, it's then possible to measure power draw relative to the PC at an idle state.
The test system is measured at Idle (Windows desktop), Graphics Loaded (3Dmark06) and CPU Loaded (Prime 95) states.
Total System Power Draw
Gigabyte GA-MA785G-UD3H

Graphics Solution

Idle
Graphics Loaded
CPU Loaded

AMD HD 4200
(Integrated Graphics)

110W

147W

198W


nVidia Geforce GTS250
(Discrete Graphics)


160W
284W
260W
(At desktop)
(via 3Dmark 06)
(via Prime95)
AMD's Radeon HD 4200 IGP still has a fairly small TDP, so when running in integrated graphics with a low-wattage AMD CPU the Gigabyte GA-MA785G-UD3H doesn't have much trouble keeping under 150W. Discrete graphics predictably increase total system power draw to 198W.

All seems well with the GA-MA785G-UD3H so far.... next up - benchmarks!