The MSI 785GM-E65 motherboard represents an evolutionary step forward for AMD's integrated chipsets and the Dragon platform as a whole. AMD has taken the 780G chipset, popular with home theatre enthusiasts for its High Definition video options, and brought forth small, but noticeable improvements to keep pace with increasing technological demands and Microsoft's Windows 7 operating system.
It's true that the Radeon HD 4200 is virtually identical to the Radeon HD 3200 IGP in every way that matters, but has been upgraded to DirectX 10.1, equipped with Unified Video Decoder 2.0, and better hardware acceleration for certain desktop applications. Motherboards like the MSI 785GM-E65 are fully compatible with Windows 7, and the AMD 785G integrated graphics support all its new graphics and eyecandy options.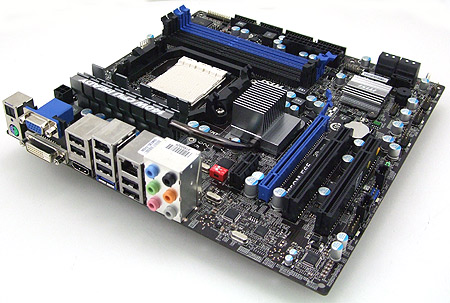 Under testing, PCSTATS found that the Radeon HD 4200 IGP was a little faster than the Radeon HD 3200 IGP it's replacing, even though both of them share a 500MHz core clock speed. Both of these IGPs lose out to the more-expensive Radeon HD 3300 found on AMD 790GX motherboards, which is blessed with a 700MHz core clock speed, but again the point is largely moot.

None of these IGPs are capable of playing current games at acceptable resolutions or detail settings, so paying extra money for more IGP gaming performance is a dead-end. If you're a gamer and you're eyeing an AMD 785G motherboard, save up some extra money and get yourself a Radeon HD 4770 videocard to go along with it.

As you saw, PCSTATS tested the AMD 785 chipset with ATI Stream, to see just how good a GPU-accelerated desktop really is. When programs are able to fully harness the abilities of the Radeon HD 4200, the results can be pretty compelling, with noticeable performance gains in graphics-heavy and transcoding applications. The biggest drawback right now to ATI Stream is its limited software support. There simply aren't all that many programs that take advantage of discrete graphics or IGPs at this point in time.

MSI's 785GM-E65 microATX motherboard is a good platform which is really feature-ladden. An equivalent MicroATX board from Intel would be spartan by feature-comparison. There's support for AMD's latest socket AM3 processors, it can handle up to 16GB of DDR3 memory at speeds of DDR3 800/1066/1333, has five SATA 3Gb/s connections (RAID 0/1/0+1/JBOD) and of course HDMI/DVI/VGA outputs. The only real sacrifice is that it has only one PCI Express x16 slot, so CrossfireX isn't a possibility, but that's likely not something you'd want to be doing on a micro-ATX motherboard anyway.

Feedback?
What do you think of this review?
Help make PCSTATS better, leave your comments here.

Performance-wise the MSI 785GM-E65 motherboard was a small but solid step ahead of previous AMD chipsets, and is an excellent match for AMD's new Athlon II X2 250 processor. With DDR3 memory rapidly dropping in price, it's easy to build a versatile micro-ATX system for under $500 CDN, and getting a decent videocard for games will only run another $100 CDN or so.

If you're already running one of AMD's previous 700-series chipsets as the basis for a current PC, the AMD 785G chipset isn't a dramatic enough change to warrant an upgrade. However the MSI 785GM-E65 and the AMD 785G chipset is easy to recommend to anyone who has purchased a new socket AM3 processor and wants to put it into an affordable but fully-featured motherboard. It's versatile, stable, performs well, and best of all at $95 CDN, ($90 USD, £55 GBP), it's the same price as the AMD 780G motherboards it replaces - that's value you can take to the bank!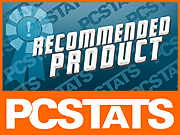 Find out about this and many other reviews by joining the Weekly PCstats.com Newsletter today! Catch all of PCSTATS latest reviews right here.
Related Articles
Here are a few other articles that you might enjoy as well...
- ASUS M4A78T-E AMD 790GX Socket AM3 Motherboard Review
- ASUS Striker II NSE nVidia nForce 790i SLI Motherboard Review
- ASUS M3A78-T AMD 790GX Socket AM2+ Motherboard Review
- ASUS P5E3 Premium/Wifi-AP.N Intel X48 Express Motherboard Review
- Gigabyte GA-X48-DS5 Intel X48 Express Motherboard Review
- Asus P5Q-EM Intel G45 Express Motherboard Review
- Biostar TPower N750 nForce 750a Motherboard Review
- Gigabyte GA-EP45-DQ6 Intel P45 Express Motherboard Review
- ECS A780GM-A AMD 780G Motherboard Review
- Biostar TF8200 A2+ GeForce 8200 Motherboard Review
- Foxconn A7DA-S AMD 790GX Motherboard Review
- MSI X48 Platinum Intel X48 Express Motherboard Review
- MSI P35 Platinum Combo Intel P35 Express Motherboard Review
- ECS P45T-A Intel P45 Express Motherboard Review