Abstract: MSI's 785GM-E65 motherboard is built around the AMD 785G and SB710 chipsets, and features 128MB integrated DDR3 SidePort memory. MSI has adapted the AMD 785G chipset into a micro-ATX form factor, an ideal size for small home and office computers, and best of all Home Theatre PCs.


80% Rating:

Home > Reviews > Motherboards > MSI 785GM-E65
MSI 785GM-E65 Motherboard Highlights
Let's start off by taking a quick look around MSI's 785GM-E65 motherboard.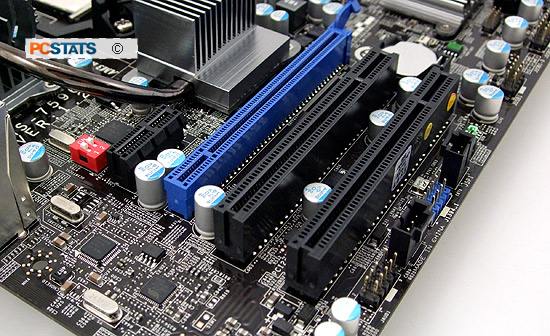 From left to right: PCI Express x1 slot, PCI Express 2.0 x16 slot with x16 bandwidth, and a pair of 32-bit PCI slots. Along the bottom edge of the 785GM-E65 board are audio, COM and EEE1394a firewire headers. The red DIP switch is for overclocking the bus speed 10%-20%.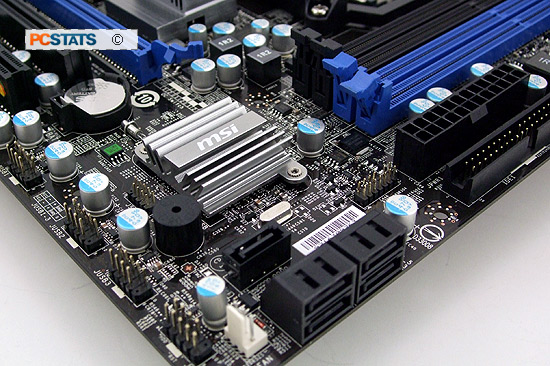 In the lower left corner we find the AMD SB710 southbridge behind a small passive heatsink. The MSI 785GM-E65 motherboard has five 3Gb/s SATA II ports which can run in RAID 0, 1, 0+1 and JBOD modes. There are three USB headers (that can be split into six USB 2.0 connections), IDE, and the front panel I/O header.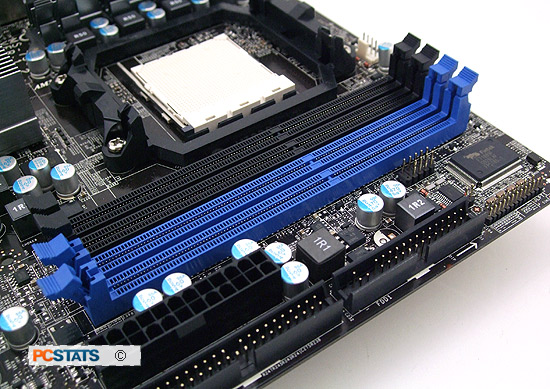 MSI's 785GM-E65 board supports up to 16GB of DDR3 800/1066/1333MHz memory in four DIMMs. Along the bottom edge of the board is the ATX 24-pin power connector, IDE and floppy connectors and a printer port header.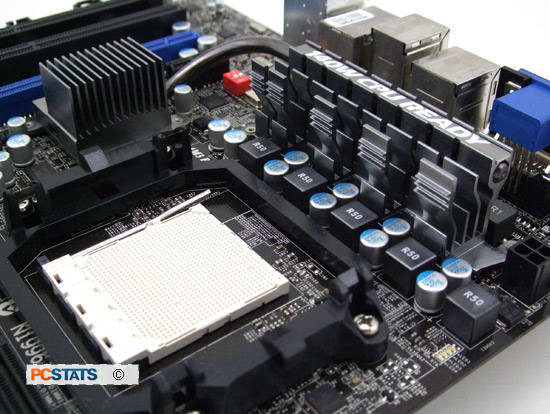 Socket AM3 is compatible with Phenom II and Athlon II processors. While those processors are backwards compatible with socket AM2+/AM2, AM2 processors are not pin-compatible with socket AM3. Next the CPU socket are solid state capacitors, low RDS chokes and power MOSFETs under a passive heatsink. The MSI 785GM-E65 has a 4-phase power supply, indicated by the cluster of LEDs at the bottom right of this photo.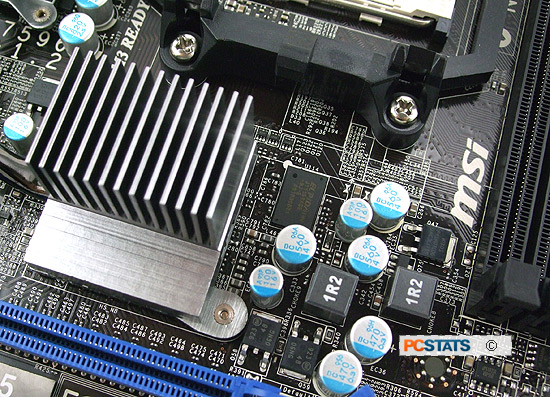 AMD's 785G chipset is power efficient enough it can be cooled with a small passive aluminum heatsink under normal desktop work loads. The 785G incorporates an integrated Radeon HD 4200 GPU and 128MB of DDR3-1333 SidePort memory. It can also share upto 512MB of system memory, if needed. The GPU will cause the heatsink temperature to rise significantly after a few rounds of intensive 3D gaming, so it's worthwhile having airflow go over this heatsink.
The AMD 785G chipset that powers the MSI 785GM-E65 is a brand new design from one of the biggest microprocessor manufacturers. Let's take a look at just how well it performs...