Abstract: MSI's 785GM-E65 motherboard is built around the AMD 785G and SB710 chipsets, and features 128MB integrated DDR3 SidePort memory. MSI has adapted the AMD 785G chipset into a micro-ATX form factor, an ideal size for small home and office computers, and best of all Home Theatre PCs.


80% Rating:

Home > Reviews > Motherboards > MSI 785GM-E65
ATI Stream and HD Acceleration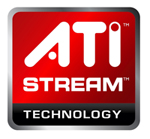 ATI Stream, like NVIDIA's CUDA, is a way of accelerating desktop applications like Adobe Creative Suite 4, MediaShow Espresso and Microsoft Silverlight using a graphics processor instead of relying on just the CPU. There are certain intensive tasks that are easy to optimize for the massively parallel nature of an IGP like the Radeon HD 4200 that can cause even the fastest CPUs to choke and stall. ATI has been working with developers like Adobe and Microsoft so that everyday programs can take advantage of a dedicated GPU in a desktop environment.
Adobe in particular has embraced GPU acceleration, and the latest version of their Creative Suite brings support for both NVIDIA Geforce and AMD Radeon GPUs. Hardware acceleration support in programs like Adobe Acrobat Reader and Photoshop can improve rendering performance and smoothness when navigating large PDF documents and images.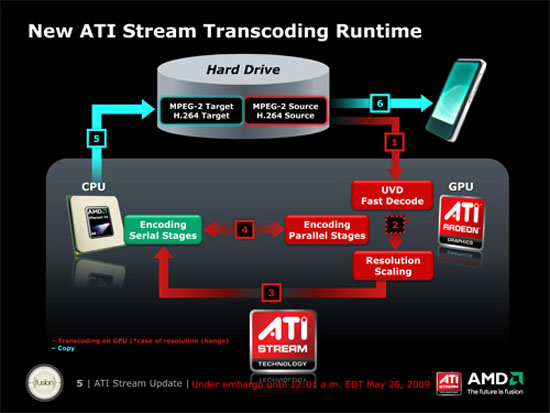 The lastest version of ATI Stream has also added a new video transcoding technology that lets the Radeon IGP to accelerate video encoding. With the advent of video-capable portable media players like the iPhone, Sony PSP and Microsoft Zune, video encoding is an increasingly popular task even amongst mainstream and home users.
Video encoding remains a very intensive task, and encoding or transcoding a movie that has been ripped from DVD to play on your iPod can take hours depending on the video quality and length of the movie. Acceleration support is still quite limited at this point, with only certain codecs (H.264, MPEG2, VC1) and programs (Cyberlink Espresso, ATI Video Converter, Arcosoft Total Media Theatre) supported. Hopefully as this technology evolves it will become more widely supported and turn full hardware acceleration for the desktop into a reality.
ATI Stream and Hardware acceleration on the desktop
To test out hardware acceleration of the desktop under ATI Stream, we used Cyberlink's MediaShow Espresso. It's a transcoding program that can take advantage of both CPUs and GPUs in order to convert video files from one format to another. MediaShow Espresso has a very simple interface for adding new files and several transcoding presets to make it easy to get your videos formatted properly.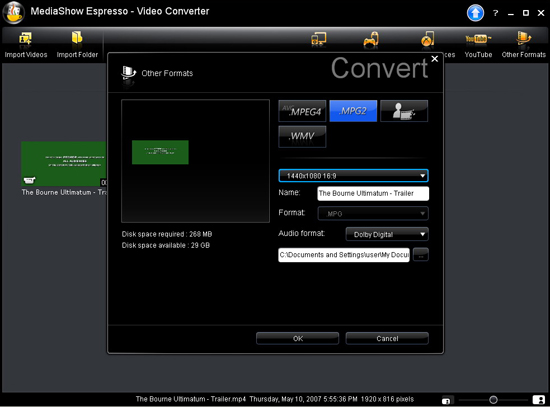 We tested MediaShow Espresso with the trailer for Pixar's Up! The original file format was a 1920x1080 Quicktime.MOV file, encoded in H.264-avc1. We transcoded the file into a 1080p mpeg-2 file using just an Athlon II X2 250 CPU first, and then the Radeon HD 4200 IGP GPU.
| | |
| --- | --- |
| Hardware | .MOV Transcode Time |
| Athlon II X2 250 (with Radeon HD 4200 IGP, no hardware acceleration) | 2:59 |
| Athlon II X2 250 (with Radeon HD 4200 IGP, hardware decoding enabled) | 2:55 |
| Phenom II X4 955 Black Edition (with Radeon HD 4200 IGP, no hardware acceleration) | 2:12 |
| Phenom II X4 955 Black Edition (with Radeon HD 4200 IGP hardware decoding enabled) | 1:49 |
As you can see, both the CPU and GPU work together in these instances to accelerate encoding performance. While the Radeon HD 4200 IGP isn't dramatically decreasing encoding times, it is shaving off a few seconds off every encode. The faster the processor, the more pronounced the effect of having hardware accelerated decoding becomes.
Power Savings
Integrated chipsets under Windows 7 have better support for power saving technology, and the Radeon HD 4200 capitalizes on this with dynamic underclocking that will reduce the speed of the GPU based on how much load is being used. This will reduce the power usage of the GPU, and ultimately that of the entire system while the IGP is in an idle state (for example, when sitting at the Windows Desktop).
Measuring Energy Efficiency
Energy efficient computers are a good thing, so it helps to know how power efficient, or power hungry different parts of a computer are when stressed with different tasks. Since it is very difficult to isolate a videocard or CPU and measure power draw separately, PCSTATS measures total system power draw with the aid of an Extech 380803 AC Power Analyzer and A-PFC compliant PC Power and Cooling 750W power supply. The meter is placed between the 120V AC outlet and the PC power supply. By stressing the test platform's graphics solution or processor, it's then possible to measure power draw relative to the PC at an idle state.
The test system is measured at Idle (Windows desktop), Graphics Loaded (3Dmark06) and CPU Loaded (Prime 95) states.
Total System Power Draw
MSI 785GM-E65

Graphics Solution

Idle
Graphics Loaded
CPU Loaded

AMD HD 4200
(Integrated Graphics)

82W

152W

159W


nVidia Geforce GTS250
(Discrete Graphics)


137W
246W
204W
(At desktop)
(via 3Dmark 06)
(via Prime95)

AMD's Radeon HD 4200 IGP still has a fairly small TDP, so when running in integrated graphics with a low-wattage AMD CPU the MSI 785GM-E65 doesn't have much trouble keeping it to just 147W. Discrete graphics predictably increase total system power draw to 198W.

We'll be taking a closer look at the performance of the AMD 785 chipset uses in just a minute, but first let's get familiar with MSI's 785GM-E65 motherboard.