AMD is back in the mainstream. Only a short while ago saw the launch of its completely redesigned Athlon II processor line, a value-oriented CPU, while its ATI 40nm Radeon HD 4770 videocard has tuned out to be one of the best value-for-money mainstream graphics cards. AMD's latest mainstream integrated graphics chipset is the AMD 785G and Radeon HD 4200 IGP. The AMD 785G and its Radeon HD 4200 are the first with DirectX 10.1 compliance for Microsoft Windows 7 operating system, and include enhanced features like ATI Stream application acceleration and improved Universal Video Decoding 2.
MSI 's 785GM-E65 motherboard is built around the AMD 785G and SB710 chipsets, and features 128MB integrated DDR3 SidePort memory. MSI has adapted the AMD 785G chipset into a micro-ATX form factor, an ideal size for small home and office computers, and best of all Home Theatre PCs.
The MSI 785GM-E65 is a socket AM3 motherboard, which means it's compatible with AMD's newest processors like the Phenom II X4 955 Black Edition and the Athlon II X2 250 . AMD will gradually transition all of its desktop processors to socket AM3 over the next few years, so investing now could save you a bit of hassle later on.
Feedback?
What do you think of this review?
Help make PCSTATS better, leave your comments here.
While upgrading to DDR3 has been a daunting prospect in the past, memory prices have dropped dramatically and modules are basically at parity with DDR2 RAM now. The 785GM-E65 will accommodate up to 16GB of DDR3-800/1066/1333MHz memory, however the real firepower comes with the Radeon HD 4200 integrated graphics processor. This IGP is the next evolution of the Radeon HD 3200, adding support for DirectX 10.1 and Shader Model 4.1 graphics.
The guts of the Radeon HD 4200 IGP are made up of 40 stream processors that run at a core clock of 500MHz, so while this is still an IGP (expect integrated graphics performance, not a miracle), AMD claims it can handle some "mainstream" gaming. To this end the MSI 785GM-E65 has also been equipped with 128MB of DDR3-1333 Sideport memory as a performance cache, and on top of that the GPU can be overclocked too. PCSTATS will be putting those claims to the test a little later on in this review.

MSI 785GM-E65 Motherboard

INCLUDES: User's Manual, Driver CD, (2) SATA cables, (1) SATA-to-Molex power cable, I/O Shield, IDE cable.

Chipsets: AMD 785G (128MB) / AMD SB710
CPU Support: AMD socket AM3
Memory Type: Dual Channel DDR3-800/1066/1333
Videocard Support: (1) PCI Express x16 2.0
Integrated Graphics: Yes (HDMI, Analog, DVI)
The launch of the AMD 785G chipset also includes an update for ATI Stream. ATI Stream is a initiative to bring GPU hardware acceleration to graphics-heavy desktop applications like Adobe Acrobat Reader, Microsoft Silverlight and Cyberlink Espresso. In these applications the Radeon HD 4200 IGP will take over for the CPU, and should result in somewhat faster performance in applications that can take advantage of the extra compute power. ATI Stream has some very exciting potential, and PCSTATS will be putting it to some real-world tests in this review.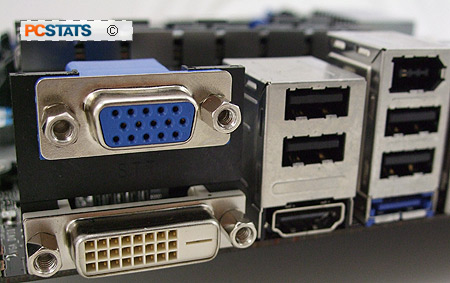 The graphics capabilities of the AMD 785G are the real selling point in our books. Just like the AMD 690G/780G before it, we're spoiled with a trifecta of video outputs - HDMI, DVI and VGA.
Dual controllers mean it's easy to get dual monitors running with the 785GM-E65 too. The digital HDMI output is fully HDCP compliant and can carry audio as well as video, so it's no problem getting a HDTV hooked up for some big-screen computing.
The Radeon HD 4200 is HDMI 1.3 compliant, so it also supports higher bandwidth and greater colour depth for future video standards.
For real FPS 3D gaming a videocard is what you'll need. An integrated graphics processor cannot compete with a decent mainstream videocards, and in that regard the MSI 785GM-E65 motherboard features a PCI Express 2.0 x16 slot which is likely to see almost immediate use. The board can be run for standard desktop applications on the Radeon HD 4200 quite well - a videocard isn't needed to do office work, or even watch an HD movie. The 785G's got you covered in those respects!
The 785GM-E65 also has an additional PCI Express x1 slot and a pair of legacy PCI slots for legacy peripheral expansion.
Storage on the MSI 785GM-E65 is handled by the AMD SB710 southbridge, which has support for five SATA 3Gb/s ports and an eSATA port for external storage. The SATA connections can be operated in RAID 0, 1, 0+1 and JBOD modes. There's also an IDE and floppy connector.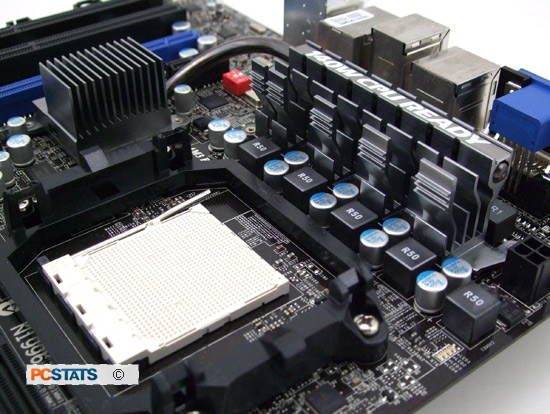 On the I/O panel of the MSI 785GM-E65 motherboard we find six USB 2.0 ports, an IEEE 1394a firewire port, a PS/2 keyboard/mouse combo port, gigabit LAN, S/PDIF optical output, eigh channel stereo output, and the aforementioned eSATA, HDMI, DVI and VGA ports. Considering this is a micro-ATX motherboard, having such a fully-featured suite of inputs and outputs is impressive, and definitely adds to its value-quotient.
The MSI 785GM-E65 motherboard is surprisingly affordable, retailing on average for $95 CDN, ($90 USD, £55 GBP). When paired together with AMD's economical 3.0GHz Athlon II X2 250 processor and a Radeon HD 4770 videocard it's possible to put together a versatile PC that could work as a gaming box, HTPC or home/office productivity computer for under $500 .
How will the MSI 785GM-E65 and AMD's new 785G chipset compare to other IGP solutions like Intel's G45 Express or NVIDIA's nForce series ?
Follow along as PCSTATS explores the AMD 785G chipset and examines the MSI 785GM-E65 from corner to corner.

Introducing the AMD 785G chipset / SB710 Southbridge
The AMD 785G chipset brings support to the Dragon platform for DirectX 10.1, making it fully Microsoft Windows 7 compliant. It's high definition hardware-base decoding accelerates certain kinds of video transcoding and graphics-intensive applications; a new tool to the world of IGPs. AMD's 785G is an all-around incremental improvement to the AMD 780G chipset, the previous darling of the IGP world.
The AMD 785G chipset also continues AMD's strategy of having cross-compatiblity support for a huge range of processors, including the new Athlon II 250 microprocessor. Since the AMD 785G chipset leaves memory control up to the CPU, it can be used with both socket AM2 and socket AM2+/AM3 processors and support DDR2 or DDR3 memory.
The centerpiece of the AMD 785 chipset is the Radeon HD 4200 IGP. This new graphics core is very similar to the Radeon HD 3200 that powered the AMD 780G. Both IGPs are built on a 55nm process, have 40 stream processors, and are made up of ~205 million transistors. Performance of the 500MHz Radeon HD 4200 IGP should be largely similar to AMD's previous IGPs, with the key changes being support for DirectX 10.1 and Shader Model 4.1.
Should you want to use a stand alone videocard the AMD 785G chipset supports a PCI Express 2.0 x16 slot, and can be used in Hybrid Crossfire mode with selected ATI Radeon graphics cards such as the Radeon HD 3450. In ideal situations, this will double the performance of the Radeon HD 4200 IGP... although doubling an IGP's 3D performance still isn't comparable to the power of a dedicated graphics card.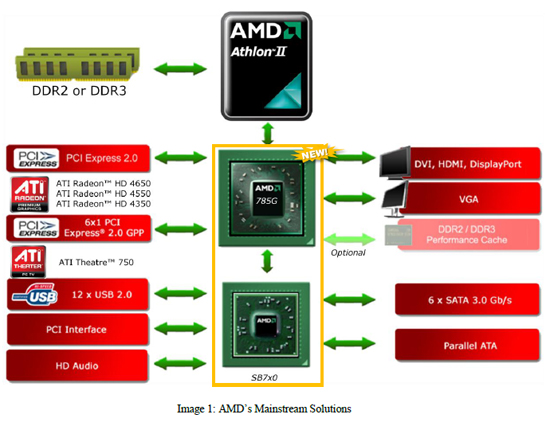 The Radeon HD 4200 IGP also continues support for Sideport memory, which adds a small amount of DDR3-1333 memory for the IGP to use as a cache, so it's not eating into shared system memory. Sideport memory is optional, so availability depends on the motherboard manufacturer. The MSI 785GM-E65 that PCSTATS is reviewing today has 128MB of DDR3-1333 sideport memory, which should give it an edge in 3D graphics benchmarks.
Further improvements include new hardware-accelerated transcoding support for selected video applications. ATI Stream lets the Radeon HD 4200 GPU accelerate media encoding, which can result in dramatic performance improvements when compared to CPU transcoding speeds. Unified Video Decoding is also here, and also uses the GPU to decode video, reducing load on the CPU.
The Radeon HD 4200 supports HDMI, DisplayPort (if integrated) and DVI. HDCP support is native to the Radeon HD 4200's video controller, so it's fully compatible with high-definition content played over Blu-ray discs. Within the AMD 785G are two independent display controllers, one digital (DVI/DP/HDMI) and one analog for displays. Depending on the manufacturers board-level implementation, the 785G will easily support dual monitors (one analog and one digital).
The AMD 785G supports up to six PCI Express 2.0 x1 slots along with six PCI bus mastering slots, although it's up to the motherboard manufacturer to implement each expansion slot. There are generally six Serial ATA II ports and a single Ultra/133 IDE controller, coming from the AMD SB710 Southbridge. Also integrated are twelve USB 2.0 ports, a Gigabit network MAC and a 7.1 channel High Definition audio controller. The AMD's 785G chipset is a real challenger to Intel's older G45 Express chipsets, although only time will tell how it fares to next-generation chipsets like Intel's G55 Express.
ATI Stream and Hardware acceleration tests are next. Can a little IGP really speed up transcoding an HD movie for the iPod?