Abstract: This article aims to cover the basics of online security, including a description of the methods online stores use to protect themselves and their customers.

Home > Reviews > Beginners Guides > PCSTATS
Exporting a data recovery certificate
Go to 'start\run' and type 'secpol.msc' to open the local security policies. Navigate to 'Security Settings\Public Key Policies\Encrypting File System,' and Choose 'Action\Add Data Recovery Agent.' Click 'Next.'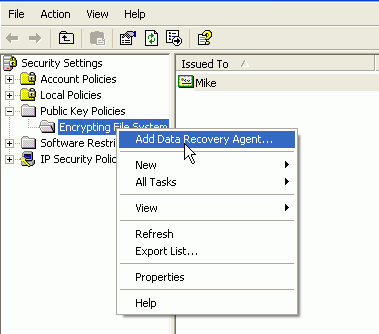 Click 'browse folders.' open the filename you created earlier with the 'cipher' command. Click 'next' then 'finish.' The current user is now a data-recovery agent and can decrypt any EFS encrypted files on the system.
Exporting a data recovery certificate
In order to be sure you cannot lose all your encrypted data in the case of an accident, you need to export the digital certificate you just created for the recovery agent. This will allow you to create new recovery agents in case something awful happens to your current Windows installation.
Login to the user account you made the recovery agent in the last step. Go to 'start\run' and type secpol.msc to bring up the local security policy. Navigate to 'Security Settings\Public Key Policies\Encrypting File System.' Right-click the certificate you just issued and choose 'all tasks\export.'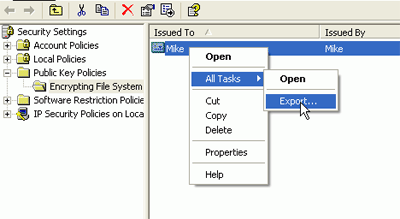 Select the 'DER Encoded Binary X.509 (.CER)' option, and click 'Next'. Now specify the location you wish to export the certificate to, for example a floppy disk. Keep it Safe! Now if the worst happens, you can follow the steps listed above to create a recovery agent, using the certificate you just exported. Best practice is to now delete the two files you created with the 'cipher' command in order to ensure that only you have access to the recovery agent.
Find out about this and many other reviews by joining the Weekly PCstats.com Newsletter today!