Abstract: This article aims to cover the basics of online security, including a description of the methods online stores use to protect themselves and their customers.

Home > Reviews > Beginners Guides > PCSTATS
Managing Cookies
The latest version of Internet Explorer has several features for blocking cookies entirely or selectively through the 'tools\internet options\privacy' panel.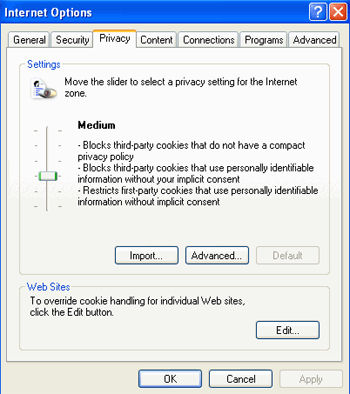 The setting here are self-explanatory, keeping in mind that 'third-party cookies' are cookies that originate from a web server different from the one that provides the URL you are currently visiting, and 'compact privacy policies' are privacy policies provided by the author of the cookie that can be read by your system before acceptance of the cookie.
By using the 'Edit' button below, you can block or accept cookies on a per-site basis. To remove all cookies from your system, go to 'tools\internet options\general' and select the 'delete cookies' option.

Keep in mind, if you have saved passwords for frequently visited websites, deleting the cookies will erase all that information. This is good if you want to prevent anyone on a public computer from accessing a private website, or area, but bad if you can't remember all those passwords in the first place. ;-)
< Previous Page
© 2022 PCSTATS.com

Please respect the time and effort that went into creating each PCSTATS Beginners Guide, do not illegally copy. Thank you.

Next Page >