Also referred to as the 'browser cache' and found at 'c:\documents and settings\(username)\local settings\temporary internet files\', this directory stores web pages you have recently visited, using a percentage of your disk space to do so. Its only purpose is to speed up repeated viewings of pages you have already visited.
Like the history and cookies, this presents a clear roadmap of your activities on the Internet, and can be safely emptied at any point, if you so wish, by going to 'tools\internet options\general' and selecting the 'delete files…' option.
Browser History
The Browser history is an easily accessible list of websites you have visited recently. As with the Temporary Internet files folder and the cookies folder, it offers a clear history of your Internet activities. The history can be easily deleted by going to 'tools\internet options\general' and selecting 'clear history.' In newer versions of Internet Explorer, this will also delete the list of recent typed website addresses stored in the dropdown box on the address bar.
Autocomplete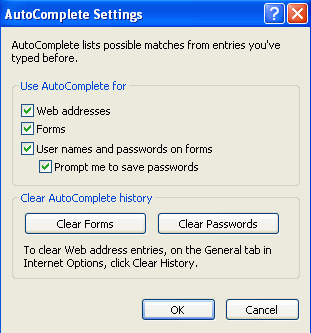 Recent versions of Internet Explorer include a technology known as 'autocomplete', which is intended to allow users to type web addresses and form information (including usernames and passwords) more quickly by remembering information typed by the user then popping up a suggestion box anytime the user begins to type something that resembles a previously entered letter pattern.
For example, if you sign into a hotmail account with the username 'mymail@hotmail.com,' the next time you go to the hotmail sign in page and start to type your username, the moment you type the 'm,' autocomplete will pop up a suggestion box with the remainder of the username, which you simply need to click on to complete the entry.
The data recorded by the autocomplete feature is stored in encrypted form in the registry on a per-user basis. The drawback to autocomplete is that personal information, addresses, phone-numbers, credit card numbers, usernames and passwords, etc. can all be stored on your computer, then automatically entered again by anyone using your account.
The first time you enter a password on a web page, autocomplete will ask you if you wish to use it to save passwords in the future. If you answered yes to this question, as soon as you fill in your username on a form from then on, either by typing or using autocomplete, the password will also be filled in automatically. Essentially, with autocomplete fully enabled, anyone sitting at your computer using your account needs only to enter the first letter of your username in order to get both the full username and the password entered.
Autocomplete settings can be altered by going to the 'tools\internet options\content\autocomplete…' Window. From here you can decide whether you wish autocomplete to be active for web addresses, online forms, and user names and passwords. If you are at all unsure about the physical security of your computer, I would recommend disabling the 'user name and passwords on forms' option, and clearing the autocomplete passwords history with the 'clear passwords' button.