Samsung's name for the R480-i5-430's finish is "Touch of Colour" with a "Crystal S-pattern design", and at first glance the look is quite attractive. The glossy dark-cherry effect and subtle waves look quite fetching, but like any glossy design it only takes a few seconds of use to cover the shiny surfaces in greasy fingerprints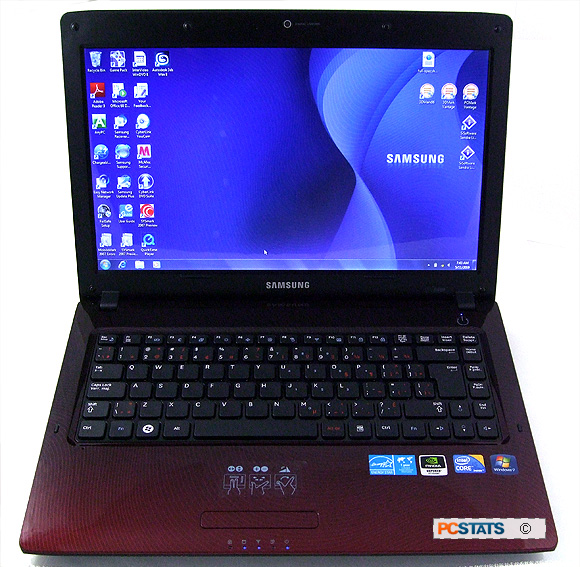 Fortunately the bezel around the Samsung R480-i5-430 notebook is a matte black plastic, so no embarrassing fingerprints will mar the screen as you use it. The 14-inch screen can have its brightness upped to some very impressive levels, although it does tend to dim noticeably if you're a few degrees above/below it or off to the sides. The screen also has a glossy coating, the bane of outdoor laptop users the world over.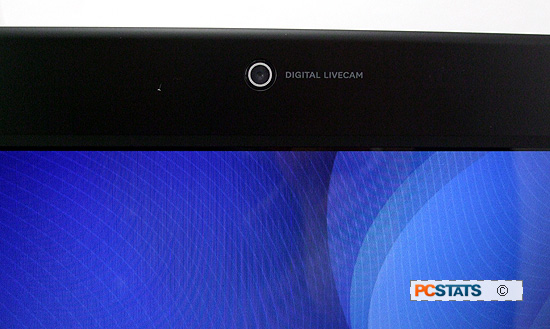 Mounted right above the screen is a 1.3 megapixel webcam, which is useful if you need to video conference. The camera can work with the R480-i5-430's built-in microphone as well for voice chat. The R480-i5-430 ships with Cyberlink YouCam installed, so you can get the webcam working with minimum fuss.
The R480-i5-430 doesn't use a latch to lock itself shut, but there's enough resistance on the laptop's central hinge to stop if from swinging open accidentally if you're carrying it.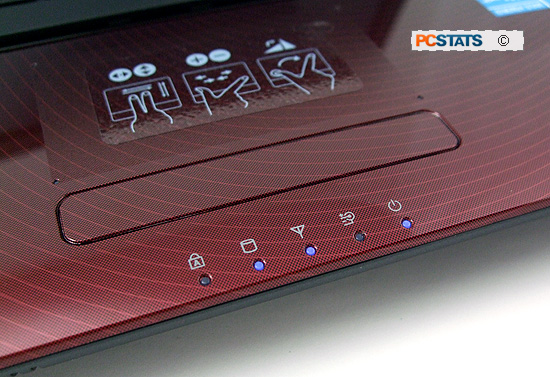 There are a number of indicator lights along the edge of the front lip of the laptop that will tell you the status of the laptop's hard drive, power and WiFi access.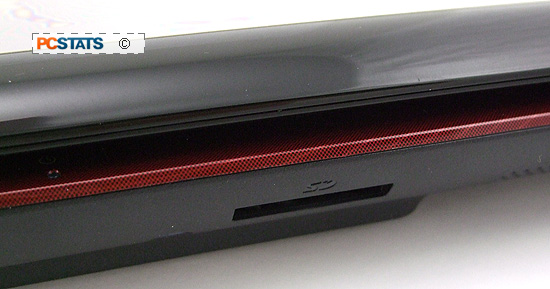 Right below the multi-touch trackpad is a SDHC card reader, which can also read SD and MMC formatted media cards.
Right Side of Notebook

The right side of the Samsung R480 laptop houses a Express Card slot, the DVD-RW drive, a USB 2.0 port and a loop so that a Kensington lock can be attached. The notebook is a bit chubby, 1.5" thick. Build quality is generally quiet good, the notebook is made of plastic components but flex wasn't glaringly obvious at any point during testing. PCSTATS moved the R480 notebook around with one hand, and never did it feel as though the laptop was sagging like a soggy pizza.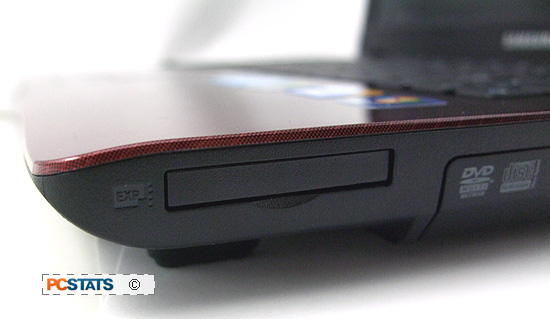 ExpressCard expansion allows new peripherals to be added into the laptop externally via the PCI Express bus. It's useful if you find yourself in need of Firewire or USB 3.0 connectivity after you've invested in the R480-i5-430.