3DMark06 is the worldwide standard in advanced 3D game performance benchmarking. A fundamental tool for every company in the PC industry as well as PC users and gamers, 3DMark06 uses advanced real-time 3D game workloads to measure PC performance using a suite of DirectX 9 3D graphics tests, CPU tests, and 3D feature tests. 3DMark06 tests include all new HDR/SM3.0 graphics tests, SM2.0 graphics tests, AI and physics driven single and multiple cores or processor CPU tests and a collection of comprehensive feature tests t reliably measure next generation gaming performance today.
Futuremark 3DMark06 1.1.0
Overall:
Points
Ranking
Samsung R480
7329
CPU:
Points
Ranking
Samsung R480
2521
SM2.0
Points
Ranking
Samsung R480
3032
HDR
Points
Ranking
Samsung R480
3005
These scores come as no surprise, considering the Geforce GT 330M has 48 shader cores. The Samsung R480 is capable of handling modern, non-FPS oriented games at decent framerates.
Futuremark 3DMark Vantage 1.0.1
Source: FutureMark
3DMark Vantage is a PC benchmark suite designed to test the DirectX10 performance of your graphics card. We've been making 3DMark for over 10 years, with each new edition using the latest 3D technology to determine real-world performance.
Futuremark 3DMark Vantage 1.0.1
Performance Overall: (P)
Points
Ranking
Samsung R480
2653
GPU Score:
Points
Ranking
Samsung R480
2193
CPU score:
Points
Ranking
Samsung R480
7176
We see similar results from the 3DMark Vantage test report - the Geforce GT 330M is capable of modest gaming but if you expect to run the latest FPS shooter on this notebook you'll be in for a big let down.
Final Thoughts on Samsung's R480 Core i5 Notebook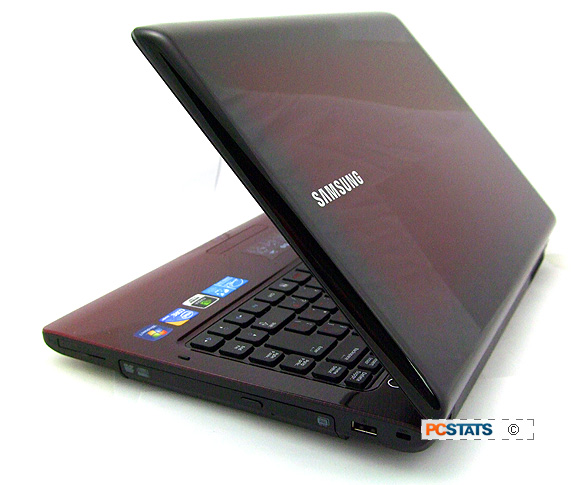 It's easy to feel at home working on the Samsung R480-i5-430 noteboosk. Samsung positions this 2.3kg laptop as a general purpose computing device that could complement your desktop system, or in a pinch replace it altogether.
The result is a notebook which offers a good balance of features, performance, functionality and price. The 14" LCD screen and 1368x768 resolution is wide enough to accommodate a good work flow, a 16:9 aspect movie or pretty much any web content. At the same time it doesn't make the overall system chassis unreasonably large or heavy.
Samsung has been wise in pushing some hardware aspects of the R480-i5-430 up into territory usually reserved for 'premium' laptops. Most notably its included the Intel Core i5 430M processor and an nVidia Geforce 330M GPUm. Coupled with 4GB of memory, this notebook competes well with most standard desktops when it comes to running everyday productivity applications.
It's similarly impressive to have a 500GB hard drive and 4GB of DDR3 memory on a notebook. Having the extra RAM lets you really take advantage of the Core i5 430M processor in content creation programs like Adobe Photoshop, and having a big hard drive is always a plus for media files. While the 5400RPM Seagate Momentus 5400.6 notebook hard drive used in the R480-i5-430 isn't the world's fastest storage device, it does manage a good balance between power consumption, capacity and speed.
All of this extra hardware and attention to balance makes you feel like you're not compromising when using the R480-i5-430. Compared to desktop PCs the performance of notebooks has traditionally been second rate, with gimpy hardware that made it difficult to do heavy duty tasks like content creation and even worse made everyday tasks like web browsing and word processing feel laggy and slow. Out of the box the R480-i5-430 feels as snappy and responsive as a modern desktop machine.
Samsung includes some utility software with the R480-i5-430, and thankfully doesn't overload it with bloatware. The necessary utilities are already installed to manage battery life, manage display output and network connections. You can ditch this software in favor of the utilities built into the Windows 7 Home Premium install, but for the most part Samsung's software is unobtrusive.
You'll also get a trial of Microsoft Office, as well as Cyberlink's DVD Suite and YouCam software. The only really questionable software choice is the pre-installed McAfee Virus scan, which should be ditched at the first possible opportunity for the free Microsoft Security Essentials instead.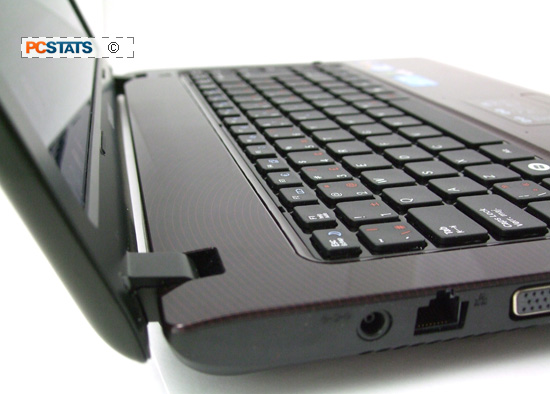 Hits and Misses
While Samsung had done a great job picking out the hardware and software of the R480-i5-430, there are a few misses when it comes to the R480-i5-430's physical design. At 5 lbs the R480-i5-430 isn't exactly a lightweight, and at 1.5" it's a little chunky.
Samsung's "Touch of Colour" and "Crystal S Pattern" design both look attractive at first glance, but the glossy coating on the chassis shows every fingerprint laid on it. The glossy, reflective LCD screen can also be a little difficult to use if you have a bright window or light behind you while you're working.
The keyboard is quite close in size to a full size desktop keyboard, which makes it easy to transition to typing on the R480-i5-430.
Keys are slightly re-arranged in order to make room for some laptop function keys. It would be nice if the keyboard was a little more pitched towards the user, as the almost completely flat pitch of the keys made typing slightly difficult at first.
One plus side of having a thicker chassis is that the extra space gives more space for heat dissipation, so even if you're using the R480-i5-430 in your lap for extended period of time you won't burn off your delicate parts. The laptop is generally inaudible when in use, with only a faint fan noise audible under heavy load.
Samsung has chosen hardware that is capable of both good performance and long battery life, and packaged it in a 14" notebook frame that looks good and hold up well to everyday handling. The R480-i5-430 notebook has a robust feature set that keeps pace with more expensive mobile computers even though it retails for around $1050 USD ($1100 CDN, £725 GBP).
Given what PCSTATS has seen while working with Samsung's R480-i5-430, I think we can summarize by saying it's a worthy notebook in a field populated with cheap me-too laptops. For students in particular, the Samsung R480 is a great primary computer for work within the limits its hardware, it's also good for semi-mobile tasks that travel with you to and from work or school.
Find out about this and many other reviews by joining the Weekly PCstats.com Newsletter today! Catch all of PCSTATS latest reviews right here.
Related Articles
Here are a few other articles that you might enjoy as well...
- Acer Ferrari 4005 WLMi AMD Turion64 ML-37 Laptop Review
- Sony VAIO VGN-T140P/L Notebook Review
- Transmeta Efficeon Mobile CPU Series
- Gigabyte G-Max N203 Laptop Review
- Gigabyte G-MAX N512 Centrino Laptop Review
- Sharp Actius MM10 1GHz Crusoe Notebook
- Fujitsu P-2000 Guides: Upgrading Memory
- NEC MATE MA90W/F Crusoe Desktop Computer
- Libretto L5/080TNKW and Libretto L5/080TNLN
- Sony VAIO PCG-C1MSX subnotebook
- Sony VAIO PCG-U1 Crusoe Ultra-subnotebook