Samsung's R480-i5-430M laptop is the latest in a line of general purpose notebooks that blend features and pricing in an attempt to be all things to all people. For the most part, this metallic red notebook succeeds while still keeping its price to an affordable $1050 USD ($1100 CDN, £725 GBP). At first glance the Samsung R480 is just what any student would want - a good sized 14" display, a good collection of hardware for work and a bit of play, and all the connectivity features a modern notebook needs.
Like most notebooks nowadays, the Samsung R480 features a 16:9 aspect ratio glossy 14" display that used LED backlights for enhanced power efficiency. It weighs 5 lbs (2.3 kg) and offers a good mix of portability and features, but is best sized for everyday work rather than sheer travel portability. Built around Intel's Core i5 430M mobile processor, Samsung up the ante by including discrete graphics care of nVidia, an integrated 1.3MP web camera and some unique styling choices.
Installed with Windows 7 Home Premium 32-bit, at the heart of Samsung's R480 notebook is Intel's Core i5 430M, a dual-core mobile processor with native 2.26GHz clock speed and 3MB cache. The Core i5 430M is based on the same Nehalem architecture used in Intel's high-end desktop processors, it can use TurboCore ability which lets single-threaded applications boost a single core up to 2.53GHz for faster processing. The CPU supports HyperThreading so its two physical cores can simultaneously process four application threads between them. The Core i5 430M CPU is paired with Intel's HM55 chipset, although integrated graphics are ditched in favour of nVidia's discrete Geforce 330M - a better path in our books.
Intel's investments in power-efficient processors have paid off particularly well for its mobile platforms, and the latest generation of Core i5 processors are capable of much greater performance-to-power draw ratios than AMD's Turion II mobile processors or last generation's Intel's Core 2 Duo mobile processors. As such, the Samsung R480 notebook has a good battery life when tasked with productivity type work of about 221minutes (3hrs 41minutes) in PCSTATS own lab tests.

Samsung R480 Notebook

Technical Details at a Glance:

---

- Intel Core i5 430M processor: 2.26GHz, Turbocore up to 2.53GHz
- Intel HM55 chipset
- Geforce 330M GPU with 1GB GDDR
- (2x) 2GB DDR3-1066 SO-DIMM (4GB total)
- 14" WSXGA+ TFT LCD display (1368 x 768 resolution)
- 802.11bgn wifi, Gigabit wired Ethernet LAN, Bluetooth
- 500GB, 5400rpm, 2.5" SATA hard drive
- 8x DVD-RW/CD-RW slot loading combo drive
- Realtek audio, built-in dual speakers and microphone, speaker/headphone
- I/O Ports: 1x Express card, 4x USB 2.0, VGA, HDMI, Mic in, Headphone, RJ45, SDHC/SD/MMC reader
- Weight: 5 Lbs
- Size: 13.5" x 9.4" x 1.5"
Thanks to 1GB of dedicated GDDR3 memory and 48 shader cores, nVidia's Geforce 330M graphics processor is actually capable of surprisingly decent gaming performance in titles like the Sims 3 or World of Warcraft. The Geforce 330M is the successor to NVIDIA's Geforce GT 230M and 240M mobile graphics solutions and supports DirectX 10.1. Samsung's choice of a dedicated GPU will definitely improve the R480-i5-430's ability to render 3D graphics, but it will also increase the laptop's overall power consumption and decrease battery life against pure IGP offerings.
Samsung equips its R480-i5-430 notebook with two SO-DIMM memory slots, both of which are occupied by (2x) 2GB modules of Samsung DDR3 1066MHz RAM. Non-volatile storage on the R480-i5-430 is handled by a 2.5" Seagate Momentus 5400.6 500GB SATA hard drive and a SATA-based dual-layer DVD writer.
While it would have been nice to see an option to spec the R480-i5-430 out with an SSD for faster drive performance, such an addition would likely have involved cutting down hard drive capacity and a vastly increased price.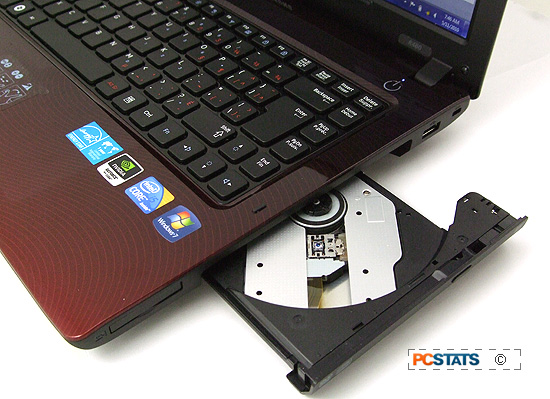 Network connectivity is handled by a 802.11bgn compatible WI-FI adapter, which gives this mid-sized laptop great mobile networking compatibility. The R480-i5-430 also has built in bluetooth 2.1 EDR connection if you want to sync it with your cell phone or a bluetooth mouse. Wired connectivity options include four USB 2.0 ports, an eSATA port and a wired RJ45 networking jack.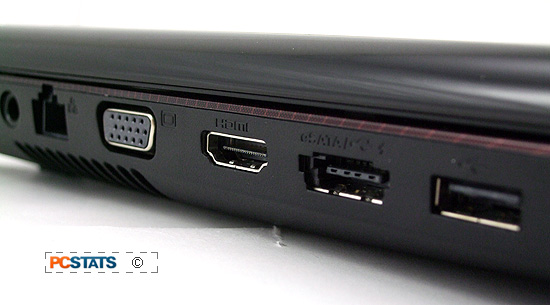 Samsung's R480-i5-430 is well suited to its role as a general-purpose notebook. The R480-i5-430's screen measures 14 inches (or 355mm, measured diagonally) with a 16:9 aspect ratio. The display has a native resolution of 1366x768, which makes the overall dot pitch high enough to look sharp, but it's not so fine that you'll be squinting to see text. Video output to an external monitor can be handled via a standard VGA port or through HDMI output.


Samsung include a pretty good software utility for swapping between video sources and displays - if you're use to stabbing the 'Fn+F10' key until something shows up, you'll appreciate this detail. An Express Card slot for add-in peripheral cards is provided and you can easily load photos or other media data directly into the Samsung R480-i5-430 care of an integrated SDHC card slot located right under the front lip of the laptop.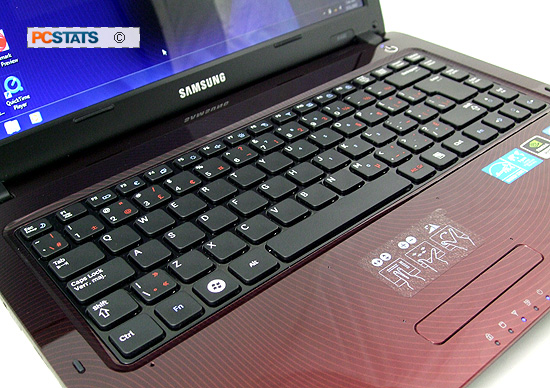 At 2.3kg (5 lbs) the R480-i5-430 is about an average weight for a 14-inch laptop. It's a little bit heavy to be carrying around with you at all times, but if you have it in a briefcase or backpack as you travel to work or to class you should be fine. Physically the R480-i5-430 measures 343mm (13.5 inches) wide, 239mm (9.4 inches) deep, and at 37.9mm (1.5 inches) of thickness it's actually a little chunky. Powering the R480-i5-430 is a six-cell rechargable lithium ion battery, rated at 11.1V and 4400mAh capacitance.
Let's take a closer look at the display and several other features of the Samsung R480 notebook next.