Of all the AMD 8-series chipsets, the AMD 890FX is the one specifically designed for performance enthusiasts and hardcore gamers. Here's why; the first AMD 800-series chipsets linked together an integrated graphics processor (IGP) with support for add-in (discrete) graphics. The AMD 890FX chipset on the other hand is dedicated to discrete videocards only. Instead of the Radeon HD 4290 IGP the 890FX features 42 lanes of PCI Express 2.0 bandwidth.
If you've been looking for an AMD setup to handle high-end quad-CrossfireX configurations, your prayers have just been answered.
AMD 890FX-based motherboards will have two major configurations: the more common configuration will have a pair of PCI Express 2.0 x16 slots, each with x16 lanes of bandwidth. Variant versions will have four PCI Express 2.0 slots which can run in (x16/x16/x0/x0) mode, or in (x8/x8/x8/x8) mode for four-way CrossFireX configurations.
All of this PCI Express 2.0 bandwidth comes in handy because today's graphics cards are pushing ever-more amounts of bandwidth along the PCI Express bus. Top-end enthusiast videocards like the dual-GPU Radeon HD 5970 can be bottlenecked by the limited bandwidth of a PCI Express 2.0 x8 connection, with significant drop-offs in peak performance and lower overall frame rates. This performance penalty gets even worse if you're trying to run a pair of high-end videocards in CrossfireX mode, the videocards will completely saturate the (x8/x8) PCI Express, and you'll never get the most out of your expensive eye candy generators.
AMD 700 and 800-series Chipsets

AMD 790FX
AMD 870
AMD 880G
AMD 890GX

AMD 890FX

CPU
Socket AM2
Socket AM2/ Socket AM3
Socket AM3
Socket AM3
Socket AM3
Memory
1066MHz DDR2
1066Mhz DDR2/ 1333MHz DDR3
1333MHz DDR3
1333MHz DDR3
1333MHz DDR3
Graphics Expansion
2x16 PCI Express 2.0
1x16 PCI Express 2.0
1x16 PCI Express 2.0
1x16 PCI Express 2.0,
2x8 PCI Express 2.0
2x16 PCI Express 2.0,
4x8 PCI Express 2.0
Peripheral Expansion
6x1 PCI Express 2.0
6x1 PCI Express 2.0
6x1 PCI Express 2.0, 2x1 PCI Express 2.0 on SB850
6x1 PCI Express 2.0, 2x1 PCI Express 2.0 on SB850
6x1 PCI Express 2.0, 2XPCI Express 2.0 on SB850
IGP
-
Radeon HD 4250
Radeon HD 4290/RV620
-
Process
65nm
65nm
55nm
55nm
65nm
TDP
10W
12.5
18W
25W
19.6W
IOMMU 2.0
-
-
-
-
Yes
Southbridge
SB600
SB710
SB710
SB850
SB850
Storage
4xSATA 3Gb/s
6xSATA 3Gb/s
6xSATA 3Gb/s
6xSATA 6Gb/s
6xSATA 6Gb/s
USB
10x USB 2.0,
12x USB 2.0
12X USB 2.0, 2 USB 1.1
14x USB 2.0,
2x USB 1.1


14X USB 2.0,
2x USB 1.1
Like AMD's 890GX chipset, the AMD 890FX northbridge had an extra pair of PCI Express 2.0 x1 lanes which manufacturers can dedicate to SuperSpeed USB 3.0 ports (not in the Biostar TA890FXE's case though).
IOMMU 2.0 support also makes its debut with the AMD 890FX chipset. IOMMU is a memory allocation and isolation technology that can benefit virtualization and data integrity. Devices can take advantage of IOMMU to use native drivers in a virtualized environment, improving overall performance. IOMMU can also prevent devices from erroneously overwriting critical data, like kernel pages. IOMMU is currently a feature that hasn't made its way into consumer operating systems yet, but you can find if in certain Linux distros.
AMD has also indicated that the 890FX chipset is a stronger overclocker compared to its previous chipsets, and is designed to handle power loads more effectively. Since the AMD 890FX is the chipset of choice for use with six-core processors like the Phenom II X6 1090T, getting a good overclock could make for some some extreme performance gains. PCSTATS will be testing out the 890FX's overclocking capabilities a little later on in this review.
AMD SB850 Southbridge
AMD's 890FX northbridge will be paired with the same AMD SB850 southbridge that made its debut with the AMD 890GX chipset. The AMD SB850 is the first southbridge to have native SATA 6Gb/s connectivity with full RAID support. With all of the extra bandwidth that the SB850 southbridge controller is taking on, AMD has also doubled the bus speed between it and the 890GX northbridge. This expanded northbridge-southbridge bus has 16Gb/s transfer rates and is called A-link Express III.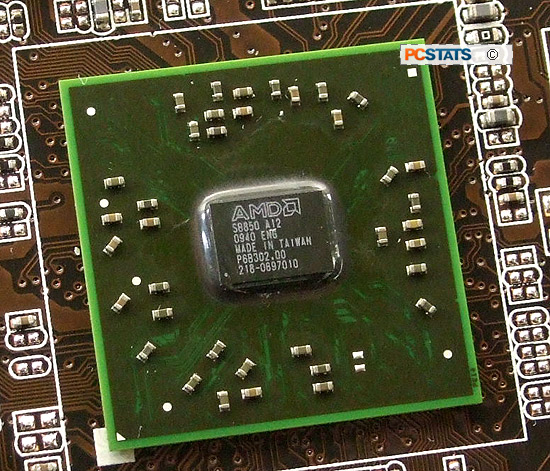 AMD SB850 Southbridge with native 6Gb/s SATA III.
Similar to early support for USB 3.0, certain board manufacturers 'bolted' SATA 6Gb/s controllers onto other chipsets, but benchmarks have brought to light a number of compromises. The AMD SB850 controller has native SATA 6Gb/s support built in, which theoretically means no compromises are necessary to enjoy faster storage drives, especially those expensive Solid State Drives.
A fast SSD in sequential read mode can saturate the SATA 3Gb/s connections found on typical motherboards, so SATA 6Gb/s support is more important than ever to avoid bottlenecks. Towards the end of 2010 new 25nm flash production techniques will make SSDs have larger capacities and lower prices then ever before, so having the ability to connect SSDs at full speed is good for future proofing your PC. Right now they are still very much a luxury item, but new features like SATA 6Gb/s are always about having the foresight to look forward 6 or 12 months.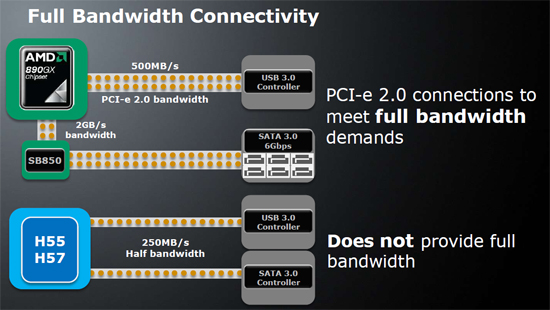 The SB850 southbridge supports SATA 6Gb/s in RAID 0, 1 5 and 10 modes, so you can even set up a massive array of SSDs or conventional hard drives. SATA 6Gb/s connections are backwards compatible with SATA 3Gb/s and SATA 1.5Gb/s hard drives, although to take full advantage of the faster bus you need to match up a SATA 6Gb/s capable hard drive with a SATA 6Gb/s connection to the motherboard.
Let's start off with a quick stroll around Biostar's TA890FXE motherboard, then PCSTATS will dive into Overclocking, BIOS features and benchmarks!