If you've been holding out for AMD's latest chipset and its 42 lovely lanes of aggregate PCI Express 2.0 bandwidth, this may just be the budget-oriented motherboard you've been searching for. Meet the Biostar TA890FXE motherboard, an AMD 890FX platform that eschews tons of frilly extra's for a core feature set and competitive sticker price.
Naturally overclocking friendly, Biostar have added core unlocking into the BIOS on this board so up to five cores may be unlocked from certain AMD triple or quad-core CPU models. The usual overclocking caveats apply in full force, or course, but if you do your research and pick up the right chip, this motherboard has the tools to enable you to unlock all working cores. About the only feature the Biostar TA890FXE motherboard skimps on is USB 3.0 - it just doesn't have it. On the other hand, it does features a Pot 80 card for diagnosing bad overclocking attempts and physical power and reset buttons, not to mention the AMD 890FX and all those wonderful lanes of PCI Express bandwidth.

As you might have guessed, Biostar's TA890FXE motherboard is based on two AMD chipsets, the AMD 890FX northbridge and SB850 southbridge. It's compatible with AMD socket AM3 processors such as the AMD Phenom II, Athlon II or AM3-based Sempron CPUs. The best processor for any AMD 890FX motherboard is the six-core 'Thuban' series AMD launched alongside the AMD 890FX chipset. Part of AMD's Vision platform, AMD Phenom II X6's are quick, affordable, and competitively paced against Intel Core i5 processors.
Like all AMD Socket AM3 motherboards, the Biostar TA890FXE is DDR3-RAM only. It can be installed with up to 16GB of DDR3-800/1066/1333/1600(OC) memory under operating systems like Windows 7 64-bit.
With overclocking comes the desire for multiple videocards, and in this respect the AMD 890FX chipset is the best solution to date for running ATI Crossfire. The TA890FXE board is equipped with two PCI Express 2.0 x16 slots for graphics cards, spaced two slots apart. There are two other physical PCI Express x16 slots which operate in x4 and x1 mode. Radeon videocards can be placed in the first and third slots for CrossfireX mode and receive x16 lanes of PCI Express bandwidth each. This graphics configuration isn't quite as versatile as MSI's 890FXA-GD70 which can support quad-CrossfireX arrays in (x8/x8/x8/x8), but realistically it does provide more than enough bandwidth for dual CrossfireX. A set of legacy PCI slots round out the expansion card options.

Biostar TA890FXE Motherboard




INCLUDES: User's Manual, Driver CD, (3) SATA cable, I/O Shield, (2) CrossfireX bridge, USB bracket, molex-to-sata power adapter.

Chipsets: AMD 890FX / SB850
CPU Support: AMD Socket AM3
Memory Type: Dual Channel DDR3
Videocard Support: (2) PCI Express 2.0 x16
While the AMD 890FX chipset has plenty of bandwidth to support add-in USB 3.0 controllers (AMD 890FX chipset communicates with the CPU using HyperTransport 3 at 5.2GT/s) Biostar doesn't integrate any SuperSpeed USb 3.0 ports on the TA890FXE. It's a little disappointing to see a highly expandable platform like a socket AM3-based AMD 890FX chipset without support for USB 3.0, but half the readers PCSTATS hears back from would rather save a buck than have a two ports they can't use yet.
So while you'll need to figure out USB 3.0 support on your own, there are six USB 2.0 ports available on the I/O panel, along with a 1394a Firewire connection and an eSATA port for plugging in external hard drives. Biostar's TA890FXE has Gigabit LAN (Tip: read PCSTATS Guide to Home Networking ) and an S/PDIF optical/coaxial ports, along with 7.1 channel audio stereo jacks.
SATA Ports and RAID Support
AMD's 890FX chipset is paired up with the AMD SB850 southbridge, a storage controller that provides native SATA 6Gb/s. There are five internal SATA connections (and the aforementioned eSATA connection) capable of 6Gb/s transfer rates, which can be configured in RAID 0, 1, 5 and 10 modes. Biostar uses a VIA VT6440 storage controller, which adds dual-channel IDE support for your older hard drives and optical drives.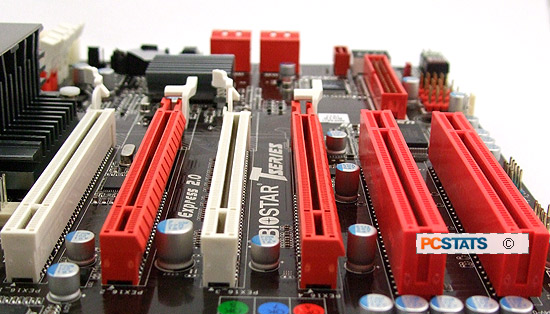 The white PCI Express 2.0 x16 slots are used for graphics cards and can be run in (x16/x16) mode for maximum bandwidth. There are two PCI Express x16 slots that get (x4) and (x1) bandwidth respectively.
As PCSTATS mentioned right off the bat, Biostar is promoting its core unlocking technology on the TA890FXE motherboard. Core Unlocking has the potential to turn certain AMD socket AM3 triple-core processors into quad-core processors, and "Thuban"-based quad-core processors into full six-core CPUs. Almost all motherboard makers offer the same BIOS-level software tool to accomplish this feat in their respective 890FX boards, but nevertheless it's nice to have. If you can squeeze some additional value out of your processor for no cost... well why not?
As with its AMD 890GX offerings, Biostar's TA890FXE a fairly conservative take on the AMD 890FX chipset. Fortunately what you lack in extra features, blingy heatsinks and never-will-be-used power saving tools, you get back in cash savings. Expect to find the Biostar TA890FXE motherboard on retail shelves for less than $155 CDN, ($150 USD, £100 GBP).
AMD 890FX Core Logic
If the processor can be thought of as the 'brains' of a computer system, the chipset is the heart and circulatory system. High end/enthusiast chipsets are like a runners circulatory system while mainstream or everyday chipsets that have less bandwidth or PCI Express lanes available and are analogous to a couch potato's circulatory system - when it comes time to run that 100 metres you just can't make it to the finish line as fast. Next up, PCSTATS takes a closer look at the AMD 890FX chipset, then we turn our attention to motherboard highlights....