Measuring Power Efficiency
Energy efficient computers are a good thing, so it helps to know how power efficient, or power hungry different parts of a computer are when stressed with different tasks. Since it is very difficult to isolate a videocard or CPU and measure power draw separately, PCSTATS measures total system power draw with the aid of an Extech 380803 AC Power Analyzer and A-PFC compliant PC Power and Cooling 750W power supply. The meter is placed between the 120V AC outlet and the PC power supply. By stressing the test platform's graphics solution or processor, it's then possible to measure power draw relative to the PC at an idle state.
The test system is measured at Idle (Windows desktop), Graphics Loaded (3Dmark06) and CPU Loaded (Prime 95) states.
Total System Power Draw
Biostar TA890FXE

Graphics Solution

Idle
Graphics Loaded
CPU Loaded


nVidia Geforce GTS250
(Discrete Graphics)


133w
276w
244w
(At desktop)
(via 3Dmark 06)
(via Prime95)
The AMD 890FX chipset has a very modest TDP of 19.6W itself, so even in a CPU-loaded state the total system power draw is only around 244W. When paired with a modest discrete graphics card you could even put the Biostar TA890FXE into a low-power, passively cooled system.
Prelude to Benchmarks
The details of how the Biostar TA890FXE motherboard test system was configured for benchmarking; the specific hardware, software drivers, operating system and benchmark versions is indicated below. In the second column are the general specs for the reference platforms this AMD 890FX based motherboard is to be compared against.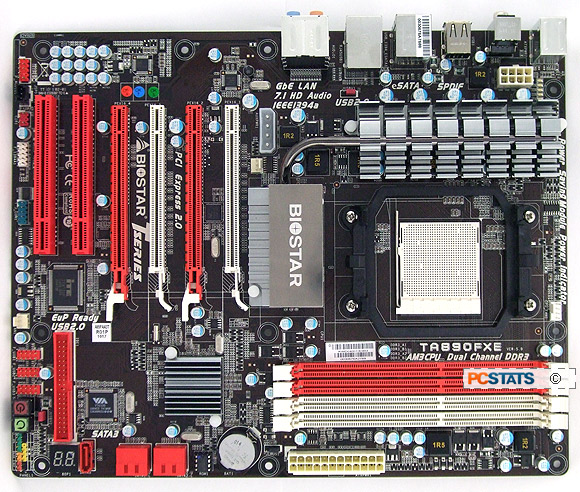 Please take a moment to look over PCSTATS test system configurations before moving on to the individual benchmark results on the next page.

PCSTATS Test System Configurations
test system
reference system #1
reference system #2
reference system #3
processor:
amd phenom ii x6 1090t
amd Phenom II X4 955 Black Edition

Intel Core i5 750

Intel Core i7 920
CPU Process Technology:
45nm
45nm
45nm
45nm
Socket:
Socket AM3
Socket AM3
Socket LGA1156
Socket LGA1366
Clock Speed:
16x 200MHz = 3.2 GHz, Turbo Core @ 3.6GHz (1090T)

16 x 200 MHz = 3.2 GHz

20x 133MHz = 2.66 GHz
20x 133MHz = 2.67 GHz
Motherboard:
Biostar TA890FXE (AMD 890FX)
MSI 890FXA-GD70 (AMD 890FX)
Gigabyte GA890FXA-UD7 (AMD 890FX)
ASUS Crosshair IV Formula (AMD 890FX)

Biostar TA890GXE (AMD 890GXE)
ASUS M4A89GTD-Pro (AMD 890GX)
Gigabyte GA-MA790FXT-UD5P (AMD 790FX)
MSI 785GM-E65 (AMD 785G)
ASUS M4A785TD-V Evo (AMD 785G
Gigabyte GA-MA785GMT-UD2H (AMD 785G)
Gigabyte GA-MA785G-UD3H (AMD 785G)

Gigabyte GA-P55A-UD6 (P55 Express)
Gigabyte GA-P55-UD6 (P55 Express)
Gigabyte GA-P55-UD5 (P55 Express)
Gigabyte GA-P55A-UD4P (P55 Express)
Gigabyte GA-P55-UD3R (P55 Express)
ASUS P7P55D-E Pro (P55 Express)
ASUS P7P55D Premium (P55 Express)
ASUS P7P55D Deluxe (P55 Express)

MSI Eclipse Plus (X58 Express)
MSI X58 Platinum (X58 Express)

Videocard:

ASUS ENGTS250 DK
(Geforce GTS250)

Memory:

2x2GB Corsair XMS3-1600C9 DDR3

2x 2GB Corsair XMS3-1600C9

3x2GB Corsair TR3X6G1600C8D DDR3
Hard Drive:

Optical Drive:

ASUS BC-1205PT-BD

Power Supply:

PC Power & Cooling TurboCool 750W

Heatsink:

Athlon64 Reference Heatsink

Intel Reference 1156 Heatsink
Intel Reference 1366 Heatsink
Operating System:

Microsoft Windows 7 Ultimate (32-bit)

Drivers:

Microsoft Windows 7 Ultimate
AMD Catalyst 10.3b
nVIDIA Forceware 195.62

Microsoft Windows 7 Ultimate
AMD Catalyst 9.12
nVIDIA Forceware 195.62

Microsoft Windows 7 Ultimate
Intel 9.1.1.1019
nVIDIA Forceware 190.62

Microsoft Windows 7 Ultimate
Intel INF 9.1.0.1012
nVIDIA Forceware 182.08

Benchmarks:

System Benchmarks:
SYSmark 2007
PCMark Vantage
SiSoft Sandra 2009

Calculation B/M:
Super Pi 1.5
wPrime 2.0
ScienceMark 2.3
Bibble 5

Rendering B/M:
Cinebench R10
POV-Ray 3.7

Gaming B/M:
3DMark06
3DMark Vantage
Cyrsis
FEAR