PCSTATS measures total system power draw (watts) with the aid of an Extech 380803 AC Power Analyzer and A-PFC compliant Seasonic SS-760KM power supply. The meter is placed between the 120V AC outlet and the PC power supply and the computer stressed. Total system power draw is recorded and compared to the PC's idle state.
Total System Power Draw
Idle

CPU Loaded

GFX Loaded

Intel Core i5 2500K
nVidia Geforce GTX470


102W
168W
274W

(Idel @ desktop)

(via Prime95)

(via 3DM06)
Gigabyte's GA-Z68X-UD5-B3 motherboard uses a 20-phase power VRM design built around 'Driver MOSFETs' which combine the functions of a driver, high MOSFET and low MOSFET into one board mounted component. This integrated circuit improves power efficiency, reduces heat and has a smaller footprint than previous circuit designs. Flanking the CPU socket are Japanese made all solid-state capacitors and ferrite choke cores.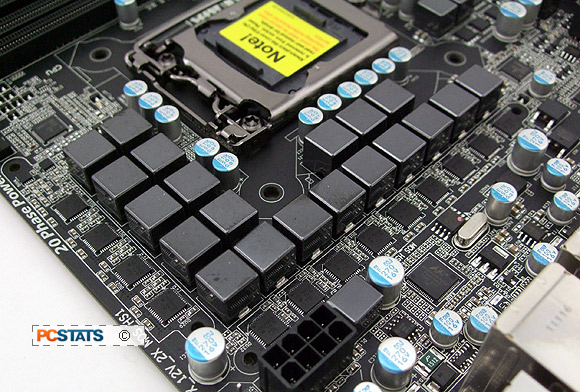 Gigabyte VRM circuitry includes MOSFETS and LOW RDS Ferrite Chokes.
According to Gigabyte, all of its Intel Z68 platforms are VRD12 qualified and use an Intersil PWM controller to switch between power phases dependent on system power loads. The board is built on a 6-layer PCB with 2oz. copper substrate that pulls double duty as a board level heatsink for surface mount devices like the driver MOSFET.
Gigabyte Boosts Power to USB ports
Since Computex last year, Gigabyte has boosted the electrical capabilities of its USB ports to better support demanding external hard drives or the charging requirements of peripherals like the Apple iPad. Standard USB 2.0 ports are limited to 500mA power loads, USB 3.0 devices to 900mA. The Gigabyte GA-Z68X-UD5-B3 motherboard supports USB 2.0 power demands up to 1500mA, USB 3.0 devices up to a maximum 2700mA. This won't change the performance of your USB devices, rather it will help prevent power hungry USB devices from conking out unexpectedly. If you use a lot of USB devices (and who doesn't?) you'll appreciate the added flexibility of filling all the USB ports up without resorting to powered USB hubs.
Time to wrap up this review up and summarize our thoughts on the Gigabyte GA-Z68X-UD5-B3 Motherboard.
Conclusion - It All Comes Down To This: Do You Need Video Transcoding?
I'm a fan detailed reviews that conclude with the essential points and don't rehash all the technical specs ad nauseam. So if you've skipped ahead to read the conclusions first, you've missed a good thrashing of what Intel Smart Response Technology is (critical!) and how well it actually works.
PCSTATS also told you why we think TouchBIOS is better alternative to poorly coded and the superficially glossy UEFI BIOS craze sweeping the motherboard industry. You may have also missed the 360-degree motherboard photo highlights gallery and baseline overclocking results for this jet black, 6-layer slab of PCB from Gigabyte.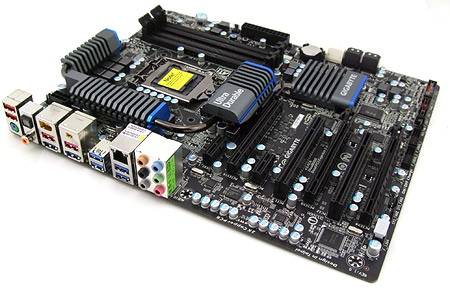 To sum up, whether or not the Gigabyte GA-Z68X-UD5-B3 motherboard is worth buying for your next socket 1155/Sandy Bridge computer system in large part comes down to how you answer this question - do you absolutely need Quick Sync accelerated video transcoding?
If you do, you don't get that with this board because the Gigabyte GA-Z68X-UD5-B3 is one of the few Intel Z68 motherboards at launch time that doesn't have onboard video ports. Without those, it can't take advantage of the LucidLogix Virtu driver and as such any and all video transcoding will be as comparatively slow as the MPEG2-to-MP4 example PCSTATS illustrated.
The lack of onboard video ports and the inability to run Quick Sync accelerated video transcoding aside, the Gigabyte GA-Z68X-UD5-B3 motherboard is in most other respects a pretty fantastic Intel Z68 platform; it's got plenty of connectivity, it's got plenty of expansion space to suit mainstream PC requirements and most importantly it can run Intel Smart Response Technology.
The ATX sized board has eight USB 3.0 ports, including a very convenient dual-port 3.5" front bay bundled in. The bare minimum of two internal 6Gb/s SATA III ports is a bit disappointing though, PCSTATS would have preferred at least two more internal SATA III jacks.... The videocard PCI Express slots are well spaced, memory slots and so forth are easy to access, and as with most Gigabyte motherboards the build quality and component selection is top notch.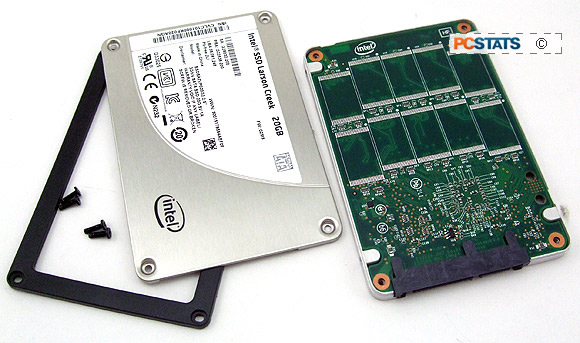 Naturally for a certain segment of users, the big advantage with Intel Z68 boards like the Gigabyte GA-Z68X-UD5-B3 is going to be Intel Smart Response Technology - the ability to assign a caching SSD to speed up systems installed to traditional hard disk drives.
PCSTATS touched on the in's and out's of Intel SRT already, suffice to say we have a positive impression of what this technology can do for users. Keep in mind that your reviewer falls into the category of users for whom SSDs are 50% too small and 40% too costly... with 10% trepidation thrown in for first hand experience of what happens when an SSD kicks the bucket.
Hint - no data recovery program in existance that can breath life into your files after that. Clearly though, if you plan on installing Windows 7 to a SSD, the impact of Intel SRT is a moot point.
If you're considering the leap into a first-class Intel socket 1155 motherboard based on the Intel Z68 platform, the Gigabyte GA-Z68X-UD5-B3 will set you back about $270 CDN ($250 USD £130 GBP). It can be found at NCIX $279, Canada Computers $279 and Infonec $284.
If integrated graphics and video transcoding acceleration aren't among your list of requirements you'll be very happy with the GA-Z68X-UD5-B3 motherboard.... but like our time testing Intel P67 platforms, I can't help but think there's an unused bit of technology in that Core i5 2500K processor that I should at least have the option of using, after all, that's the whole point of the Intel Z68 chipset isn't it?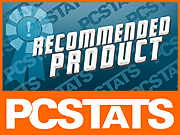 Find out about this and many other reviews by joining the Weekly PCstats.com Newsletter today! Catch all of PCSTATS latest reviews right here.
Related Articles
Here are a few other articles that you might enjoy as well...
- Intel Smart Response Technology and Intel 311 Larson Creek SSD Review
- ASUS P7P55D Premium Intel P55 Express Motherboard Review
- Intel 6-Series Chipset Recall - Sandy Bridge Intel P67 & H67 (v2.2)
- Biostar TH67XE Intel H67 Motherboard - FIRST LOOK
- MSI Computer P67A-GD65 Intel P67 Motherboard - FIRST LOOK
- Gigabyte GA-P67A-UD7 Intel P67 Motherboard - FIRST LOOK
- ECS H67H2-M Intel H67 Motherboard - FIRST LOOK
- Gigabyte GA-P55A-UD6 Intel P55 Express Motherboard Review
- Biostar TA890FXE AMD 890FX Motherboard Review
- ASUS P7P55D-E Pro Intel P55 Express Motherboard Review