Meet the Gigabyte GA-Z68X-UD5-B3 motherboard, a non-integrated graphics take on the new Intel Z68 chipset. While the Intel Z68 is reknown for combining the best the Intel P67 & H67 chipsets had to offer in one platform - and let's face it, also puts the final nail in the coffin of both - not all Z68 motherboards are being built with video outputs. As such, Intel FDI, Quick Sync and Intel HD 3000 graphics remain out of reach here. This isn't such a big deal if you think about it. Gigabyte's betting most users don't care for tepid IGP graphics anyhow, and anyone looking to snap up a $270 motherboard is going to install a powerful Geforce or Radeon videocard. Why worry about something you'd likely never use?
In any case, let's look at what the Gigabyte GA-Z68X-UD5-B3 motherboard does have to offer; first there's the new hybrid-EFI TouchBIOS and Intel Smart Response Technology - by far this the most exciting development with Z68 boards. Then there is +3TB hard drive support, eight USB 3.0 ports, 3x USB power boost, On/Off Charge for recharging devices like the iPhone and a whole bunch of other features from the board level on up.
Intel Smart Response Technology is a particularly neat solution that addresses the problem of Solid State Drives being too small and too costly for many people. What Intel Smart Response Technology does is bring about like-SSD performance to operating systems and applications installed on traditional mechanical SATA hard disk drives (HDD). It works by storing frequently accessed hard drive I/O data blocks on a small capacity, dedicated 'caching SSD' that Windows can access very quickly. More on this in a bit...
As you probably already know, the Gigabyte GA-Z68X-UD5-B3 motherboard supports 2nd Generation Intel Core i3/i5/i7 2000-series socket LGA1155 processors and up to 32GB of dual channel DDR3-1066/1333/1600/1866/2133 memory. That figure falls to 4GB for 32-bit OS's. Intel's Sandy Bridge CPU supplies x16 lanes of PCI Express 2.0 bandwidth for videocards, the Intel Z68 chipset a further eight for system devices.
As PCSTATS mentioned, the GA-Z68X-UD5-B3 motherboard does not have any onboard video ports, so integrated graphics and things like Intel Quick Sync cannot be used. In terms of gaming, a single discreet videocard will run in x16 mode, if a pair of NVIDIA Geforce or ATI Radeon videocards are installed this is divided into x8/x8. A third PCI Express x16 slot sports x4 connectivity with further expansion care of two PCI slots and two PCI Express x1 slots. The Gigabyte GA-Z68X-UD5-B3 motherboard can be found at NCIX $279, Canada Computers $279 and Infonec $284.

Gigabyte GA-Z68X-UD5-B3 Motherboard




INCLUDES: User's Manual, Driver DVD, (4) SATA cables, USB 3.0 front bay panel, 2-way SLI bridge, I/O Shield.

Chipsets: Intel Z68 Express
CPU Support: Intel Socket 1155
Memory Type: Dual Channel DDR3
Videocard Support: (2) PCI Express x16 2.0 (x16 or x8/x8)
Integrated Graphics Video Port: None
The GA-Z68X-UD5-B3's storage options build upon the previous Intel Platform Controller Hub (PCH) to offer six SATA connections; two 6Gb/s SATAIII and four 3Gb/s SATA II. RAID 0, 1, 5 and 10 modes are supported across these ports and Gigabyte augments the native Intel SATA storage options with a Marvell 9128 controller (adding a pair of eSATA 6Gb/s ports to the rear IO). No FDD or IDE devices are supported.
At the back of the Gigabyte GA-Z68X-UD5-B3 motherboard you'll find four SuperSpeed USB 3.0 ports, six standard USB 2.0 ports, a pair of hybrid eSATAIII/USB 2.0 ports and a set of IEEE1394 ports. One 10/1000 network connection is supplied by the Intel Z68. Intel high definition, 7.1-channel sound is run through coaxial and optical S/PDIF outputs, or through the usually allotment of headphone outputs. The audio system is Dolby Home Theatre compliant.
As with the previous generation of core logic, the Intel Z68 Platform Controller Hub communicates with the socket 1155 'Sandy Bridge' processor over a 20Gb/s DMI link and contains eight PCI Express 2.0 lanes. The remaining system PCI Express lanes are allocated to the processor itself.
Much like the Intel H67 chipset, Intel's Flexible Display Interface (FDI) connects the Z68 PCH to the processor. At first glance you might think the Z68, P67 and H67 chipsets are fundamentally identical, but this is not entirely so. Here's the block diagram for the Intel Z68 chipset, the major new addition being Intel FDI.
Intel Z68 Express Chipset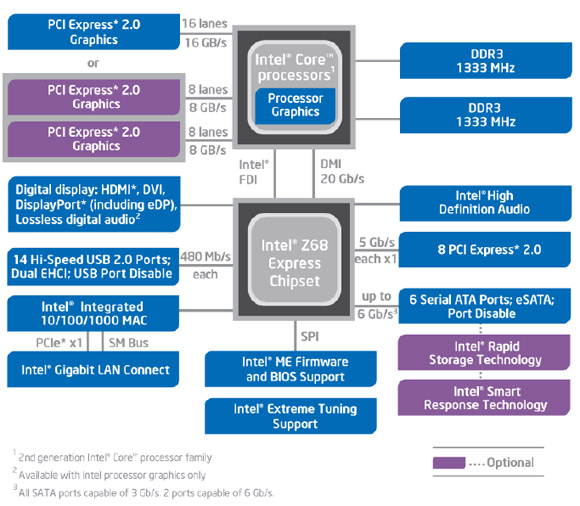 Intel Flexible Display Interface
Intel Flexible Display Interface (FDI) can be thought of as a direct line to the integrated graphics core built into every Sandy Bridge microprocessor. While Intel's H67 chipset featured the FDI link, and with it users could rely on the integrated graphics core for everyday work and for specialized video transcoding acceleration via Intel Quick Sync, the Intel P67 chipset does not.
The problem with this arrangement is that you can't overclock for damn with the Intel H67 platform, and while you can overclock on Intel P67 motherboards, that chipset doesn't support FDI at all.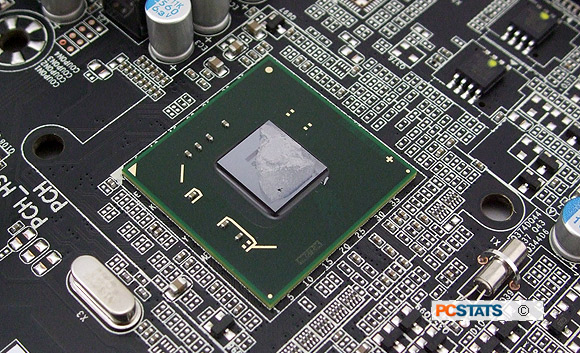 The star of the show, the upper-mainstream Intel Z68 Express Chipset
Enter the Intel Z68 chipset. It makes up for these shortcomings by combining the best of the Intel P67 & H67 chipsets under one hood; you get overclocking, video transcoding acceleration and integrated graphics - all with one chipset.
QuickSync - Video Transcoding Acceleration
Consider this example with the GA-Z68X-UD3H-B3 motherboard:

In the PCSTATS labs we set about converting a 450MB 1080i high definition MPEG2 video via Cyberlink MediaShow Espresso 6 to a 640x360 MP4 video format suitable for the iPhone 4. Using an Intel Core i5 2500K / nVidia Geforce GTX470 / Gigabyte GA-Z68X-UD3H-B3 test system (note: the -UD3H has integrated video ports), this video transcoded in about 48 seconds. Not bad, but with this same test platform reconfigured to run off the Intel HD3000 integrated graphics core, the same 450MB video was transcoded in a mere 14 seconds with help of QuickSync.
The thing is, to use Intel QuickSync you either need to plug your display into the motherboard's video ports and run off the Intel HD3000/2000 graphics core, or configure LucidLogix Virtu to virtualize the HD3000/2000 graphics through your discreet videocard. We'll get to the GA-Z68X-UD5-B3's limitations in these respects, in a moment.
What is LucidLogix Virtu?
It's a software driver Intel validated for the Intel Z68 platform that enables on-the-fly switching between discreet graphics cards and Sandy Bridge's integrated Intel HD3000/2000 graphics core by virtualizing one or the other. In the preferred method, the monitor is connected to a discrete videocard and Virtu virtualizes the IGP when required (d-Mode). Conversely, if the monitor is connected to the onboard video, Virtu virtualizes the discreet videocard (i-Mode) when 3D games are launched.
The key to this is that LucidLogix Virtu opens up the possibility of significantly accelerated video transcoding via Intel QuickSync to smart users who install a purpose-bred discreet PCI Express x16 videocard for 3D gaming.
That's all well and good, but the Gigabyte GA-Z68X-UD5-B3 does not have onboard video ports... What happens to Virtu? Can you still use LucidLogic Virtu to accelerate video transcoding? The answer to all these questions is, no.
I know what you're about to ask, here's why that doesn't work....