Socket 1155 motherboards like the Gigabyte GA-Z68X-UD3H-B3 which are built around it offer up a mainstream suite of capabilities and a kitchen sink full o'features. The board supports 2nd Generation Intel Core i3/i5/i7 2xxx-series socket LGA1155 processors - these CPUs are based on the Intel 'SandyBridge' architecture which includes an integrated graphics core on the CPU die.


88% Rating:

Home > Reviews > Motherboards > Gigabyte GA-Z68X-UD3H-B3
System Power Draw and Final Conclusions
PCSTATS measures total system power draw (watts) with the aid of an Extech 380803 AC Power Analyzer and A-PFC compliant Seasonic SS-760KM power supply. The meter is placed between the 120V AC outlet and the PC power supply and the computer stressed. Total system power draw is recorded and compared to the PC's idle state.
Total System Power Draw
Idle

CPU Loaded

GFX Loaded

Intel Core i5 2500K
nVidia Geforce GTX470


85W
160W
245W

Intel Core i5 2500K
Intel HD 3000 IGP

40W
113W
72W

(Idel @ desktop)

(via Prime95)

(via 3DM06)
Gigabyte's GA-Z68X-UD3H-B3 motherboard uses a 20-phase power VRM design built around 'Driver MOSFETs' which combine the functions of a driver, high MOSFET and low MOSFET into one small power-efficient board mounted component. This integrated circuit improves power efficiency, reduces heat and has a smaller footprint than previous circuit designs.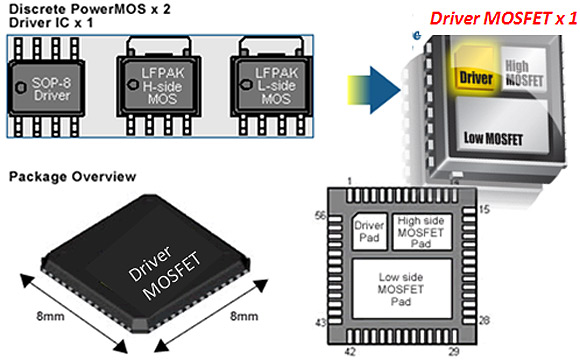 Judging by the total system power draw measurements, running on CPU-IGP graphics is a good way to save power! At idle the system draws 85W with videocard, 40W on IGP. Likewise, CPU loaded power draw figures are 160W with VGA, 113W with IGP. The big difference in power draw is evident with a run of 3DMark...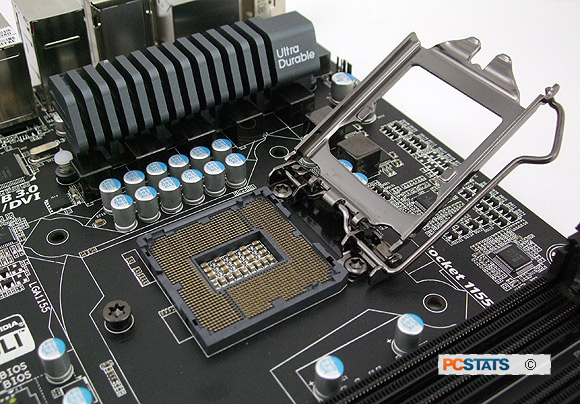 Gigabyte VRM circuitry includes MOSFETS and LOW RDS Ferrite Chokes.
All of Gigabyte's Intel Z68 boards are VRD12 qualified and rely on an Intersil PWM controller to control active power phases. This mobo uses a 4-layer PCB with 2oz. copper substrate that pulls double-duty as a board level heatsink for surface mount devices.
Five "voltage control circuits" give overclockers precise voltage control (as fine as 6.25mV) when adjusting CPU/chipset/memory voltages in the BIOS. Gigabyte call this hardware Precision OV. This hardware level voltage control circuit should help improve overclocking stability when pushing voltages up, though as always your milage will vary.
Time to wrap up this PCSTATS motherboard review up and tell you if the Gigabyte GA-Z68X-UD3H-B3 is worth buying.
Final Thoughts: Time for a SandyBridge Upgrade?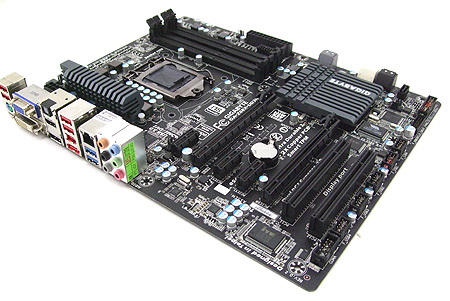 To sum up, Gigabyte's GA-Z68X-UD3H-B3 motherboard is a well featured mainstream choice for anyone who's outgrown the Intel P67 chipset and is currently looking to take full advantage of their Intel SandyBridge processor. If you're frustrated by the limits imposed by the P67 chipset or if you've ever wanted to set up dual-screen IGP-based graphics, use Intel QuickSync and so forth, the Gigabyte GA-Z68X-UD3H-B3 is board that makes this easily available.
In PCSTATS overclocking tests we manged to OC a Core i5 2500K processor to 4.7GHz without touching voltage controls on the GA-Z68X-UD3H-B3 motherboard. The DX10.1 Intel HD 3000 IGP overclocked from 1100MHz to 1600MHz with ease, as well. To be frank though, IGP overclocking speeds may sound impressive but really it doesn't yield much in the way of tangible gaming improvement. Get a PCI Express videocard, or two. The Gigabyte GA-Z68X-UD3H-B3 supports both Crossfire and SLI, and with VIRTU you get the best of both worlds.
The Gigabyte GA-Z68X-UD3H-B3 motherboard comes with an onboard HDMI/DisplayPort/DVI-d/Analog VGA video outputs and most users will find Intel's integrated graphics core satisfactory for everyday desktop work.
The IGP-CPU is faster than previous Intel IGP's as PCSTATS demonstrated, but still very tame by graphics card standards. Next to AMD's A75/A8-3850 integrated graphics, Intel's IGP is dead slow... however the transcoding acceleration it brings forth is quite powerful. The GA-Z68X-UD3-B3 motherboard notably features four USB 3.0 ports, four internal 6Gb/s SATA III ports, a pair of PCI Express 2.0 x16 slots and accommodates DDR3 memory up to speeds of DDR3-2133. On the down side the board comes with hardly anything - not even a single USB 3.0 bracket!
PCSTATS touched on the in's and out's of Intel SRT already, suffice to say we have a positive impression of what this technology can do for users. What's the bottom line? For users considering an Intel socket LGA1155 computer build from scratch, at ~$164CDN, the Gigabyte GA-Z68X-UD3H-B3 is an economical motherboard with a solid mainstream feature set that'll get you in the game.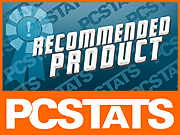 Find out about this and many other reviews by joining the Weekly PCstats.com Newsletter today! Catch all of PCSTATS latest reviews right here.
Related Articles
Here are a few other articles that you might enjoy as well...
- Gigabyte GA-Z68XP-UD3-iSSD Intel Z68 Motherboard & Intel 20GB SSD Review
- Gigabyte GA-Z68X-UD5-B3 Intel Z68 Motherboard Review
- Beginners Guide: Intel Smart Response Technology and Intel 311 Larson Creek SSD
- ASUS P7P55D Premium Intel P55 Express Motherboard Review
- Intel 6-Series Chipset Recall - Sandy Bridge Intel P67 & H67 (v2.2)
- Biostar TH67XE Intel H67 Motherboard - FIRST LOOK