Lucid's VIRTU is a software driver Intel validated for the Intel Z68 platform that enables on-the-fly switching between discreet graphics cards and Sandy Bridge's integrated DX10.1 Intel HD3000/2000 graphics core by virtualizing one video output through the other.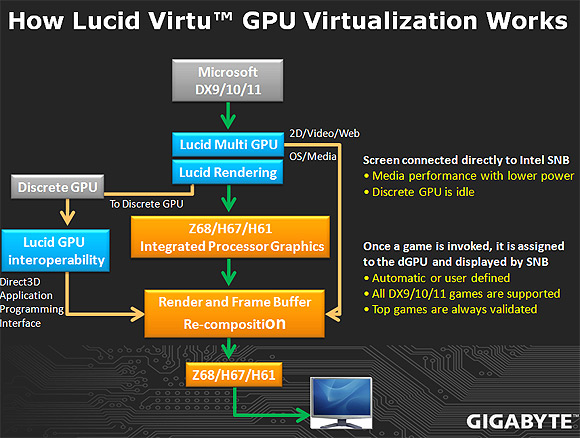 There are two ways of configuring VIRTU. If the monitor is connected to the motherboards graphics ports (ie. HDMI, DP, DVI-D) and a discrete videocard is installed, VIRTU can virtualize the discreet videocard (i-Mode) when 3D games are launched.
Conversely, if the monitor is connected to a discrete videocard, VIRTU can virtualize the CPU-IGP when required (d-Mode). All this is done on the fly without moving monitor cables.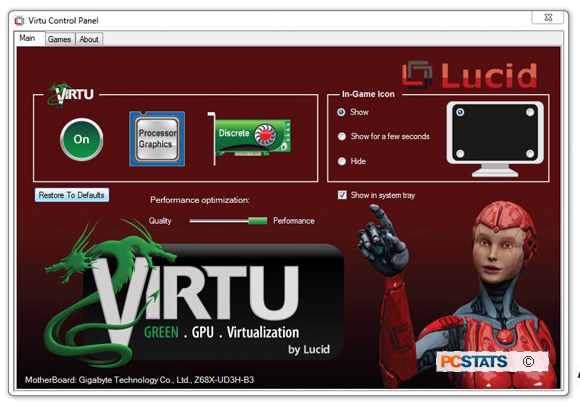 Gigabyte's GA-Z68X-UD3H-B3 motherboard is validated for Lucid's VIRTU driver.
The key to Virtu is that it enables the Intel HD 3000/2000 IGP to accelerate video transcoding tasks via Intel QuickSync, or HD-BluRay streaming via Intel Insider, then when needed seamlessly switch to purpose bred discreet videocards for 3D gaming (with DX11 and AA as the case may be). PCSTATS tested with VIRTU v1.1.101.16713 and found a negligible impact to 3D benchmark results with it running; VIRTU is pretty simple to use and can be tasked to kick in for specified applications. VIRTU works with all Intel Z68 motherboards, but only if the board has onboard video outputs.
Intel Smart Response Technology
Intel Smart Response Technology is pretty interesting. In plain language, what Intel SRT does is bring about like-SSD performance to operating systems and applications installed on traditional mechanical SATA hard drives by storing frequently accessed hard drive I/O data blocks on a dedicated SSD drive. Frequently accessed data can be read much quicker from the SSD, so Windows 7 spends less time waiting around.
The system is compatible with mSATA and standard SATA SSD devices; PCSTATS has tested Intel SRT already with an mSATA Intel Larson Creek 311 SSD and a Intel SSDSA2VP020G2 2.5" solid state drive made with 34nm SLC 'Compute NAND' memory, so we're not going to re-hash all the results here.
Suffice to say, for computers with Windows 7/Vista installed to a traditional mechanical hard drive, Intel SRT is an economical way to speed up application load times and generally make recurring application data much snappier. In general, Intel SRT will fully kick in on the second and subsequent instances an application is used. The tool doesn't work on systems already installed to an SSD, and really works best on the boot disk/volume. For an in-depth look at Intel SRT please see this PCSTATS article.
Moving along, it's time for a 360-degree look at the Gigabyte GA-Z68X-UD3H-B3 motherboard!