Here we find the Intel Z68 Express chipset which only requires passive cooling from a small low profile aluminum heatsink. Since all the duties of the Northbridge (memory controller, integrated graphics, PCI Express lanes) has been off loaded to the processor, the Z68 is basically a glorified Southbridge chipset.

To the right, an EtronTech EJ168 controller brings an extra pair of USB 3.0 ports onto the board. Sadly Gigabyte has not bundled in a USB 3.0 bracket with the GA-Z68X-UD3H-B3 motherboard.


Gigabyte's GA-Z68X-UD3H-B3 motherboard supports DDR3-1066/1333/1600/1866/2133 memory in a dual channel configuration. The largest memory density for 64-bit operating systems is 32GB, for Windows 32-bit you're capped at 4GB max. The four 1.5v DIMMs support Extreme Memory Profiles (XMP).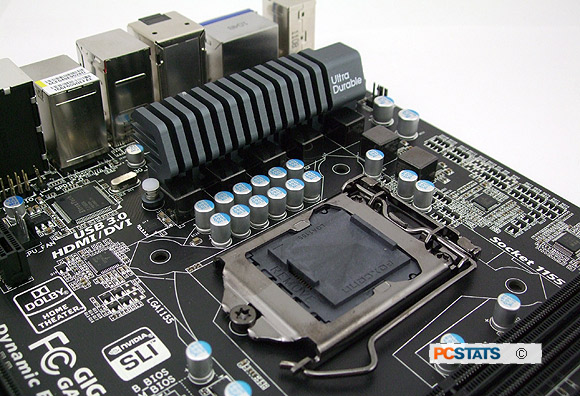 Socket LGA1155 for Intel 2nd-Generation Core i3/i5/i7 2xxx-series processors.
Like all Intel Z68 platforms, the Gigabyte GA-Z68X-UD3H-B3 accommodates Intel socket LGA1155 2nd Generation 'Sandy Bridge' Core i3/i5/i7 2xxx-series processors. It is NOT backwards compatible with socket 1156 CPUs. The heatsink mounting holes are different than socket 775 and socket 1366 platforms, but mercifully are compatible with LGA1156 thermal solutions. If in doubt, just look at Frostytech's Top 5 Heatsink chart.
While USB 2.0's 480Mb/s maximum bandwidth was fine for smaller flash-memory based devices in the past, USB 3.0 expands that bandwidth to a massive 4.8Gb/s - much better appropriate for moving 8GB movie files around!
One the more interesting features Gigabyte has added to its boards is called 3X USB Power. Briefly, w hile standard USB 2.0 ports are limited to 500mA power loads and USB 3.0 to 900mA, the motherboard is capable of delivering 1500mA per USB 2.0 socket and up to 2700mA per USB 3.0 port. On top of that, each USB port is individually fused.