While testing the Samsung NP900X4C-A02 Ultrabook we became acutely aware of the unavoidable shortcomings that go hand in hand with a laptop slightly thicker than a Sharpie marker. There's no point in complaining about the need for dongles in such narrow instances - slimness can't exist in a world where video ports are thicker than the actual computer.
Without any reservation, the Samsung 900XC4-A02 notebook deserves top marks for style. It's impossible to take a bad photo of this Ultrabook, it simply looks good through the camera lens, no matter what angle. On the substance front, Samsung's 900XC4-A02 Ultrabook gets about 3/4 of the way there. The streamline chassis requires a certain degree of miniaturization to network and video outputs, but comes with a good number of USB 3.0 & 2.0 ports for external devices. A trap-door camera memory card reader (SD/MMC) and combination headphone/mic 1/8" audio port ensure a solid level of usefulness is maintained. The VGA and HDMI video outputs are relegated to micro connectors which require dongles, neither of which are included with this $1600 notebook. The wired ethernet network jack is miniaturized as well, but at least Samsung include the RJ45 ethernet dongle here.
Where the Samsung 900X4C-A02 Ultrabook falls short is in the keyboard department and most critically, the 15" display.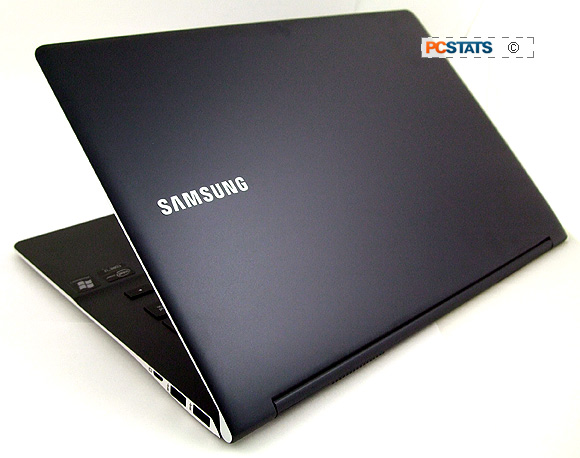 The widescreen 15" LCD display is bright and expansive, rated to 400nits and 1600x900 resolution. The problem is the viewing angles on the LCD are too shallow. Tilt the display backwards or forwards more than few degrees and the screen contrast starts to drift into oblivion; ditto if you happen to be sitting anywhere but directly in front of the screen. Notebook viewing angles are typically narrower than desktop displays can offer, sure, but we think Samsung ought to have invested in a better quality display for this notebook. Design appeal is diluted by this, and once that threshold is breached the illusion of brand quality crumbles to the ground.
Our displeasure with the flat keyboard keys entirely comes down to typing preference - I find cupped keys easier to touch type on since the fingers automatically center. From my perspective, the flat keys don't improve usability and lead to more typing mistakes. Since this is the primary input interface element, any aspect which decreases typing accuracy earns negative points.
The 4.25" x 3" touch pad with integrated click pad is nice to use and easy to get used to. It's also Windows 8 compliant for those of you looking to make the leap to Microsoft's horrendous new operating system - we tested this Samsung 9-series notebook with Microsoft Windows 7 x64 Professional edition. Curiously, the touch pad became unresponsive for a few seconds every now - not sure what was up with that.
On the CPU front, the 1.9GHz Intel Core i7-3517M processor is paired with Intel's HM75 chipset and proved itself to be a very capable dual-core/quad-thread CPU in the benchmarks. This 22nm CPU is based on Intel's 3rd gen 'Ivy Bridge' core architecture and draws just 17W of power so it's is excellent on battery life. The CPU contains an Intel HD 4000 integrated graphics core which operates at 350GHz and offers luke warm graphics performance. Advanced users may want to take note that the CPU supports Intel TurboBoost 2.0, Hyperthreading, VT-x, VT-d, AES, Intel 64, Intel Anti-Theft, Speedstep and so forth. The CPU does not support Intel vPro or Trusted Execution technology.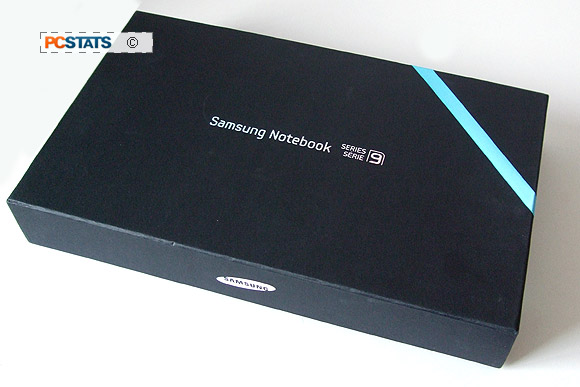 Intel's investments in power-efficient processors have paid off particularly well for its mobile platforms. The latest generation of Core i7 processors are capable of a much greater performance-to-power ratio than previous processors. As such, the Samsung 900X4C-A02 notebook has a good battery life when tasked with productivity type work of about 462minutes (7 hours, 42 minutes) in PCSTATS own lab tests. The 62Wh battery recharged from >10% to 50% battery strength in 1.5 hours. A full 100% battery charge took about 3.5 hours to complete from a completely spent battery state.
The Samsung 900X4C-A02 Ultrabook retails for around $1599 USD/CDN . Given what PCSTATS experienced while testing the Samsung 900X4C-A02 Ultrabook it's hard to know where to stand; in the benchmarks it performed top-rate, was quick and nimble. Under the hood the CPU, SSD hard drive and wireless hardware is top shelf. The integrated graphics are fine for desktop work, underpowered for gaming. The widescreen 15.0" display leaves a little to be desired, but isn't 'bad'. The keyboard keys comes down to personal preference and the type of work one typically engages in... the touch pad was frustrating, but not an insurmountable issue once sensitivity is tweaked. Visually and from a design perspective, the Samsung 900X4C-A02 is just gorgeous. There's no doubt on that front. If you've been looking at a MacBook, I think this aluminum clad Ultrabook is well worth your time to consider -- it'll get you into the game with better hardware and for a much more economical price than Apple charges.
Find out about this and many other reviews by joining the Weekly PCstats.com Newsletter today! Catch all of PCSTATS latest reviews right here.
Related Articles
Here are a few other articles that you might enjoy as well...
- Waterfield Designs Muzetto Leather Notebook Satchel Review
- Waterfield IPad2 Suede Jacket Sleeve Case Review
- Samsung R480-i5-430 Intel Core i5 430M Notebook Review
- Waterfield Designs Sleeve Cases: A Second Skin for Notebooks
- Acer Ferrari 4005 WLMi AMD Turion64 ML-37 Laptop Review
- Sony VAIO VGN-T140P/L Notebook Review
- Transmeta Efficeon Mobile CPU Series