The Samsung NP900X4C-A02 features a widescreen aspect ratio, 15" display that uses LED backlights rated to 400nits luminance. The screen has a matt, anti-reflective coating to diminish the impact of reflected light sources and its widescreen format gives the monitor an overall size of 13"w x 7.5"h (33.3cm x 18.5cm).
The display has a native resolution of 1600x900 which makes the overall dot pitch high enough to look sharp, but it's not so fine that you'll be squinting to see text. Video output to an external monitor can be handled via a standard VGA port dongle (not included) or through micro-HDMI output.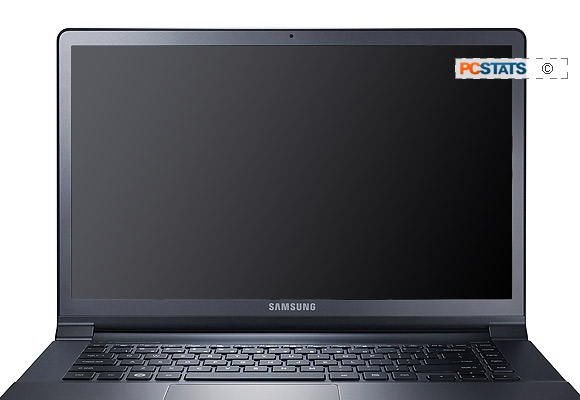 The display is pleasing too look at, head on, with nice colour saturation and a fine pixel pitch. Illumination goes up to blindingly bright levels... One neat trick with the Samsung NP900X4C-A02 is that it has an ambient light sensor nestled in just above the keyboard. This sensor automatically calibrates screen brightness to the particular environment, so for example if you move from a dark room to a sunny back yard you don't have to fiddle with anything to make the screen legible again. The keyboard backlight is also tied into this light sensor, but PCSTATS found the keyboard backlight a little dull, at best. The backlight is suitably bright for typing in complete darkness, but not bright enough for dusk situations.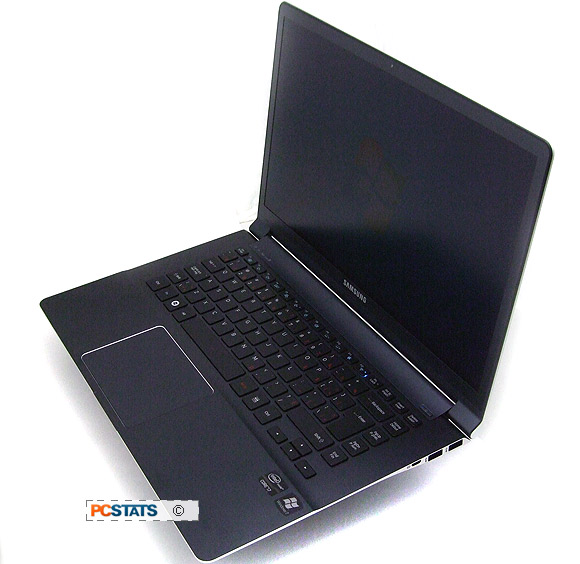 Over the week or so PCSTATS had hands on time with the Samsung 900X4C-A02 we unfortunately found the screen to have pretty poor viewing angles. Head on, the 1600x900 screen looks wonderful, but if you stray too far off to one side, or tilt the screen too far forward contrast goes out the window. Notebooks typically have shallower viewing angles than desktop LCD monitors (which average 180/180), but given the wide screen display here, we expected markedly better side-to-side colour fastness than the Samsung 900X4C-A02 delivered.
Here's a real world example of why viewing angles matter: if you're typing on an airplane and the person in the seat in front of you leans back, it can cause the 900X4C-A02's display to tilt forward ~60-70 degrees to eye level. At this point the shallow vertical viewing angle makes it difficult to read text, as you can see for yourself in the top/bottom/left/right photo montage below. Click on the image above for a full size picture. Samsung do not disclose the exact angles, we'd estimate them to be around 140 - 150 degrees.
The screen panel is 5mm thick - remarkably thin - the bezel around the screen is 12mm wide. The screen doe not tilt flat all the way back, but at most to about 25 degrees.
PCSTATS goes in for a closer look at the side and ports on the NP900X4C-A02 Ultrabook, next.